Friday, October 01, 2004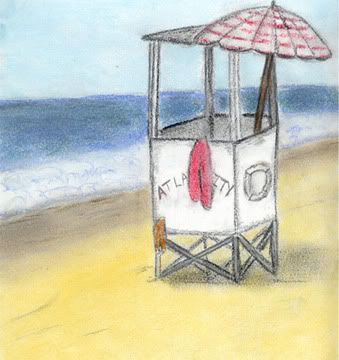 I went to Atlantic City yesterday with my mom, my aunt, and my grandpa. It was wonderful to see the ocean again, to dip my toes in the water and walk barefoot on the sand. Every time I go to the ocean I remember why I plan to live by it one day.

The best part about the trip, was the cost. We went by bus (a three hour trip form my house), and the casinos give you a $20 voucher bonus for taking the bus, so the trip ended up costing $7.95 per person. You can use the voucher money anyway you want--of course the casinos hope you reinvest in the slots. We went to lunch instead!

If you are ever in Atlantic City, I highly recommend The Irish Pub (right of the boardwalk at St. James Place). Lunch for 4 came to a grand total of $20, and the food was awesome. Everyday there is a lunch special which is soup and a sandwich for $1.95. The owners of the restaurant says this is what made them famous and it will never change. It was recommended to me by several people, and employees at the visitor center also said it was the best value in Atlantic City. The decor is cool (I've never been to Ireland, but I would guess it is very much like a "real" Irish pub), the food is great, and you can not beat the prices.

I did try my hand at the tables (well, the slot machines), and set a $5 limit (yes, I'm the big spender!) and I won $10. So, between my bonus money, and winnings, I came home with more money than I left home with. Not a bad way to spend a day.

By the way, I would have posted some pictures, but I forgot the camera. The running joke all day, was "If I had my camera, that would make a great picture!" Sorry, you'll have to trust me that there were some great shots!
posted by Kelly @ 10/01/2004 01:53:00 PM
About Me
Name: Kelly Gibbons
Home: Dallas, Pennsylvania, United States
About Me:
See my complete profile
Not Quite Grown-up: The Random Ramblings of Kelly Gibbons the Dreamer, Writer and Artist
My Artwork
Follow Me
Recent Posts
More Stuff I Make
Archives
Powered by