Wednesday, January 19, 2005
Sigh.

That was my reaction when I read this. (*Note* I had this linked to a different post, but it was taken down. Alex's site rocks and is full of inpiration, so I left this link up. The original post was about her move to the Los Angles, CA area, specifically Santa Monica.) Not because I'm jealous of Alex (she deserves it), but because, well, darn it, because I want it too. I want to live in a place where it is warm and sunny most of the time, and where I can have a picnic on the beach in January. I want to live in a place like she describes, a place where I truly feel like I BELONG.

I intend to live in a place like that someday.

I write this as I sit here bundled in a blanket freezing my ass off in temperatures better suited for the North Pole. Six or so inches of snow already covers the ground, with more on the way.

So, for now, instead of suntan lotion, sandals, and a pina coloda, I'll have to settle for a cup of hot chocolate to keep me warm. At least I have my Cup of Hope!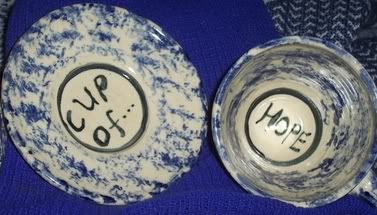 For those of you in a similar situation, I give you this treat. You will have to make your own cup of hot chocolate (sorry, I wish I could deliver, but I'm pretty sure the road is closed).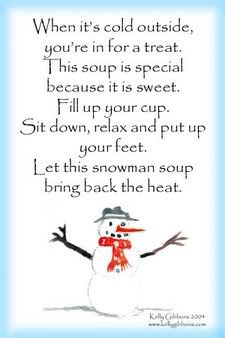 posted by Kelly @ 1/19/2005 06:05:00 PM
About Me
Name: Kelly Gibbons
Home: Dallas, Pennsylvania, United States
About Me:
See my complete profile
Not Quite Grown-up: The Random Ramblings of Kelly Gibbons the Dreamer, Writer and Artist
My Artwork
Follow Me
Recent Posts
More Stuff I Make
Archives
Powered by