Wednesday, June 29, 2005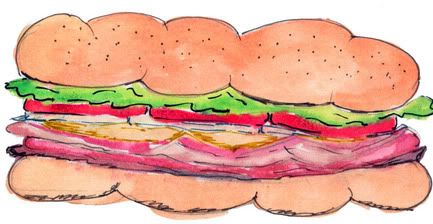 Illustration Friday, my hero.

Also known as hoagie, sub, etc. depending on where you live. Actually, I never call it a hero, it's a sub or hoagie to me, but for the purpose of this illo, it worked for me.

Of course, the first thing I thought of for this topic was all of my people heroes, but this idea popped into my head while I was walking, so I went with it.
posted by Kelly @ 6/29/2005 09:37:00 AM
About Me
Name: Kelly Gibbons
Home: Dallas, Pennsylvania, United States
About Me:
See my complete profile
Not Quite Grown-up: The Random Ramblings of Kelly Gibbons the Dreamer, Writer and Artist
My Artwork
Follow Me
Recent Posts
More Stuff I Make
Archives
Powered by