Thursday, July 07, 2005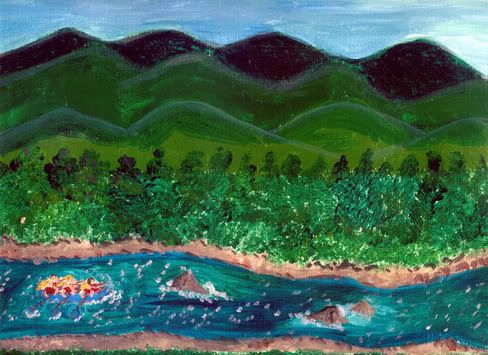 Illustration Friday, Sport


Yesterday, we tried something new: whitewater rafting. To be honest, it was not what we expected. We thought there would be more action, and were a bit disappointed that it was more a float down the river than a hold on to your seat, fast paced, adrenaline packed adventure. Apparently, we need to go on a dam release date for more rapids, but being novices, we didn't know this when we made our reservations.

But, always one to see the bright side, I have to admit that it was fun. Slow, but fun.

The trip down the scenic Lehigh river was about four hours long, and the price of admission even included a picnic lunch about midway through the trip. I'm not sure if it was the location (a private picnic area nestled in the woods on the riverbank), or the fact that we were starving from all that paddling, but hotdogs with all the fix-ins, chips, potato salad, watermelon and lemonade never tasted so good.
posted by Kelly @ 7/07/2005 09:18:00 PM
About Me
Name: Kelly Gibbons
Home: Dallas, Pennsylvania, United States
About Me:
See my complete profile
Not Quite Grown-up: The Random Ramblings of Kelly Gibbons the Dreamer, Writer and Artist
My Artwork
Follow Me
Recent Posts
More Stuff I Make
Archives
Powered by