Monday, November 21, 2005
I'm at that lull in my latest scheme (eBay selling). It's fun and exciting when the artwork is selling, not so much so when it's not. It's discouraging. I know I'm at that point where I need to push forward, push past that hump, but it is hard. I get to this place often in my creative endeavor. It's the place where the doubts and fears and inner critic hides.

I committed to a month of eBay sales. Now, I'm doubting myself.

Maybe later today, I'll feel differently. For now, I'll post another Etsy listing. It's something (a half step?), but at least I'm moving forward.



UPDATE

: I'm glad I took that half step...I sold a painting at ETSY!

I remember my initial motivation, and decided to push forward. Besides, I don't want to be a quitter!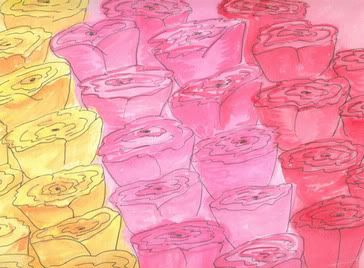 Fresh Roses
posted by Kelly @ 11/21/2005 09:50:00 AM
About Me
Name: Kelly Gibbons
Home: Dallas, Pennsylvania, United States
About Me:
See my complete profile
Not Quite Grown-up: The Random Ramblings of Kelly Gibbons the Dreamer, Writer and Artist
My Artwork
Follow Me
Recent Posts
More Stuff I Make
Archives
Powered by