Monday, October 16, 2006
Simplify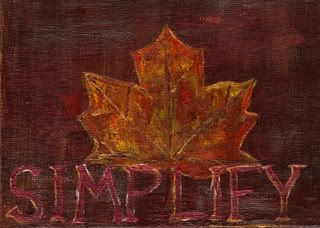 Simplify

, Kelly Gibbons, 2006.

I re-stocked my paint supply yesterday, and bought some metallic paints. I love the effect, so they will be my new "toy". And, simplify shall be my new motto. I tend to complicate things unnecessarily, and I am going to stop that right now.

I had such a fun weekend. I went to several places that I have been saying I'm going to go to for a long time--just never made the time. Now, I'm sorry I didn't get to them sooner.

One was the Arts YOUniverse. It's a mansion converted into shareable artist space, and all four floors are bursting with creativity. I so wish I could have a space there. The wonderful clay artist Maria Livrone showed us around. I didn't take my camera, so I don't have pictures of her awesome work, but it was so inspiring. Her studio is in the basement of the building and she has painted it with such bright, fun, whimsical colors (just like her clay sculptures) that you forget your in the basement. She tried to talk me setting up a table at the upcoming art fair, but I'll have to think about that. I don't really have a lot of stuff to sell, and it's in less than a month. We will have to see.
posted by Kelly @ 10/16/2006 07:37:00 AM
About Me
Name: Kelly Gibbons
Home: Dallas, Pennsylvania, United States
About Me:
See my complete profile
Not Quite Grown-up: The Random Ramblings of Kelly Gibbons the Dreamer, Writer and Artist
My Artwork
Follow Me
Recent Posts
More Stuff I Make
Archives
Powered by