Friday, January 21, 2005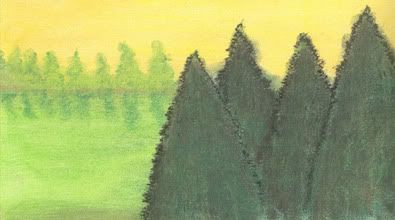 This is my contribution to The Writing Parent. The creative theme was green. I was either watching TV or surfing the net, and I saw a picture in the background. I didn't look at it long enough to get a good view, but I remember the colors, and this is was I came up with. Generally I do not look at something else (meaning someone else's art work, or a photograph) to get my ideas, I draw from memories and add my own touches, but I loved the colors in my brief glimpse of that picture. I stuck with me, and I thought it was perfect for green.

I find myself avoiding writing these days, and truthfully I'm not sure why. I'm sure if I really wanted to dig into it, all the answers would be clear. Right now, I'm enjoying art, so I'll stick with that.



posted by Kelly @ 1/21/2005 05:38:00 AM
About Me
Name: Kelly Gibbons
Home: Dallas, Pennsylvania, United States
About Me:
See my complete profile
Not Quite Grown-up: The Random Ramblings of Kelly Gibbons the Dreamer, Writer and Artist
My Artwork
Follow Me
Recent Posts
More Stuff I Make
Archives
Powered by