Sunday, December 31, 2006
I love NY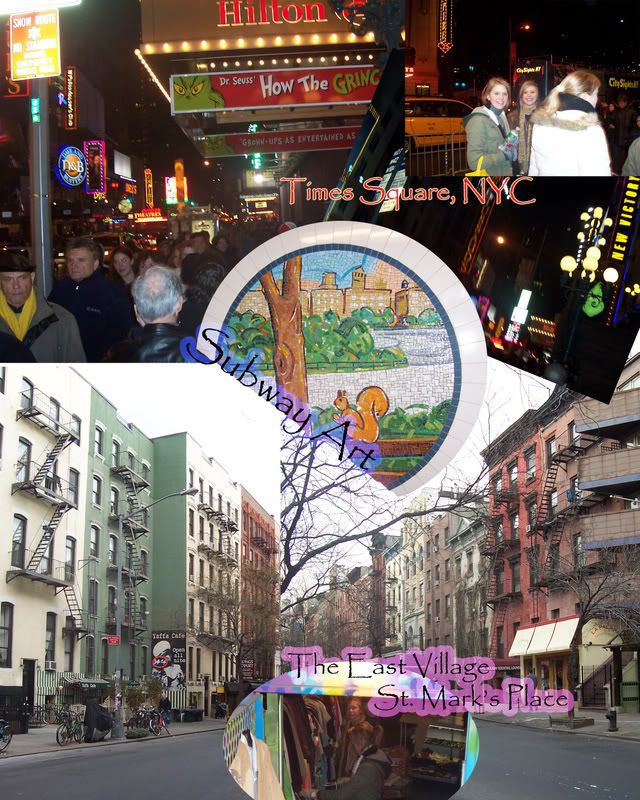 New York the eve before New Year's Eve (thought we'd get a jump on the celebration).

We (me and my girls)took a bus trip to New York City yesterday. I'm still not brave enough to drive there, but I did do pretty good with the subways. I think I finally figured out the whole uptown/downtown thing, and I didn't get on a wrong train once! This is the first time I took them alone, and we had a blast discovering new parts of the city. The East Village (where NYU is) was our favorite. Part's of this section are so quiet that I was amazed I was still in the city. St. Mark's Place has a two block section between 2nd and 3rd that is lined with cool little shops and vendors. We also went to Canal Street for the first time, and I am never, ever going back there. It was like a Fair gone bad--crowed, dirty streets, with vendors selling bad imitation designer stuff (Wanna $20 Rolex or a Gucci bag?). I always hear people talking about shopping on Canal Street and thought it would be so awesome. Trust me, it's not. The Village was way better. Another highlight was Bryant Park in midtown (a few blocks from Rockefeller Center). It's right behind NY City Library. A Holiday Craft fair was going on, and vendor were set up in tents, plus the ice skating pond was set up (which seems like a much better place to skate than Rockefeller Center's way too crowded rink). We didn't eat at the restaurant, but it would be an amazing place to sit an relax, so it's on the list for next time. That's the thing with New York City, it's impossible to do everything you want to in a day, so there is always a reason to go back. And, now that I've somewhat "mastered" the subway, I have no excuses left.

I hope everyone has a Happy New Year filled with amazing new adventures!
posted by Kelly @ 12/31/2006 02:12:00 PM
About Me
Name: Kelly Gibbons
Home: Dallas, Pennsylvania, United States
About Me:
See my complete profile
Not Quite Grown-up: The Random Ramblings of Kelly Gibbons the Dreamer, Writer and Artist
My Artwork
Follow Me
Recent Posts
More Stuff I Make
Archives
Powered by