Friday, February 04, 2005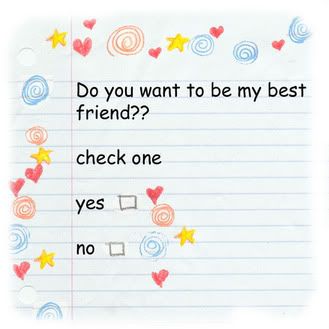 Friendship

This is all I could come up with this week for Illustration Friday. I blame it on lack of time and the subject. My simple illustration is a memory from childhood when getting a best friend really was this simple.

I have talked about this here before. I have not had a close friend for a few years. When I quit a job of fifteen years almost three years ago the work friendships I had fizzled away, and I haven't had any close friends since then. I have bounced around in a few jobs and have many acquaintances and internet friends, but it is not the same.

I miss not having a close friend, but I blame myself for not being able to "keep" friends. I am not a very good friend. I dislike talking on the phone, and I avoid phone calls like the plague. I also feel that I am bothering people, so I don't keep in touch. I think this is because I am terribly insecure, but don't let people know this. My strange personality doesn't help either. At times I am an extreme extrovert and love being around people. But I also crave solitude and at times I become a hermit and only leave my house when forced (literally). Some people just don't understand this.

I wish finding and keeping a friend was as simple as it used to be. Best Friends Forever, just check the YES box.

posted by Kelly @ 2/04/2005 06:17:00 PM
About Me
Name: Kelly Gibbons
Home: Dallas, Pennsylvania, United States
About Me:
See my complete profile
Not Quite Grown-up: The Random Ramblings of Kelly Gibbons the Dreamer, Writer and Artist
My Artwork
Follow Me
Recent Posts
More Stuff I Make
Archives
Powered by