Wednesday, March 02, 2005
A few days ago I was contacted out of the blue by a woman who wanted to do a interview. Once I picked my self up off the floor and stopped muttering, "Me? You want to interview me? Why?" I agreed to do it. I'm not sure exactly how she found me. I think through a link on NAWW (National Association of Woman Writer's), she found one site, then found Shelley's site, then found me. Anyway, it was quite flattering and exciting that I was chosen. The interview will be posted tomorrow, and I will share the link when it is up.

I needed to supply a picture to go with the link. That was the hard part. I do not like to have my picture taken, because I always dislike the way I look in pictures. I'm always tried to hide something. "That's no good, I look fat. That's not right my smile isn't right. My teeth look bad. My hair is too curly. I was wearing my glasses. " Blah, blah, blah. I am rarely satisfied with a photo of myself.

So, last night when I had to get the picture done, it was the same old scene. I was a grump because none of the pictures looked just right. I was getting very frustrated because they didn't look like me. This was wrong, that was wrong. Blah, blah, blah.

My husband came home, and offered to help. His first suggestion was that I lose the suit, put on my pajamas, and pull my hair up. He said, "You're not you like that."

I decided to give it a try. I immediately felt more like me. When I came out, my husband said, "Now that's the Kelly we know and love."

My daughters agreed and one said, "Now, you look good."

It was easy after that. Two clicks. The second picture was the one I used for the interview.

Everything is easier when you act like yourself.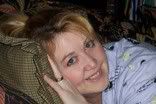 Me in my natural environment, pj's and all!
posted by Kelly @ 3/02/2005 03:11:00 PM
About Me
Name: Kelly Gibbons
Home: Dallas, Pennsylvania, United States
About Me:
See my complete profile
Not Quite Grown-up: The Random Ramblings of Kelly Gibbons the Dreamer, Writer and Artist
My Artwork
Follow Me
Recent Posts
More Stuff I Make
Archives
Powered by