Friday, March 18, 2005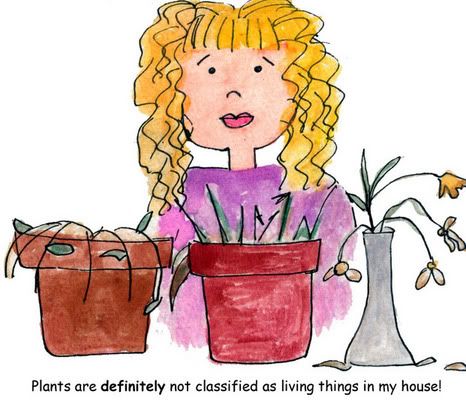 Oh, no, I messed up! I didn't read the fine print on my email, and I missed last weeks topic at Illustration Friday. I was supposed to post by Thursday. So, instead of throwing my hands up in despair, I am combining last week's topic (Fragile) with this week's (Bloom). Fortunately, my illo works for both--OK, I'm stretching it, and using my imagination a little.

Plants in my house are extremely fragile, and they usually don't survive too long. OK, who am I kidding, they never make it! See, no bloom. (LOL, at least I crack myself up!)

Since, I have the option to submit more than one illo, I think I might try another Bloom, and post it later in the week. Stay tuned.

I've been thinking a lot about my artwork lately. For awhile, I was in the mode, of looking at other work and thinking, "I wish I could paint like that." When actually, my real true wish, is that I can sell my artwork just as it is. And that's what I intend to do. My artwork is my artwork, and I like it. I need to figure out a way to market it. I just need to find the right places, and now that is my goal.

I love to admirer other artwork, and yes, sometimes, I would love to be able to draw and paint like other people. But, I have my own unique style, and I am going to work with that. It makes life simpler.

There's another new cartoon at A SunnyK Kind of Day today, too. I have decided to update it more frequently--I've decided to make it a weekly cartoon, like the Sunday Funnies.
posted by Kelly @ 3/18/2005 08:28:00 AM
About Me
Name: Kelly Gibbons
Home: Dallas, Pennsylvania, United States
About Me:
See my complete profile
Not Quite Grown-up: The Random Ramblings of Kelly Gibbons the Dreamer, Writer and Artist
My Artwork
Follow Me
Recent Posts
More Stuff I Make
Archives
Powered by