Tuesday, September 27, 2005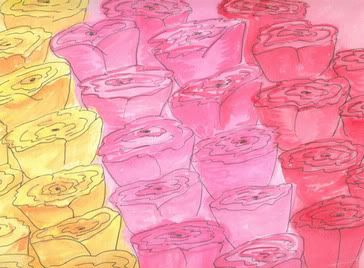 Fresh, Illustration Friday.

I was inspired to paint these fresh flowers by the wonderful Shelagh (you'll have to scroll down to see the picture)--I hope she doesn't mind I used her photo as inspiration. The photo is part of a calendar she has put together to raise funds for Katrina. Paris is springtime...what a nice thought!
posted by Kelly @ 9/27/2005 06:33:00 PM
About Me
Name: Kelly Gibbons
Home: Dallas, Pennsylvania, United States
About Me:
See my complete profile
Not Quite Grown-up: The Random Ramblings of Kelly Gibbons the Dreamer, Writer and Artist
My Artwork
Follow Me
Recent Posts
More Stuff I Make
Archives
Powered by