Friday, April 07, 2006
Goodbye, Gramps, I love you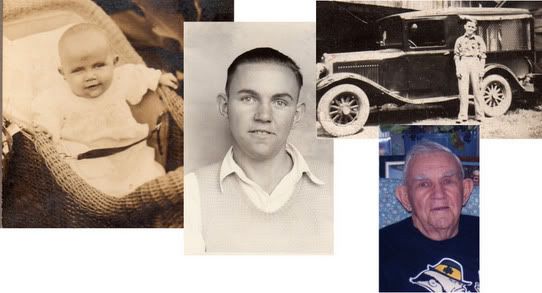 My Grandpa went to Heaven today. My Gram met him, hugged him and said, "Hi, honey, welcome home!" That's exactly what he thought was going to happen, so I'm sure it did. He looked so peaceful when I saw him. He just fell asleep and never woke up.

I'm crying now, not for him, but for me and all of us left here without him. His passing left one huge hole in so many lives. He's OK, he's happy; I'm just so sad knowing that I will never see him again. He was always there for me and the rest of my family. Always. When I was 3 and my parents divorced, my family moved in with him and my gram, and I lived there until I was about 13. He was more like a Dad than my Grandpa. He's the one who was there for me everyday. He's the one who helped support us. He's the one who played with us, cared for us, drove us around. Yep, he was my Grandpa, but so much more. I sure am going to miss him.

How lucky and blessed am I that I had a Grandpa for 39 years? Not many people can say that. Life will never be the same without him in it, but I am such a better person because of him. He will live on in so many hearts and minds, that he will never really be gone.

I have more memories than I can write about:


--Camping and vacations
--Shady Side Lake and fishing
--Our trip to Dallas, TX in the green Ford Econonline (and to Maine and Canada, VT, NH, SC, NC, GA, IN, OH, IL, NJ, NY, MD, VA, OK, TN, MS, AR, MO...off the top of my head)
--"Fighting" over Notre Dame and Penn State-- sorry, Gramps, you might be Notre Dame's #1 Fan, but Penn State is gonna win in Sept.
--the stories he told -- growing up in the Great Depression, being a key witness in a murder trial, working in the coal mines, Grammie kicking his butt!
--teaching me how to pitch in the pouring rain
--teaching me how to ride a bike
--That goofy delivery truck that he turned into a camper. Oh, man, I could have died when he picked me up in that awful thing. He was so proud of it though. And, now it makes me smile just to think about it.
--his trade mark forehead kisses (when you walked in Gramp's house you learned to walk over and bend your head down so he could kiss you on the forehead--it was automatic)
--checks for hair do's and outfits
--driving his motorcycle into his 70's
--Our adventure to the Francis Walter Dam (I took a wrong turn, and we ended up on what was basically a hiking trail, the trees were so close together I couldn't even open the doors to the car. He was in his 80s, so I couldn't very well leave him there. I couldn't turn around, so we just kept moving forward. He said we'd find our way out, so I believed him. We never did find the top of the dam though.)
--visiting me on his Tractor
--His little red Escort
--Calling me just to tell me he loved me
--Singing Happy Birthday to me
--walking me down the aisle at my wedding
--His wood shop and crafts
--Never letting you leave without a hug, a kiss and an "I love you." NEVER.
--teaching him him to sign I love you when he lost his voice. He never quite got it, because he had trouble with his fingers, but he would try and shake his head when I said it to him.

My last memory of him;
Joking with him about giving him a second hug. Telling him I loved him, and him nodding "me too." Walking to the door, turning around, looking at him sitting in his chair, blowing him kisses, catching his. Saying Good-bye. I couldn't have planned it more perfect.


Good-bye for now Grandpa. I will never forget you. When I meet you on the other side, I'm sure you'll be saying, "Hi Honey, welcome home."
posted by Kelly @ 4/07/2006 11:38:00 AM
Thursday, April 06, 2006
Spring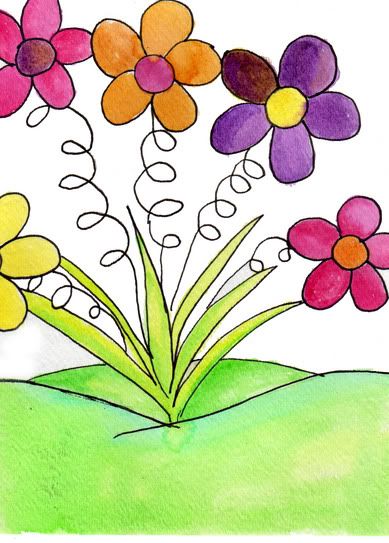 Spring

, Illustration Friday.
posted by Kelly @ 4/06/2006 08:19:00 PM
Wednesday, April 05, 2006
Still Dreaming and Oh, an Art Show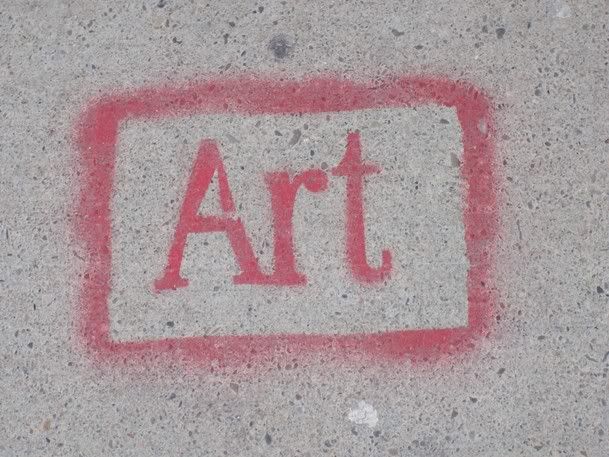 It's weird how I rarely post here anymore. Why? Ah, that thing called life has a way of taking over. I seem to always be working or thinking about working or doing something. I rarely have time anymore for the thinks I really want to do. I promised myself this wouldn't happen, but sadly it has. I'm not really sure what to do about it either. It's not like I can quit yet another job so I can only do the things I want. I've been down that road and it has pitfalls, too. Right now, I think I am doing what's best for me and my family, but still, I yearn to do more for the dream. Again, I hear the echo of

someday

in my head. I do keep working toward it (baby steps), and I won't give up. So what if right now I still have to say someday. Someday will eventually be now.

Now, about those baby steps.

As for the novel: I've transferred the chapters to disk and have set them up on my (ancient) laptop, the one I used to write the darn thing. It's set up and ready to go, and I've put it out in the open. Everyday, I see it, and I am reminded to work on it. It needs to be edited. This is bringing me closer to getting it down. I'm slower on work this week, and it's time to get back to it.

And, for the art: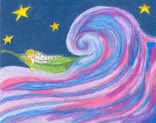 Tranquility

, Kelly Gibbons, 2005.

I have entered 4 paintings in a gallery show where I work, King's College, Wilkes-Barre, PA. If you're near these parts, the show (18th Annual All College Art Exhibit) is in the Widmann Gallery (in the Sheehy/Farmer Student Center) from today until April 25 (9:30am to 4:30pm). All of the work in the gallery is done by members of the King's College community (staff/faculty/students) and includes paintings, photographs, sculptures and crafts. I'll try to post some pictures in the next few days. Oh, and if you do come down, come on over to the post office to see me!
posted by Kelly @ 4/05/2006 06:44:00 AM
About Me
Name: Kelly Gibbons
Home: Dallas, Pennsylvania, United States
About Me:
See my complete profile
Not Quite Grown-up: The Random Ramblings of Kelly Gibbons the Dreamer, Writer and Artist
My Artwork
Follow Me
Recent Posts
More Stuff I Make
Archives
Powered by