Sunday, November 28, 2004
Today is a good day, I made my first sale at the holiday shop, and I got a new reader who appreciates my artwork.

As an artist those things are big. When I first started out, one of my biggest fears was sharing my work and having no one like it. It is nice when people let you know they do. And another fear, that stopped me for a long time, was selling my work. Again, the fear was that I'd put time, effort and money into the project, and then no one would buy it.

Yeah, two more fears bite the dust. Thank you!
posted by Kelly @ 11/28/2004 01:03:00 PM
Friday, November 26, 2004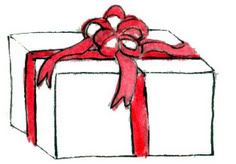 Maybe we should develop a Crayola bomb as our next secret weapon. A happiness weapon. A beauty bomb. And every time a crisis developed, we would launch one. It would explode high in the air - explode softly - and send thousands, millions, of little parachutes into the air. Floating down to earth - boxes of Crayolas. And we wouldn't go cheap, either - not little boxes of eight. Boxes of sixty-four, with the sharpener built right in. With silver and gold and copper, magenta and peach and lime, amber and umber and all the rest. And people would smile and get a little funny look on their faces and cover the world with their imagination.

Robert Fulghum

Somewhere, way back when, someone must have given all of the people on my shopping guide list a box of crayons. Some have traded in their crayons for other creative tools, but they have never forgotten how use their imagination, and their work is putting smiles on faces all over the world.

Back when Alex was still writing her chronicles documenting her creative life, she posted a great essay about supporting other creative people. Unfortunately, I can't share that post, because her chronicles are down at the moment. The post was about the importance of supporting other creative people as you live a creative lifestyle. That post has always stuck with me, and as I pursue my creative dreams, I always try to support others doing the same (or similar) thing. I'm slowly filling my house with my own creations and the creations of others, instead of running to Wal-mart when I need something for my wall.

In my attempt to support fellow artists, writers, and creative people, I have created my own Holiday Shopping Guide. The list is full of creative, unique gift ideas.

All items--written, photographed, painted, sculpted, crafted or knitted--were hand made, and came from the imagination of some amazing creative souls from around the world. If you are looking for a unique holiday gift, you're only a click away.

I have also added a "Freebie" page to the Holiday Guide. This will be updated throughout the holiday season. Freebies will include gift tags, fun things to do, ideas for inexpensive last minute gifts to make, and whatever other things I can come up with. I am accepting submissions for the freebie page, so if you have anything to offer, please contact me.

The link banner will be displayed on the top of this page throughout the holiday season. Please support these talented people!

Kelly Gibbons' 2004 Holiday Shopping Guide

And, since it is Friday, here's my contribution to Penelope's Illustration Friday:

The subject was cling.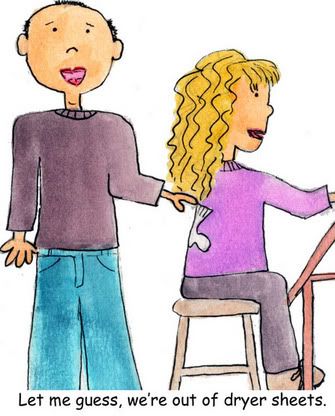 posted by Kelly @ 11/26/2004 10:42:00 PM
Thursday, November 25, 2004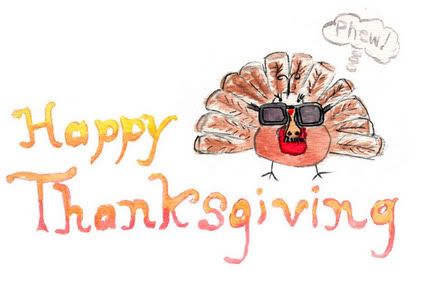 Happy Thanksgiving to everyone celebrating--Happy Day to the rest of you!

I am launching a holiday shopping guide tomorrow--check back for details. I created the site as a way to support creative people. I am only listing sites of creative people I know, and all items are in some way handmade. There are books, CD's, hand knitted items, pottery, photographs, art work, jewelry and more. I will also be posting "freebies" to the site. Some of the freebies include holiday gift tags, possibly cards, fun ideas for adults and kids, and ideas for cheap last minute gifts to make.

I have already selected the sites for the shopping guide, but if anyone would like to contribute to the "freebie" link I would be happy to post your idea. Send me an email.
posted by Kelly @ 11/25/2004 07:35:00 AM
Tuesday, November 23, 2004
It is one of those "where did the time go" moments. My son, my baby, is now a man. The little boy who called me "Kelly" for a full year when he was 3 is now 18. The whirlwind began at 5 am 18 years ago. It was a crystal clear, freezing cold morning and stars were still shining brightly in the sky. 4 hours and 13 minutes later I had a son.

A beautiful baby boy, my sweet baby boy, all 8 lbs. 2 ozs and 21 inches of him was an absolute amazement to me. His squished nose didn't bother me a bit, I knew he would be just fine. It is perfect.

In 18 years there have been so many remarkable memories. A journal post won't cover it all. The pink bunny named "Baby" that was carried everywhere, replaced only by "Snuggle Bunny I, II, III, & IV." IV sleeps in the attic now, I think. Ghostbusters and Ninja turtles played morning to night. First day of pre-school and kindergarten, and first grade...now a senior in high school. Chorus concerts, saxophone in the band, now a guitar, oh no, please not the banjo! Driving for the first time, hitting the snow bank. Memories are flooding my mind and making me smile and laugh. Brian has brought 18 years of laughter, side splitting, roll on the floor laughter. I was blessed with a funny kid.

I was blessed with a kind and generous and loving kid. Everyday, for as long as I can remember, for as long as he has been able to say it, he has said "I love you, mom." Today was no different. I woke him up at 6 am to say "Happy Birthday," and the first thing he did was say, "Thanks mom, I love you, give me a hug."

When I look at him now, all 6 feet 4 inches of him, I am still amazed. Amazed that this "man" (18 wow, an adult!) is my baby, my beautiful son.

Happy 18th Birthday, Brian. I love you.


posted by Kelly @ 11/23/2004 05:01:00 PM
Sunday, November 21, 2004
OOPS! I missed some anniversaries. I think it happened because right around the time I should have been celebrating my one year anniversary of walking away from cubicle land, I was starting a new job. Fortunately, I like this one, and there isn't a cubicle in site.

Even so, I still felt like I had let myself down by going back to work. I felt like I had failed at my quest to become a writer and an artist because I had to get a "real" job again. (Which by the way I don't like using that term "real" but couldn't think of a better one. ANY job that a person does, paid or unpaid, is REAL!) I forgot that many (most?) beginner artist and writers have to do this. Stephen King worked as a teacher, and in a laundry for years before he was able to write full time. He also says his best material came from those years.





Back to the anniversaries...I missed celebrating "I Finally Quit My Crappy Job Day," "Hey I Have a Website Day," "My first Journal Entry," and "I Published an Article (and got paid for it!) Day." I think it is time to celebrate, and part of my celebration includes making note of these missed anniversaries here.

In a year of doing this writing and art thing, I have found that pats on the back and outward celebrations by others for your accomplishments are almost non-existent. I'm not complaining, just stating a fact. The world is full of busy, busy people, and as much as we would all love the world to stop and celebrate every time we do something fantastic, it just ain't gonna happen. Sad, but true. That's why self-celebration is so important.

Stopping every once in awhile to note your accomplishments is also important. So today, take a few minutes to think about all the things you have done over the past year--I bet it is more than you think--and celebrate all those fantastic accomplishments.

If you list them here, I will personally note them with you and give you pats on the back (see comments) and include you in my celebration!

I also wanted to mention two new things on my sidebar:
I joined Notify me, and if you would like to be notified when there is an update here or elsewhere on my site, you can sign up. I did this because I'm a sporadic updater and I am trying to save you some clicks!

Hope's post reminded me of a great new find, Three Beautiful Things, and I added it to my favorite daily reads. I thought this was such a great concept, to quote the site, "Every day I want to record three things that have given me pleasure." Nice idea, don't you think?
posted by Kelly @ 11/21/2004 07:30:00 AM
Wednesday, November 17, 2004
Put away the pom-poms and break out the champagne (or sparkling apple cider if that's your choice), I'm done!

That's write (Freudian slip, right), the Crappy First Draft, of Buried Secrets is done. I added the final words (THE END) tonight, bringing the final count to 35,248.

I gotta re-work the title though. I did a google search and found out that one's already taken. OOPS!

Following the advice of many great writers. I'm putting the manuscript away for awhile (a month or so) and will edit later. Gosh this writing stuff is a long process.

Thank you to all who picked up those pom-poms and cheered me on. It did keep me going, and have me the extra incentive. Thanks, if you ever need a cheerleader, I'm there!
posted by Kelly @ 11/17/2004 07:51:00 PM
Sunday, November 14, 2004
Do you ever do nothing because you think what you are doing isn't enough? I know I do. But, I have also learned (am still learning) that the little things do matter and do make a difference.

That's why this new logo is posted over in my sidebar.




I was checking out some favorite websites, and I came across the link and thought it was such a wonderful idea. I wish I could buy one of the snowflakes, but right now I can't (other priorities). That's not going to stop me from doing something, and that something is posting that logo over there and telling everyone about it. Maybe someone who reads this is in a position to buy a snowflake, or maybe someone who reads this will post the link too, and then someone that sees it at there site will see it, and...I think you see where I'm going here. My little step does matter.

Little steps matter in life too. I have read this and seen this everywhere. Everything you do starts out with baby steps. If we try to run before we try to walk we will probably fall. I know it is frustrating when you want to run the marathon (or accomplish any goal) and your stuck in the training mode. It's hard to see all those runners running when your still lacing up your shoes. It's also hard to see all those writers getting contracts and publishing books when you are still sharpening your pencil. Remember, they all started by sharpening their pencils too, and at times, they still have to sharpen their pencils.

Since I set my goal of being an artist and a writer I have constantly heard the saying "persistence pays off". Persistence means keep going. No matter what. Persistence means not giving up when you are frustrated that you aren't going anywhere. Persistence means sending out another proposal or sample of artwork even if you have been rejected 40 times. Persistence means looking at those rejections like badges of honor for all the hard work you put in. Remember, for every rejection you get, it means you took a lot of baby steps to get there. The more baby steps you take the sooner you will be running.

This is a reminder to myself, because I have been stuck. I tried to run and I fell on my ass, and instead of getting up, I've been sitting her on my bottom crying about it. I'm done crying. I'm getting back up, brushing my self of and taking more steps. I will get there one baby step at a time.

I'm in the final stages of writing a novel. Back in August I joined a group, A Novel Plan, formed by the wonderful, Angela. The group is a three month novel writing plan and Angela encourages and tries to motivate you along the way. It has been a wonderful experience. She doesn't promise you that you will do it (really that's up to you--she's wonderful, but there are limits), but she does tell you that it is possible. It is possible if you make the effort, put in the time, stop making excuses and just do it.

In the beginning I was so motivated--I was seriously kicking butt. I wrote everyday because I made the time to do. Then self doubt and life (new job) got in the way, and I wrote less and less, and for a good month I stopped completely. I never gave up on the idea though. A few weeks ago, I walked by a book store, and the familiar thought, "Someday, my book will be sold there," crept into my head. Then I stopped in my tracks and thought, "How will they ever sell your book there if you don't write it?" They won't! If I don't write a book, there is absolutely no possible way that it will ever be for sale in any book store. It was the wake up call I needed.

I started writing again, and the three month deadline is looming over me (Saturday, November 20, 2004 to be exact.) That's 6 days away. I have 6 days to finish my first draft. I am not worry about the finished book right now (the pretty polished one that will be in that book store). My only goal is to produce a "crappy first draft" by the deadline. I will do this.

If anyone is in a cheerleading mood this week, I could sure use the encouragement. In football terms (I think), my quarterback has thrown up the Hail Mary Pass and I'm running like heck to the end zone hoping to catch it. And if I screwed up that football analogy, forgive me, I tried. At least I knew I was going for a touchdown.

The book I'm writing is a Young Adult Novel (see sidebar) and I have almost 28,000 30,953 32,508 34,449 words written. My goal is about 40,000 words, but if I find my self at "the end" before that I'll stop there. Words here might be scarce until Saturday--I would rather put in the time there (priorities, it's all about priorities), but never fear (I'm picturing one or two faithful readers shaking in their shoes) I shall return. Be scared, it will probably be sooner than you think!
posted by Kelly @ 11/14/2004 07:31:00 AM
Thursday, November 11, 2004
It's Friday again, and you know what that means: Illustration Friday over at Penelope's! This week's theme is Vintage.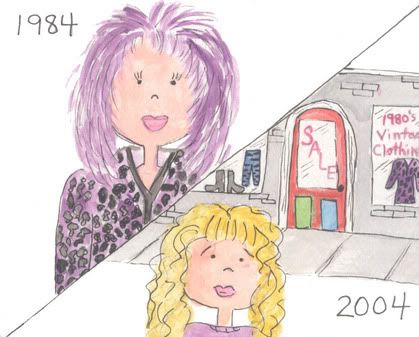 What does it mean when the clothes from your teen years are for sale in a Vintage store?

(If you say it means I'm old, I'll poke your eyes out.)

I also thought I would kill two birds with one stone, and use this cartoon to update my cartoon, A SunnyK Kind of Day.
posted by Kelly @ 11/11/2004 09:49:00 AM


Your ship was spotted off the coast this morning, slipping silently through the fog... coming around the cape she appeared in a shaft of sunlight... and what a sight to see! Glimmering as much as the ocean herself. Massive and beautiful beyond belief! Laden with treasures, happy times, friends, love, and laughter. Quick, you must PREPARE for her docking... you MUST make space in your life for her gifts... otherwise, just as quickly, she'll quietly slip back out to sea. ~ Mike Dooley

Isn't it funny when the universe provides a laugh when you need one? Yesterday on my way to work, I was still dwelling on the not so positive review, and I kept telling my self to focus on the positive. I decided to enjoy the scenery and remember all the wonderful things that happen. It was a beautiful morning. The air was cold and crisp, and the sun was peaking out through some clouds. The clouds were tinted the perfect shade of lavender by the rising sun. Steam rose from the lake and a light fog surrounded everything. Suddenly this guy appears in front of me (I hope he was going for the newspaper), and I burst out laughing. All the negative seemed rather insignificant. Laughing can do that for you. Throughout the day, when anything got to me, I thought of this man and smiled. It is so true, the universe will provide you with all that you need. I needed a laugh and one was served up in the form of a tired man in his robe, slippers, and winter cap. If anything has you down, ask for a laugh. The world is full of great material.
posted by Kelly @ 11/11/2004 09:22:00 AM
Tuesday, November 09, 2004
Did you ever notice how many people love to suck the joy from you?

Why do people have an urge to do this. I so wish that they would listen to what is taught in childhood, "If you can't say something nice, then don't say anything at all."

Or at least if you are going to say something rotten, do you think maybe that you could follow the positive, negative, positive rule? If you don't know what this is, it means say something positive, then in a nice way state what was wrong, and then follow up with a positive suggestion. Tell me how wonderful I am before you crush my ego, thanks.

The world would be a much better (happier, nicer) place if we could all follow this rule. Of course the "Negatives" will probably find a way to spread their venom anyway.

BTW, this is not written in response to a negative comment (so far I've been lucky). And I know by writing that, some law ( Murphy's maybe?), says that a negative comment is sure to follow.

It is also not in response to the really crappy rating some ANONYMOUS person gave me at Blog Explosion. Which I really found funny, because I had no idea when I signed up that I was going to be judged. Let me state for the record, I would not have joined if I had known I was going to be rated. I noticed today that that feature is down (part of it anyway), so I guess there were a few others that didn't take a liking to it. As I noted over at Toni's, I do not do well in popularity contests.

It is an indirect response to a so-so review I received at work. I don't have all the details yet, so I am trying not to pass too much judgment (repeating in my head, if you can't say anything nice, don't say anything at all). The reason I am so bothered by the review is two-fold. First, I really like my job (and as usual, their is someone to suck the fun out of it), and second, there were crazy circumstances today that the reviewer should have taken into consideration. Oh wait, there's another reason (does that make it a tri-fold?). I have had zero training, and not once has anyone ever told me that I was doing something wrong. Not in a mean way or a nice way. If I don't know the rules, how can I expect to play the right way?

BLAAAAAHHH! I feel better now that I vented.

After this happened today, it hit me how often this happens. And I'm just gonna say it, that sucks. Think about it, we are all guilty of it. For example, someone shares good news, and you are just a wee bit jealous, have you ever pointed out something negative in the news (just to burst their bubble)? I'm sure you can point out many times that this has happened to you. I know I can. In so many little ways this happens all the time. I only wish I could figure out what pleasure someone gets by ruining another person's happiness.
posted by Kelly @ 11/09/2004 04:18:00 PM
Friday, November 05, 2004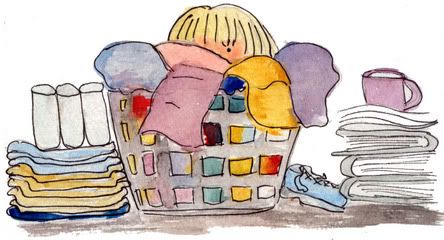 Geez, it's already Friday again. You know what that means--yep, Illustration Friday at Penelope's. This week's theme is SEARCH. I pulled one from the archives that I think is very appropriate. I'm searching for an end to the housework!
posted by Kelly @ 11/05/2004 01:16:00 PM
Thursday, November 04, 2004
Great minds must think alike. So many times when I feel like saying something, I surf around the blog-o-sphere, and find that it has already been said. This happened a lot to me when I was writing too.


And yes, you read that last sentence correctly. WHEN I was writing. I have not been writing, not at all. I have been using the lame excuse that I am busy or tired, but I know that if I really wanted to write I could make the time. Truth is, I don't feel like writing. I don't really want to write, and I don't feel like I have any to say. And, when I have made a half ass attempt at writing anything, it is just plain awful (to me anyway).


I had great expectations last year when I started my writing career. My high hopes fizzled fast. I also had tremendous beginner's luck. Everything I submitted was published in the beginning, then it was a steady decline. I have the pile of rejection letters to prove it. Yes, I know, that means I'm a real writer. It also made me feel like a real loser. I'm standing up and admitting that I have a constant need for approval and writing didn't feel that need.

I know I am in a slump--I've been here before and I recognize the signs. This time though, I'm not so sure I want to continue on the writing path. Truthfully, it hasn't given me what I thought it would. Sure, in the beginning (the initial high) was wonderful, but the more reality set in, the more I really started to think that the writing life wasn't for me.

Art also worked to fill the void for awhile, but that excitement also faded when assignments stopped flowing. You see, I have come to the conclusion that as much as I want a job that I love, I also want and need a paycheck.

It is funny where my path has lead, to a job that I love that also provides a steady paycheck. Maybe being a preschool teacher was what I was searching for all along. Who knows? I will admit that at the moment I am perfectly content just being a assistant teacher. It really is the best job I ever had, and it really is fun. Even the bad days aren't so bad. At its worst, I have a child who is acting up and giving me grief. Ten minutes later this same child is usually smiling at me and asking if he can hold my hand. Forgiveness comes easy with small children. It's only one of the wonderful things I learned at my job.

Anyway, the point I am trying to make with my rambling is that I don't know where this blog is heading. If I'm not actively pursuing a writing and art career do I really need this blog or a web site? I don't know. Will I change my mind about all of this next week? Again, I don't know. One thing I have learned for certain is that life is full of surprises and constantly changing. Bear with me, someday I might have a clue. Some how I doubt it though.


PS To my friends: I want you to know that I am fine. Actually I am very happy and quite content at the moment. Looking at writing and an art as a hobby is rather freeing. I'm not stressing because I am not doing it. I'm enjoying it when I do it. And most importantly, I am having fun just living, being me. Now that I have made this "confession," I will probably have more time to contact all of you. Now I won't feel guilty just saying "hi" and not reporting all of my writing and art ventures.
posted by Kelly @ 11/04/2004 02:17:00 PM
Monday, November 01, 2004
Ever since I started to work, writing has been hard for me. I am not sure why, but writing is the last thing I want to do. I have neglected my novel (although I did add almost 2000 words this weekend), I have an assignment due in 10 days for a writing class, and I haven't started it yet, and it is pretty obvious that I have neglected this journal.

I am not avoiding writing on purpose, it is something that just seemed to happen after I started working again. I'm not worrying about it though either--I feel like I am simply in a dry spell at the moment and eventually the writing will come again. I also know my creativity is still with me, because I have painting and snapping pictures like mad.

I am learning to accept this creative ups and downs and different flows. I just go where they lead and don't question them anymore. In that sense I feel like a more relaxed person. It is also a HUGE sign that I have grown and evolved ENORMOUSLY over the past year. It must be huge if I noticed the change.

And of course, I have pictures to share today. Of course I do, it was Halloween now wasn't it? And since I have never actually posted a picture of my husband here, I thought his Halloween picture would be the perfect way to introduce him.

*NOTE* Since I have been putting a large amount of graphics here lately, I have decided to use thumbnail pictures. If you would like a larger image, click on the picture. Thanks.

I hope your Halloween was as haunting (and fun) as mine!

Ray, the husband, as...well see for yourself



Me
Brian, the son, as a Hippie going to War
Yes, part of the costume was the Irony

Kelci, the daughter, as a Bumblebee Fairy

Michelle, the other daughter, as a Butterfly Fairy




My husband was voted Most Original at the party we attended. The men couldn't stay away from him, and the women were jealous of him. Everyone kept trying to fix him up with some man. I was a little scared. LOL! Naw, we had a blast.

The best comment of the night:

A woman said to him, "I've waited forty years for breasts like that."
His reply, "Here you want one?" As he pulled a sock out of his bra and handed it to her.
posted by Kelly @ 11/01/2004 02:00:00 PM
About Me
Name: Kelly Gibbons
Home: Dallas, Pennsylvania, United States
About Me:
See my complete profile
Not Quite Grown-up: The Random Ramblings of Kelly Gibbons the Dreamer, Writer and Artist
My Artwork
Follow Me
Recent Posts
More Stuff I Make
Archives
Powered by