Monday, April 21, 2008
I wish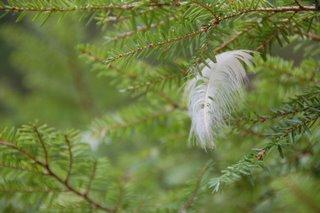 I wish had the passion to write again. The only writing I do any more is for school. I'm good at it, but it's not what I had in mind when I said I want to be a writer. I suppose it's the path I'm on right now...

I wish I would make the time to do more with my novel. I wrote it. I paid to have it edited. And now it just sits here. Sure I sent it off to a few agents, but with a half-assed synopsis and and a less than stellar effort. I more or less did it just to say "see I did it". I don't have the time (or don't take the proper time and make a real effort) to really do it right. Reasons or excuses...whatever...they're both lame.

I wish I had the passion to paint again. I haven't picked up a paint brush in a very long time. I feel like my creativity has vanished. The ironic thing is that I have displayed some of my artwork at my desk, and people compliment it all the time. Now that I have the courage to display it and be proud of it, I don't have the courage or ambition or desire to create it any more.

Sometimes I think my life is a cruel joke. OK, maybe not a cruel joke, but something. I don't know what.

I wish I could get such a good night sleep that I didn't feel tired any more. Every moment of every day I just feel tired. I kind of gets to me after awhile.
posted by Kelly @ 4/21/2008 08:03:00 PM
About Me
Name: Kelly Gibbons
Home: Dallas, Pennsylvania, United States
About Me:
See my complete profile
Not Quite Grown-up: The Random Ramblings of Kelly Gibbons the Dreamer, Writer and Artist
My Artwork
Follow Me
Recent Posts
More Stuff I Make
Archives
Powered by