Sunday, December 31, 2006
I love NY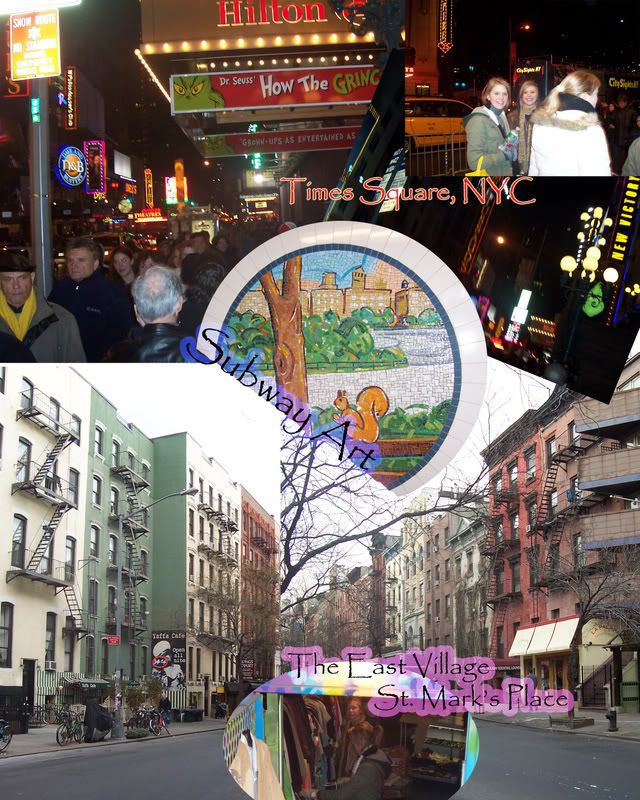 New York the eve before New Year's Eve (thought we'd get a jump on the celebration).

We (me and my girls)took a bus trip to New York City yesterday. I'm still not brave enough to drive there, but I did do pretty good with the subways. I think I finally figured out the whole uptown/downtown thing, and I didn't get on a wrong train once! This is the first time I took them alone, and we had a blast discovering new parts of the city. The East Village (where NYU is) was our favorite. Part's of this section are so quiet that I was amazed I was still in the city. St. Mark's Place has a two block section between 2nd and 3rd that is lined with cool little shops and vendors. We also went to Canal Street for the first time, and I am never, ever going back there. It was like a Fair gone bad--crowed, dirty streets, with vendors selling bad imitation designer stuff (Wanna $20 Rolex or a Gucci bag?). I always hear people talking about shopping on Canal Street and thought it would be so awesome. Trust me, it's not. The Village was way better. Another highlight was Bryant Park in midtown (a few blocks from Rockefeller Center). It's right behind NY City Library. A Holiday Craft fair was going on, and vendor were set up in tents, plus the ice skating pond was set up (which seems like a much better place to skate than Rockefeller Center's way too crowded rink). We didn't eat at the restaurant, but it would be an amazing place to sit an relax, so it's on the list for next time. That's the thing with New York City, it's impossible to do everything you want to in a day, so there is always a reason to go back. And, now that I've somewhat "mastered" the subway, I have no excuses left.

I hope everyone has a Happy New Year filled with amazing new adventures!
posted by Kelly @ 12/31/2006 02:12:00 PM
Saturday, December 23, 2006
A Chritmas Story


Today, I was at the grocery store (something I dread doing), so as usual I was a bit grumpy. In the produce section, a little old man reached for a head of lettuce at the same time I did. When he grabbed his head, and a few more rolled out. We smiled at each other as we caught them, and stacked them back on the pile. Then, he looked at me and said, "It's a shame when this is the best part of your day."

I laughed a little and said, "Oh, I'm glad it's not mine. I don't like shopping." As soon as I said this I regretted it. He looked so sad.

"It doesn't feel like Christmas time. I don't even feel like getting spruced up anymore to get out and about," he said, and reached up to scratch his unshaven chin. "I usually shave before I go anywhere. I didn't even feel like even doing that today."

"I know, maybe it's the weather," I said, referring to our "heat-wave". "Hey, why not get all dressed up tomorrow? It might make you feel a little better."

"Yeah, maybe," he said, definitely not convinced. "This will be my first Christmas without my wife."

"I'm so, sorry to hear that. This is my first Christmas without my Grandpa. It's really hard. Do you have any children?" I asked.

"I have a boy, 32. He has cerebral palsy, though, and he acts about four, up here" he said tapping his head. I didn't know what to say. "And another boy. He's 29."

"Are you going to see him for Christmas?"

"Oh yes. I have them all with me. He helps me out a lot. I'm just down here getting our Christmas dinner. Ya know, I used to come down here every Saturday with my wife, and we'd get everything, but now, I don't even know..." his words trailed off and he started to walk away. "I'll get it all, I'm sure."

"I hope you have a nice Christmas."

"Oh, I will. This is just what life is. I'll be OK."

We both left smiling and wishing each other well, but I wished I had said more to him. I wanted to do more, but I really didn't know what to do.

I walked around the store, and for once, didn't have an awful time. I walked around feeling grateful that I was happy and healthy and able to buy a cart full of food for my family knowing we'd all be together to eat it and celebrate together. I felt grateful to have so much.

Right before I left the store, I ran into the man again. He was in the cologne aisle, buying some body wash and cologne. I imagined that he was going to "spruce himself up a bit", and I smiled. "You still here?" I said.

"Yep. I don't want to go home just yet, because they might make me do some work," he said, and laughed.

I really wanted to do something to brighten this man's Christmas a little, but I still couldn't figure out what to do. I walked around the store, looking for a small gift I could give him, but nothing seemed right. What do you give a stranger?

I finally found an ornament. It was an angel sitting in a treasure box, with the words "Love in a Box" written on the wrapping. I would give it to him and tell him that I had a feeling his wife was thinking about him, and wishing him a Merry Christmas from Heaven. I checked out, and then walked around the store to find him. I couldn't find him anywhere. He was gone. I was so disappointed that I couldn't give this lovely man his gift. I left and thought I would return the ornament later.

As I drove home, I decided I would keep the ornament, and hang it on my own tree. Every year, I will put it up, and remember the stranger that reminded me that giving the gift isn't important, it's the thought that counts.

Merry Christmas my friends. May your blessings be many and your troubles be few, and remember to relax and enjoy it all.

Speaking of blessings (Check out the cookies baked by my wonderful daughters, the best daughters a mom could ask for and the best cookie bakers, too! Life is good.)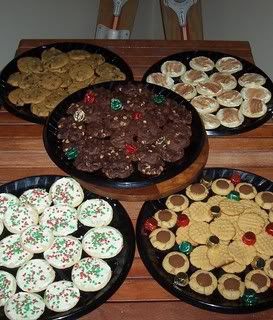 posted by Kelly @ 12/23/2006 10:38:00 PM
Friday, December 15, 2006
Almost 40
Toni has me thinking about the year before you turn 40. I had a year to plan, and do, but as usual I have waited until the last minute. I'm in the month before I turn 40, and have a whole year's worth of things to do.

So, should I just make the year I turn 40 a year long celebration? I say YES! I can talk about "The Things I Did When I Was Forty" for the rest of my life. Of course, it can be a continuing saga, and the sequel can be "The Things I Did When I Was Fifty" and so on until the end. Anyway, Here are some things I'd like to do:



Learn how to dance.

I'm sort of working on this now with Zumba.



Lose 20 pounds.

I'm hoping the dancing helps with this. I've lost 20, but I wanted to lose 40 by 40 and I don't see that happening, so to get to minus 40 while I'm 40 would still work for me.



Go to Paris

(This doesn't have to happen in 2007, but for this I will at least have to

get my passport

, so that to will be the goal).

Go to FRED. Toni is planning a girl friends get together out west, and I must get there. This will take care of some other must do's:

Meet some online friends

.



Finish my YA Novel and send it to agents.

I am so close on this one, it might happen before I turn 40!



Show my art in a public place.

This will happen, because I am already scheduled to show it at my local library. It's not big, but it's a start and it will be out there.



Take Mosaic class.

This was on last year's list and I never did it. I'm finding too many of my "things to do this year" get pushed onto the following year's list. Gotta stop that!



Start a second novel or non-fiction book.

I have ideas. I just have to get busy. Angela's, A Novel Plan, will help with this.



Finish my office, and finish my bedroom.

I think I've lived long enough in the "Cloud Room", yes, my bedroom is sky blue with clouds on the walls and ceilings because I've never repainted it since we moved in when we finished my daugther's rooms. I don't even remember how long ago that was, too many years ago to remember.



Continue my education.

This will happen to, because my new job offers free education. I have already taken some steps toward this.



Add to this list.

Gosh, there are so many things I want to do, but as I sit down here to write them, and try to make concrete promises to do them, I'm drawing a blank. This list will get longer, and it will get done.
posted by Kelly @ 12/15/2006 08:38:00 PM
Why yes, I am weird
So, I have been tagged. I don't think I have ever been officially tagged before. Oh, and this is my (drum roll, please) 400th post. I have a nice mushy reminiscing post saved as a draft, but I don't see that coming anytime soon (I haven't actually finished t yet).

OK, so I have to name six weird things about myself. Ya think this would be easy for a person who is told she's weird on a daily basis, but I guess I've never sat around and figured out exactly what makes me weird. I just am. But, for Angela, I will try.

1. I have this website, but very few off line people know that I am a writer and an artist (not even the ones I see on a daily basis). I have trouble telling people about this part of my life, and when I do I feel very egotistical. I imagine them thinking

she has a website named for herself, who does she think she is? She's not famous or published or (fill in the blank), why on earth would she have her own website?

Yes, silly, and yes, I'm getting over it, and yes I know this could be (alright it IS) a huge reason why I'm not more successful.

2. My feet are weird, especially my right foot. When I make footprints (like when I get out of the pool and walk on the deck), I only make 4 toe prints, because my pinkie toe permanently crosses over the next one and never touches the ground. (And, I'm sure their are quite a few other weirdos with toe/feet issues who are turning away in horror right now.)

3. I have phone issues. As in, I really do not like talking on the phone, and have a really hard time contacting new people by phone. When I have to call someone that I don't know, I have to rehearse a fake conversation before I make the call (sometimes I even write down a script). I don't seem to have this issue so much at work, just at home. This goes for personal and business calls. Yes, I know. I'm weird.

4. Everyone who knows me, probably knows this one already, but I'll list it anyway. I love cemeteries. I could walk around them for hours at a time. I love finding unique headstones, and I look at them like works of art. I read the headstones and make up stories about the people, and my young adult novel has a tie-in to this. I am just absolutely fascinated by cemeteries, and find them so peaceful and calming. I have also researched names and dates I've found interesting. I often go to them when I need to make decisions, need to talk things out or just to relax. Many times I go to cemeteries where I don't "know" anyone. Oh, and I'm not Gothic (not that there's anything wrong with that). I just mention it because most people who've read about this online think I am and want to include me in things I'm not really interested in. I'm not saying anymore.


5. I am terrified of caterpillars (again, most people who know me, already know this). I have near panic attacks when I see them. I start to cry and shake and my whole body starts to itch. OK, I'm itching right now just thinking about them. I've tried to get over this, but I can't, and I really don't even know if I want to. The thought of being OK with caterpillars freaks me out. Oh, and once, a butterfly landed on my toe, and for one second I was thinking

ahh, how sweet

, then it wiggled and I saw it's caterpillarness and I totally freaked out. I was jumping up and down and crying, and screaming, "get it off me, get it off me". Yes, I have a problem. So? I can laugh about it now.

6. I wanted to grow up to be a hermit. I saw a hermit walking on the street--well, that's what my mom said he was--and after she told me that he lived in the woods in a lean-to by himself, I just thought that was the most awesome thing I ever heard. I still fantasize about doing it. Imagine being able to just sit in the woods all day by yourself in your ratty old clothes with no one to bother you, no rules to follow, no one to answer to--just you and the animals. Hmm, now that I think about it, I think I just about did that for a year, except it was me and my PJ's and puppies with the Internet. Not as glamorous as it sounds.

I'm so sure there are more, but I was only required to do six, so now I'm done.

OK, so I'm not done. I despise being tickled, and my reaction to being tickled is over the top dramatic. I cry, run away, shake, kick, scream, in general I carrying on like a nut case. Please don't ever, just for fun to see my reaction, even try to tickle me. It ain't pretty, and I can not be held responsible for my actions.

So, how are you weird? Blog about it or leave it here in a comment. I'm just weird enough to really want to know.
posted by Kelly @ 12/15/2006 04:30:00 PM
Friday, December 01, 2006
Some plugs for me and some plugs for others
One of the hardest things for me is self promotion, which is pretty ironic coming from someone who named a website after herself (really, not my idea). I always feel like I'm bragging or something, but I know it's also something I need to do for myself to try to stand out in this business. Still, it's hard for me.

It's very easy for me to promote other people and other sites, and it's nice when I can "kill to birds with one stone". (That's a really odd saying isn't it? I honestly have no desire to ever kill one bird). OK, so on to the promoting:

If you need to hire someone for, oh, just about anything, Angela's your girl, so check her out at the fabulous new site, Jane of Many Trades. Check out the logo too, you might know the artist.

And, if you are looking for a North East Pennsylvania Blogger, than NEPA blogs is for you. I made the list--go me!

OK, that's enough of my shameless self promotion. I'm out of here.
posted by Kelly @ 12/01/2006 09:38:00 PM
About Me
Name: Kelly Gibbons
Home: Dallas, Pennsylvania, United States
About Me:
See my complete profile
Not Quite Grown-up: The Random Ramblings of Kelly Gibbons the Dreamer, Writer and Artist
My Artwork
Follow Me
Recent Posts
More Stuff I Make
Archives
Powered by