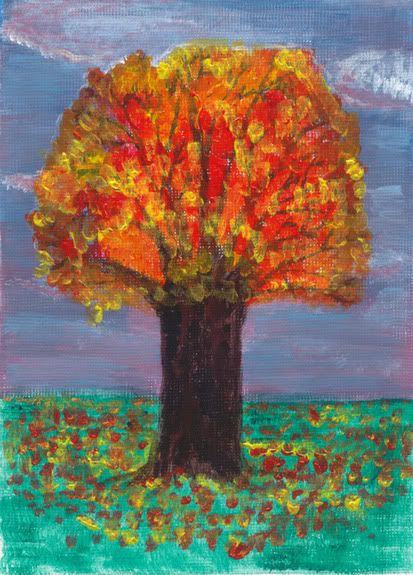 Aren't the fall colors SNAZZY? This is for Penelope's Illustration Friday. I'm obsessed with the changing leaves and fall color this year, so I stuck with it for her theme of SNAZZY. Of course most people had a different take...
posted by Kelly @ 10/29/2004 04:29:00 AM
Wednesday, October 27, 2004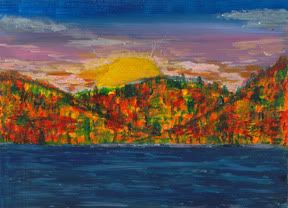 Sunrise Over Harveys Lake

This is my interpretation of the view I see every morning as I drive to work. I took the liberty of deleting all the houses--I think it is a better view without them. If I had time I would stop to photograph it. As far as drives to works go, I have to admit mine is rather nice.

As I painted this picture, I started to think about what my typical day is like. It goes like this: up at 5 am, out the door by 6:30. Then it's a 15 minute drive to work around the lake. (I do enjoy the view.) Once I get to the classroom I have a few things to do to set up for the day, then it is off to the bus at 6:55. I'm on the school bus for an hour--this is pretty cool too. I get to sing as we wind our way though the mountains picking up my friends. It's really fun to be greeted so warmly that early in the morning. "Hi Miss Kelly, Hi Miss Kelly<" plus huge *real* smiles.

Then it is back to school for more fun. School's over at 12:30, but some days I have to stay late to clean, plan, or set up the room. I'll be honest, I do not get out at this time most days. Then it's back around the Lake, back home. At this point I try to squeeze lots of things in--cleaning, cooking, writing, painting, resting, relaxing. Very rarely do I get any of these done. There is always something else that comes up. My reasoning here is if I say I am going to do them everyday, eventually it will happen. Wishful thinking, I'm sure.

Up untill Monday of this week, I also had to either go to a field hockey game or pick up from practice. Games (which were usually three a week) meant leaving the house by 3:30 (early if they were farther away--the last two were over an hour away) and not getting home until about 7:30 (again depending on the length of the trip).

Then again I try to squeeze in the stuff I didn't get done between 1 and 3:30, and then finally (hopefully) I fall into bed around 9. Again wishful thinking--that's when I would like to go to bed. Many nights it is closer to 11.

And, I wonder why I am tired. The good news is that field hockey is over for now. The bad news they lost in the first round of play offs. But, this means a lighter schedule. Maybe I will be able to get more things done. Yep, more wishful thinking--there will always be something else to do.

I didn't write this to complain. I am always curious to know what other peoples days are like. So, tell me, what goes on in a typical (is there such a thing?) day in your life?
posted by Kelly @ 10/27/2004 05:07:00 PM
Saturday, October 23, 2004
Looks like another creative soul lives in the house. My son borrowed the camera and took some great shots. This is the Huntsville Dam, it is about a mile from my house. When I run, this is the view. Nice, huh?

Autumn in Northeast, PA is truly awesome.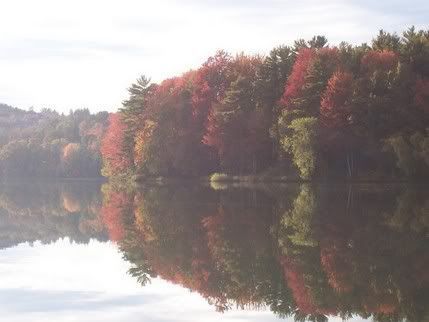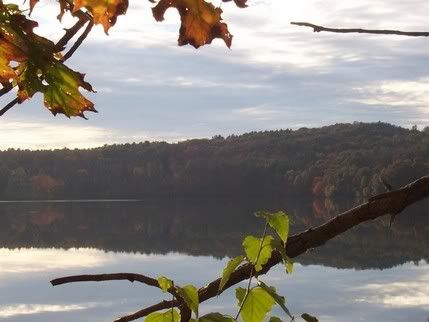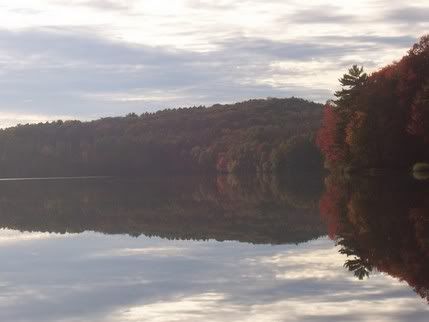 Sunsets here aren't too bad either.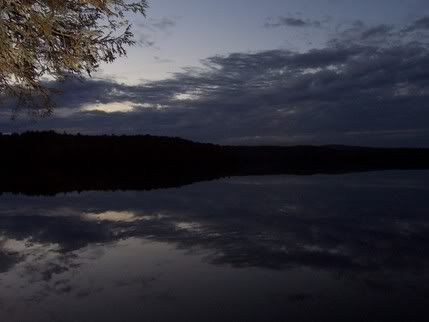 posted by Kelly @ 10/23/2004 06:55:00 PM
Tuesday, October 19, 2004
Twice in one day--aren't you lucky!

I got suckered into looking at my site stats. Marcia (Sept. 21 Post) gave me the idea. I love that the following quote brought someone to my site. It is such a great quote:

Men succeed when they realize that their failures are the preparation for their victories. Emerson

I also wanted to share a new site I found:



It's not that I want tons of readers, but a few more would be nice. OK, I admit, it makes me feel good when someone unexpected leaves a nice comment. It brightens my day. Since I joined blog explosion, I have had several day brighteners. I like that.

And one more thing:
Check out Katrina's new photography site. It is awesome!
posted by Kelly @ 10/19/2004 06:31:00 PM



I feel like I have fallen or dug myself into a giant hole and I can't get myself out. Everyday there are more and more things added to my ever growing list, but the first things on the list still haven't gotten done. The list of things to do, or that I want to do continues to grow, and I seem to lose time everyday.

I start out with great intentions. Everyday I plan to post here, I also plan to paint, and to write, and to clean the house, and a million other things. I plan and plan and plan, but I never actually get around to getting anything done. To motivate myself, I even get all the stuff out (thinking if it is in my face I will have to do it), but some things else always demands my attention. The things I really need (or want) to get done, don't get done. BLAH! This only creates more piles in my house which is now overflowing with far to many piles of things to do. The piles are out of control!

I feel like I am neglecting everything I swore I wouldn't neglect, and that frustrates me. I guess I have to admit that I can't do it all. I am trying my hardest to get back on track, but at the moment it is not working at all. I think I will sit down and paint myself a ladder to get myself out of this hole.
posted by Kelly @ 10/19/2004 02:13:00 PM
Monday, October 11, 2004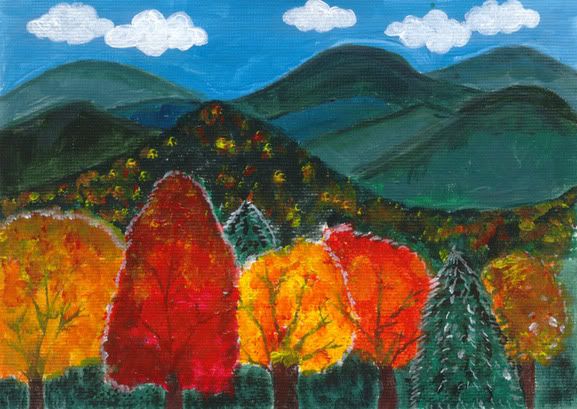 Endless Mountains in Fall

Art and writing now seem like hobbies to me. I still feel that I am an artist and a writer, but I longer feel as if I am actively pursuing either of them as a career.

I don't sell art, I don't sell writing, and I don't earn a living doing either of them. I don't query editors, and I haven't sent art samples to any art directors in a long time. Truthfully, I don't have the heart to at the moment. Rejection will do that to you.

I am much happier creating things because I want to. Creating things is actually fun again since the pressure of "how can I make money with this" is gone.

I am experimenting with new medias. My latest is acrylic. I have used them before, but it was a very long time ago. I like the bold colors that they create. I'm not sure what I'll do with my creations yet. For now, I will enjoy simply creating new things.

In some ways I am sad about this. I wanted all of this to work out the way I wanted it to. I wanted to earn my living as a creative person (as a writer, artist or photographer). Things don't always turn out exactly as we plan. I am learning (and trying) to accept this, and to go with things as they unfold. I have always felt that everything happens for a reason, but when things happen that I am not sure about, I resist.

A great example is my new job, as an assistant teacher. I AM earning a living as a creative person, just not in the way I had thought.

I actually love my new job. I love working with the children. Everyday I get to do something creative. I have to, it is part of the job description. I sing, I dance, I play dress up, I play with puppets, I paint, draw, make up stories. The people I work with are great. I am not complaining about my job. The only thing I don't like about it the actual going to the job. Yes, I know that sounds weird, but the whole process of getting up (early), making my self presentable, and getting out the door is a serious bummer to me. Once I am there, I love it.

Part of me wonders though, if I am using this new job as an excuse to give up the art and writing because it became hard. I try not to look at it as giving up, but as doing it differently. Is this just me rationalizing?

If I am happy, does it really matter what I am doing? Isn't that what it is about anyway?

Yes, I think it is time to rest. It is time o sit back and enjoy what I am doing (and what I have done), and not worry about what I should be doing. Maybe it is time to be Kelly Gibbons, the person. This is hard to write, (I have issues), but I really like the person I have become. I haven't earned much as a writer or an artist, but that's OK with me now. What I have learned about myself, and what I have accomplished in a year is far more important. I am proud of myself.
posted by Kelly @ 10/11/2004 07:02:00 AM
Saturday, October 09, 2004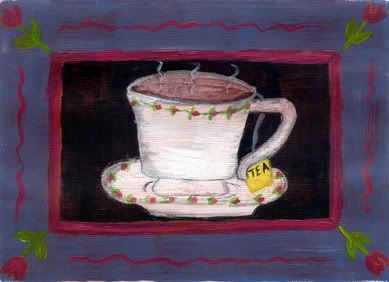 My friends Gary and Maude sent this to me, and I had to share. I'm not sure of the original author.


The Teacup

There was a couple who used to go England to shop in a beautiful antique
store.

This trip was to celebrate their 25th wedding anniversary. They both liked
antiques and pottery, especially tea-cups.

Spotting an exceptional cup, they asked "May we see that? We've never seen
a cup quite so beautiful."

As the lady handed it to them, suddenly the tea-cup spoke to the couple;
"You don't understand." It said, "I have not always been a tea-cup. There
was a time when I was just a lump of red clay. My master
took me and rolled me, pounded and patted me over and over and I yelled
out, "Don't do that. I don't like it! Let me alone!", but he only smiled,
and gently said; "Not yet!!"

Then. WHAM! I was placed on a spinning wheel and suddenly I was spun around
and around and around. "Stop it! I'm getting so dizzy! I'm going to be
sick!", I screamed. But the master only nodded and said quietly "Not yet."

He spun, poked and prodded and bent me out of shape to suit himself and
then......he put me in the oven. I never felt such heat! I yelled and
knocked and pounded at the door. "Help! Get me out of here!" I could see
him through the opening and I could read his lips as he shook his head from
side to side and again said, "Not yet".

When I thought I couldn't bear it another minute, the door opened. He
carefully took me out and put me on the shelf, and I began to cool. Oh,
that felt so good! Ah, this is much better, I thought. But, after I
cooled he picked me up and he brushed and painted me all over. The fumes
were horrible. I thought I would
gag. Oh, please; "Stop it, Stop it!!" I cried. He only shook his head and
said "Not yet".

Then suddenly he put me back in to the oven. Only it was not like the first
one. This was twice as hot and I just knew I would suffocate! I begged. I
pleaded. I screamed. I cried. I was convinced I would never
make it. I was ready to give up. Just then the door opened and he took me
out and again placed me on
the shelf, where I cooled and waited------- and waited, wondering what's he
going to do to me next? An hour later he handed me a mirror and said "Look
at yourself."

And I did. I said, "That's not me, that couldn't be me. It's beautiful!
I'm beautiful!"

Quietly he spoke "I want you to remember", then he said, "I know it hurt to
be rolled and pounded and patted, but had I just left you alone, you'd have
dried up. I know it made you dizzy to spin around on the wheel, but if I
had stopped, you would have crumbled. I know it hurt and it was hot and
disagreeable in the oven, but if I hadn't put you there, you would have
cracked. I know the fumes were bad when I brushed and painted you all over,
but if I hadn't done that, you never would have hardened. You would not
have had
any color in your life. If I hadn't put you back in the second oven, you
wouldn't have survived for long because the hardness would not have held.
Now you are a finished product. Now you are what I had in mind when I first
began with you."

The moral of this story is this:
God knows what He's doing with each of us. He is the potter, and we are His
clay. He will mould us and make us, and expose us to just enough pressures
of just the right kinds that we may be made into a flawless
piece of work, to fulfill His good, pleasing and perfect will.

So when life seems hard, and you are being pounded and patted and pushed
almost beyond endurance; when your world seems to be spinning out of
control; when you feel like you are in a fiery furnace of trials; when life
seems to "stink", try this....

Brew a cup of your favorite tea, in your prettiest tea cup, sit down and
think on this story and then..have a little talk with the Potter

posted by Kelly @ 10/09/2004 03:10:00 PM
Wednesday, October 06, 2004
Big huge, SIGH.

It has been a long week. I started another new job, well, sort of. I transferred to a different Head Start center. This one is closer to home, so it will be better in the long run. Adjusting to the new schedule again (before I even adjusted to the last one) is the tough part.

Leaving the children at the other center was even harder. I was only there for three weeks, but I really grew fond of those children--love at first sight I guess! Luckily I have seventeen new friends to make it easier.

Bigger SIGH, and a few whimpers.

My old computer crashed and burned. The hard drive is undectable. Everything is gone. I am horrible at backing things up, so this means many, many things have been wiped out. Looking at my old computer is like looking at the charred shell of a burned house, except I don't even have rubble to sift though. I can replace most of it, but there are some things that are gone forever. I have no one to blame but myself, so I shouldn't be complaining.

There are some bright sides here though. I did save the novel I have been working on (yeah me), and my new computer, ROCKS. Flat panel monitors are the bomb. And I have a blank slate to work with.

I will survive.

I did miss a few days of email, so if you sent anything important and I didn't respond, please resend it if you wish.


posted by Kelly @ 10/06/2004 07:54:00 PM
Friday, October 01, 2004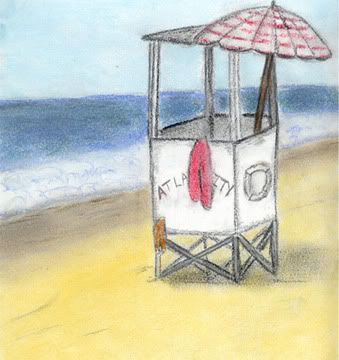 I went to Atlantic City yesterday with my mom, my aunt, and my grandpa. It was wonderful to see the ocean again, to dip my toes in the water and walk barefoot on the sand. Every time I go to the ocean I remember why I plan to live by it one day.

The best part about the trip, was the cost. We went by bus (a three hour trip form my house), and the casinos give you a $20 voucher bonus for taking the bus, so the trip ended up costing $7.95 per person. You can use the voucher money anyway you want--of course the casinos hope you reinvest in the slots. We went to lunch instead!

If you are ever in Atlantic City, I highly recommend The Irish Pub (right of the boardwalk at St. James Place). Lunch for 4 came to a grand total of $20, and the food was awesome. Everyday there is a lunch special which is soup and a sandwich for $1.95. The owners of the restaurant says this is what made them famous and it will never change. It was recommended to me by several people, and employees at the visitor center also said it was the best value in Atlantic City. The decor is cool (I've never been to Ireland, but I would guess it is very much like a "real" Irish pub), the food is great, and you can not beat the prices.

I did try my hand at the tables (well, the slot machines), and set a $5 limit (yes, I'm the big spender!) and I won $10. So, between my bonus money, and winnings, I came home with more money than I left home with. Not a bad way to spend a day.

By the way, I would have posted some pictures, but I forgot the camera. The running joke all day, was "If I had my camera, that would make a great picture!" Sorry, you'll have to trust me that there were some great shots!
posted by Kelly @ 10/01/2004 01:53:00 PM
About Me
Name: Kelly Gibbons
Home: Dallas, Pennsylvania, United States
About Me:
See my complete profile
Not Quite Grown-up: The Random Ramblings of Kelly Gibbons the Dreamer, Writer and Artist
My Artwork
Follow Me
Recent Posts
More Stuff I Make
Archives
Powered by