Friday, December 31, 2004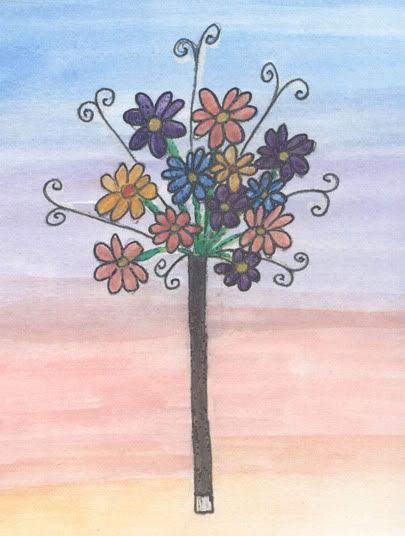 Magic is the theme of the week at Illustration Friday. A magic wand turned into flowers and the colors of sunrise are magical to me.

Happy New Year 2005. I hope your new year is Magical!

See more of me (my words anyway!).
posted by Kelly @ 12/31/2004 11:07:00 AM
Tuesday, December 28, 2004
Things certainly have changed for me since the beginning of the year. Here was what I expected to happen:

This year I expect to...(written 1/2/04)
...continue working at home.
...make many new contacts and find at least 5 more places to consistently send articles to.
...have at least 2 articles a month published.
...have one of my children's book published.
...write four more stories for the characters my artist friend created.
...get back into my exercise routine.
...start and continually work on a novel.
...learn more about html.




Well, I have 4 days left to write and publish a trillion articles, write some children's books, find some contacts, and quit the job I'm now working out so I can get back to working at home.

Somewhere along the line, my writing goals changed dramatically. At least I discovered that writing articles wasn't for me. I'm still working on the children's book thing (classes are going well, however an assignment is looming with no topic in sight!). I'm not quitting the job. I actually like what I'm doing, and I do like the stability of a steady paycheck.

Oh, I wish I could figure out how to get contacts.

I was doing great on the exercise (running three miles a day) but that went bye-bye when I said hello to the job. I know this isn't a good excuse, but it is what it is, and it is what happened. I intend to get back to it. I really do! I know, JUST DO IT!

At least I learned more html and wrote the first draft of the novel. Ah, maybe it was a productive year.
posted by Kelly @ 12/28/2004 05:55:00 PM
Friday, December 24, 2004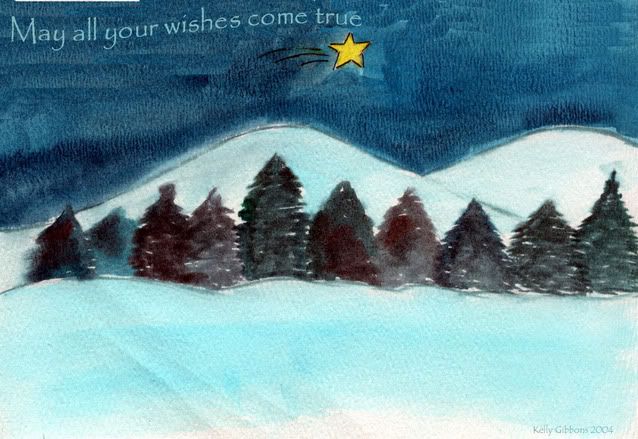 Happy Holidays!



Some "gifts" for you:

Gift Tags and other Freebies

Penelope's Collaborative Advent Calendar

If you click on any of the links listed on the left under favorite reads you will be given a gift as well. Their words, drawings, paintings, illustrations and photographs are always a gift to me!


Free Christmas Cards (in case you forgot to mail them, you can email these and still get them there on time!)

If you're in a generous mood, maybe you would like to give to some one else:

(Added after the Asian tsunami disaster) The Red Cross South Asia Earthquake and Tsunami Relief Fund

Modest Needs

The SPCA of Luzerne County (This is where one of my wonderful doggies --blur warning, but I couldn't resist-- came from. They are trying to raise money to build a new home to save more animals.)


posted by Kelly @ 12/24/2004 07:00:00 AM
Thursday, December 23, 2004
It's Friday again, just kidding, it's still Thursday. Don't panic you still have one day left before Christmas. I didn't know if I would have a chance to post tomorrow, so I'm putting this up a little early for Illustration Friday. This is a picture of my home (the topic of the week). I had fun experimenting. It's painted in acrylic and digitally enhanced in Photoshop with filters.



P.S. From my home to yours, Merry Christmas! Happy Day if you don't celebrate Christmas.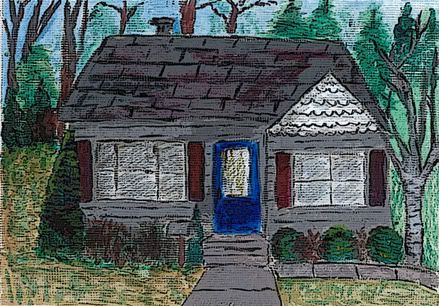 I've been having a bit of a rough time thus far in the holidays, and I have been searching for those "nice" things that happen that we sometimes forget to notice. Here are some extra nice things I have noticed in the last few days:

...a nice (teen boy) sales clerk:
He remained calm and patient with everyone that came through his lane.
Here's a small part of our conversation:

me: "Hi, how are you today? Maybe I shouldn't ask, you're probably pretty crazy by now."

him: "Well, yeah, but no crazier than you are right now. Actually it's probably worse for you."

...the response from a three year old in class when Santa asked what she wanted for Christmas:

"To see my grandma and grandpa." I almost cried; thank goodness she is going to see them, I don't think my heart could take it if she didn't get that wish.

...the child who sat next to me drew a picture, loudly licked the envelope she put it in, and then said:

"My mommy bought this just for you. Merry Christmas."

...all the "thanks yous" and hugs I got for Christmas. (Side note: this was for just doing my job--the joy of being an assistant teacher to the 5 and under set!)

...the heart felt words from children like, "I'm going to miss you, Miss Kelly. I love you in my heart."

...all the gifts I've seen donated by toys for tots, local business, and churches. People are good, and their generosity is astounding. I only wish people would realize any time is a good time to give, not just Christmas time.

...the gifts from my "students" (are they students in pre-school?) and co-workers.

...the love that my son and his friends continue to show the parents of the boy tragically killed in a car accident 10 days ago. They have collected money and Christmas ornaments, put together a video tribute of him, and went to his mother's house to decorate her Christmas tree. Many of them also plan to spend part of Christmas Day with her (it also would have been Winston's 18th birthday) because, they don't want her to be alone.



Want to see more of my blog? CLICK HERE
(P.S. On the Christmas Eve post there is a holiday greeting and gifts.)
posted by Kelly @ 12/23/2004 01:50:00 PM
Wednesday, December 22, 2004
I know how it feels to be an Oscar nominee. OK, maybe not Oscar, but a BOB is just as good in my book. Apparently someone named Jack (thanks Jack!) LOVES my SunnyK cartoon (check out the comment for Nov. 27), and nominated me. It does feel wonderful just to be nominated. I have ALWAYS wanted to say that!

Anyway, this is proof that my last post is not hocus pocus. I was here, and read that she was nominated for a Blog award, and thought, "I wish I would be nominated for an award." And guess what, I was. Hee Haw. This is one of those moments I was talking about in the previous post that makes life a wee bit better (or easier to deal with).

By the way, Angela, in case your counting that is two post in less than two hours, so I'm good for, let's say, a month, right?
posted by Kelly @ 12/22/2004 03:55:00 PM
I have had the week from hell. It has kept me from writing here. Sad personal things. Things that I won't write about here, because that's just not me. I'll survive; I always do. Things that seemed absolutely horrible on Saturday when they happened, feel a bit better even now. A smile here, a laugh there, and a happy memory do make things better. Sorry for the "cryptic-ness" (nice new word, huh?), but that's all your getting.

I wasn't even going to write today, but Angela (who hasn't written regularly in who knows, forever?) thought I needed to write. Just kidding my friend, thanks for the laugh!

I was inspired to write today by the Mondo Beyondo List I read about here (she got it from here).

In case you don't want to click away I explain the concept of a Mondo Beyondo List. Long story short: it's a wish list of all the things you would love to have happen, even the things that you think might not ever happen. It's a fantasy list of all the things you want, even the over the top stuff. I have written these list before, and at the time I was writing, I thought I was a crazy fool for even writing some things down. The funny thing is that most of these things (even the over the top ones) have actually happened. I love these kinds of lists, and I am a firm believer in writing it down and "wishing with effort" to bring dreams to reality.

So here's my crazy wish list (I can't wait to check back here in a few years to see how many have happened):

I want to take art lessons again. I want to learn and grow as an artist, so I can work as an artist.

I want to complete the edits on my novel, and I want to find a publisher for it. I would also like to find an agent, so I can really sell this thing.

I want to travel to Paris, France and Germany with my family. I want to climb the Eiffel tower, and sit at a cafe across the river and paint. I want to explore castles.

I want to work from home again. That was scary to write, because I do love my job, but I really loved working from home. I want to be a writer and an artist full time.

I want to write novels, and write and/or illustrate children's books.

I want to own a house at the beach. I see myself owning a lovely little cottage at the seashore where I can relax and look at the ocean, and sit in the warm sand.

I want to open a book store/ coffee shop. I've written about this before, and I even went as far as contacted someone about a rental, but that's as far as I got.

I want my cartoon alter ego, SunnyK, to be famous. I want her image to be as popular as Garfield the Cat.

I want to rid myself of scarcity thinking once and for all. I want to know that I will absolutely always be provided for. I want abundance thoughts to stomp out all my negative thoughts and fears about not having enough. I will continue to say that I believe in infinite abundance, and I want to really truly believe it.

I want to believe in myself (and my writing and artwork) all the time, not just during good moments. I want to stop being afraid and stop lacking confidence in myself.

I want close friendships. I want friends like I had when I was a kid--The kind I shared secrets with, and couldn't wait to hang around with; the kind who I did things with; the kind who just stopped by to hang out. I haven't had a friend like that in a long time, and I miss it terribly.

That's all I can manage today. I might add more later. It's your turn now. Start wishing, and my greatest wish for you is that every wish comes true.

posted by Kelly @ 12/22/2004 02:33:00 PM
Friday, December 17, 2004
I wasn't going to post this week, because it has been one of those weeks. But, I couldn't resist. It's a quickie, so please excuse the imperfections. Here's my contribution for adoption for Illustration Friday: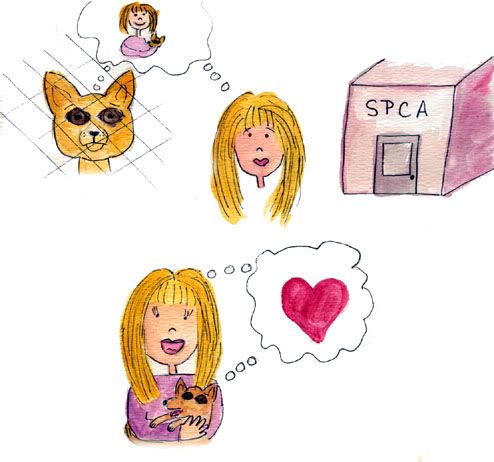 posted by Kelly @ 12/17/2004 07:01:00 PM
Thursday, December 16, 2004
If you woke up this morning with more health than illness, you are more blessed than the million who will not survive the week.
If you have food in your refrigerator, clothes on your back,a roof over your head and a place to sleep, you are richer than 75% of this world.

If you have money in the bank or in your wallet, you are among the top 8% of the worlds wealthy.

If you hold up your head with a smile on your face and are truly thankful, you are blessed because the majority can, but most do not.

Author Unknown

This is one of my favorite found quotes, and I know it is a repeat, but I feel it is worth saying again. More and more I am finding that gratitude is missing, and it is especially apparent at this time of year. People don't seem grateful for anything. It always seems to be about more. This is not a lecture, because at times I find myself guilty, too. It is a reminder to all of us.

If we would only stop and really look at what we have, and take time to appreciate it, I think most of us would truly see that we have much, much more than we think we do.

It's been a tough week. Many not so great things have happened, and I have been dwelling on the negative (seems like I've done that a lot lately). Today, I will work hard at seeing all the blessings and wonderful things I do have.


posted by Kelly @ 12/16/2004 01:44:00 PM
Monday, December 13, 2004
I'm not in the advice business, never have been, and never will, but today I will give some:

If you want to try something new, try it. Don't wait 'til tomorrow. Tomorrow might not come. If you love someone tell them. Tell them everyday. You might not get another chance. If you haven't hugged someone in awhile, hug them. You'll both feel good. If you haven't called someone in awhile, call them. What are you waiting for? If you haven't said that one thing you always wished you said to someone, say it. You won't be sorry, you might be if you don't.

Life is too short, make the best of every moment.

My son lost a friend on Sunday, and would love the chance to do any of the above. You have the chance, do it. Do it now. Do it in honor of a super cool seventeen year old boy who doesn't have the chance to do it himself.
posted by Kelly @ 12/13/2004 08:40:00 PM
Thursday, December 09, 2004
I did a little cleaning tonight and came across my "treasure box"--stuff I have collected over the years, and for whatever reason I couldn't bear to throw away. I haven't gone through it in a long time, and it was cool. It's not a very big box, and it is an assortment of this and that--photos, notes, reports, test scores, and other things.

Here are some things I found and learned:

The first and only addition of "Kelly's Fantastic Journal" that was written when I was in 5th grade. It was an Enquirer like magazine with some pretty sensational stories and a Dear Abby like column. I was not very good at giving advice. My "advice" to a person complaining about their weight and wondering what to do about it: "don't look at your scale or lose weight." Apparently I always liked to write, but never took myself serious. I know I never considered it something I would do for a living until I hit my 30s.

I was thin in High School. This came as a surprise to me, because I always considered myself fat. When I looked at those pictures today, I saw something different for the first time. How weird is that? My whole life I thought I was fat when I actually wasn't. Maybe if I can change that perception, I can change the way I look at things now.

I( thought I did great on my S.A.T tests. I did not do as well as I thought I did, and my verbal scores sucked. I did much better in math. Is that OK for a writer? According to the tests, I also scored below average in mechanical and music--I think it was an opinion part of the test. Nothing has changed there.

My first choice as a college major was Psychology, and I wanted to get a Doctorate Degree. My second choice surprised me, because I completely forgot about it. I wanted to be a Fashion Designer. That is totally shocking to me now, because a Fashion Queen I am not. At all. Period.

My choices for colleges were Drexel in Philadelphia, Penn State, and the University of California, Los Angeles. I didn't get to any of them. Bummer. Especially the California one.

I found some old letters, and the last known addresses of two former Pen Pals. One was from Israel and the other one was from Beverly Hills, CA (but she was originally from Israel). I visited the CA one when I was fourteen. I flew by myself all the way from Philadelphia to LAX alone when I was fourteen (1982), with a lay over in Dallas/Fort Worth. Was my mother nuts for letting me do this? I didn't think so then, but now that I have two fourteen year old girls, I think yes. There is no way my girls would be allowed to do this. My how times have changed. I wonder though if I can still get in touch with my Pen Pals. That would be fun to find out what they are up to now.

I loved to draw way back when, and I did well on my projects. All the reports I saved were quite colorful. I loved markers. My drawing skills weren't as good as I remember though. The important think though was the teacher didn't seem to notice. Teachers loved my art work until 10th grade. That's when I quit art because the teacher said something about my skills (or lack of).

If I had a choice of plain white paper or any other color I chose color.

Typewritten papers are not nearly as pretty as ones done on a computer--and my typing skills were no so good. Can we say white out?


I am so glad I save these silly things. It is fun to revisit the past and remember and be reminded of the person you once were, after all that is a big part of the person you are now.


posted by Kelly @ 12/09/2004 08:22:00 PM
Wednesday, December 08, 2004
A wish list of sorts...

I wish I could pull my head out of my ... and figure out how to make this all work.

I wish I could stop floating somewhere between confident and fearful and finally decide that I am really an artist and a writer, and that I can do this. No matter how many people try to boost my confidence it doesn't work. I know I need to be the one to believe in myself.

I wish I could convince others of this as well. (See #2--I know I must believe in myself first).

I wish the right answers would miraculously float my way (I've tried the other way--you know research, and that hasn't worked).

I started this entry, and then I became disgusted and decided to blog surf--another way of procrastinating, but when I came across my friend Hope's site I got a kick in the pants. After reading it I decided a wish list of complaints is not going to solve any of my problems.

10. Wishing Instead of Planning: START! Do something! If you just sit around *wishing* that things would be better, it's not likely that they ever will be. As my mother used to say, "wish in one hand, pour peas in the other…see which fills up faster." Create a plan, and get into action.

I know this works, because it has worked for me before. I often forget the lessons I learn. I guess we all do that. It is nice to get little reminders. So now, I have to stop sitting around wishing and start doing more. I need a plan. I'm not so good at plans. I'll have to practice.

Here's a start:
I plan to write and submit more articles and stories.

I plan to get busy editing my book.

I also plan to find resources to help me with this.

I plan on researching publishers and editors that accept the kind of book I wrote.

I plan to continue practicing my artwork and cartoons, and to continue experimenting with other medias.

I plan on publishing more cartoons to my site. I think I need to set a goal for the week.

I plan on breaking all of the above in to smaller steps. (Going at it head on with only the end result in site tends to stop me in my tracks.)

I plan on ending the self abuse. I say things to myself that I would never in a million years say to anyone else. It's time to stop being so mean to me!

So what are the ultimate goals:

To have my young adult novel published.

To have several articles or short stories published in 2005. Young Adult and children's magazines are my intended market.

To continue growing as an artist, and to find more paying markets for my work.

To grow my business. To be more productive and prolific as an artist and writer.

How will I do this:

OK, that is a list for another day!
posted by Kelly @ 12/08/2004 03:17:00 PM
Wednesday, December 01, 2004
*WARNING* This is not your usual dose of sunshine

I estimate that 95% of the time I am a positive happy person. I try very hard to stay upbeat, no matter what, and I can usually find something good in almost every situation. Sometimes, it takes a little longer than others, but I manage to put a positive spin on bad situations. I see most bad experiences as a lesson learn--that sort of thing. Even when I feel really bad, and think things can't get better--you know, the throw yourself of the bed days and cry like there is no tomorrow--within a day or two I am usually over it. At least I always get to the point, where I know things will get better. I try not to dwell on negative things, etc.

During this 5% time, depending on the situation, I can feel, mad, upset, angry, jealous of others, mad at myself for not being better, etc. At the moment (and I know this will pass very soon, 'cause I'll make it pass), I in a discouraged mode. Yes, I know I have had a little success, but at the moment I feel like it isn't very much at all. I know it is wrong, wrong, wrong to compare, and I truly don't do it very often, but sometimes I can't help myself and then I get like this. I start feeling like I'm fooling myself.

I also know it is wrong, wrong, wrong to worry about stats, but sometimes I can't help myself. Why I ever put that silly counter up is beyond me. I should take it down, but I can't bear to because of the chance I might click on it one day and find that I actually have an audience, and not the 30 sec kind that blogexplosion brought me. If you think I am kidding about low numbers, my average per day visitor count is a single digit number. That's pathetic. It makes me wonder why I bother.

Why do I care how many people read this. Well, because it makes good business sense. I know that I am a writer or artist simply because I write or paint, but to make a living at it I think I'll need an audience, right? Unless the 7 or so loyal visitors I have are going to get extremely generous.

So, what does all this mean? Does it mean I suck? Does it mean I'm unoriginal? Does it mean I'm not going about "marketing" myself the right way? Well, one things for sure I done with the blog explosion thing. I'll leave myself in the directory just in case someone feels like giving me a click, but I do not have time to constantly blog just to drum up readership. Maybe this is my problem, but I don't think so, because I have heard of other people finding great success with very little self promotion. I am not about self promotion--it's too hard for me.

This leads me to believe that what I do isn't up to snuff. If it were wouldn't the "product" sell itself?

*WARNING* The rant goes on...

So, what am I doing wrong? Why do I keep making the same mistakes? Why do I make the wrong choices? Why can't I find the right niche? Why can't I find the right markets? What do I need to do to change this? How can I fix this, and make it better?

Oh, I wish there was a magic book to give me all the answers. That would be so nice!
posted by Kelly @ 12/01/2004 05:59:00 PM
About Me
Name: Kelly Gibbons
Home: Dallas, Pennsylvania, United States
About Me:
See my complete profile
Not Quite Grown-up: The Random Ramblings of Kelly Gibbons the Dreamer, Writer and Artist
My Artwork
Follow Me
Recent Posts
More Stuff I Make
Archives
Powered by