Tuesday, February 22, 2005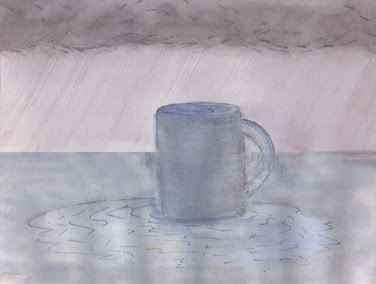 When I received this week's topic for Illustration Friday, my immediate thought was how fitting. My cup is overflowing with sorrow. I did not plan to participate because of all that's going on in my life, but something kept telling me to do it. This is dedicated to my brother-in-law--I'm guessing he's the one giving me the push.

My brother-in-law, Robert "Bob" Gibbons, passed away last week.

It's a very sad story that I'm just not ready to share here yet--maybe I'll feel up to it someday. What's done is done, and nothing I write here will bring him back.

My nephew was left with nothing. At the moment he is living with my husband's sister, but that's only temporary. We're not sure what is going to happen--right now we're taking things day by day.

It's a very complicated mess.

This is extremely hard for me to do, but I have to do something. I wrote this here looking for help. A trust fund has been set up for my nephew, and if anyone can help in anyway it would be tremendously appreciated. You have know idea how much.

For details, please see my brother-in-law's obituary (link is above).

*After reading Kerry's comment (BTW, thanks Kerry), I wanted to clarify something. I do not want to be misleading in anyway. My nephew is 19, and yes, technically an adult. However, up until six weeks ago (when major family problems hit), he was very much a kid. Again, I do not want to go into the whole story--trust me, it is not good, and honestly it is too painful right now. But, he really does have nothing. His mom is no longer in the picture (part of the story), he doesn't have a home of his own any longer, he doesn't have a job (but is working on this), or any money. There was no insurance, and no money set aside for him. Besides a few personal belongings (that have little value), he has almost nothing. He was in college, but didn't return due to the things that were happening. Without being a full time student, he is not entitled to any benefits. Our family is trying to do the best we can, but it is hard.

I decided to post this with Illustration Friday, because to be completely honest, I knew more people would see it. This might mean more help. I hope this doesn't make me seem like a bad person. I'm not. My heart is breaking. Doing this, sharing my families hardship is extremely difficult for me. Those who know me can vouch for this. I really don't know what else to do.

Thanks for listening. Thanks for your support and nice comments--they do help.

Several people have suggested adding a paypal donation button. I still feel weird doing this--asking for help--but as I said, I don't know what esle to do. Thank you.

posted by Kelly @ 2/22/2005 05:05:00 PM
Friday, February 11, 2005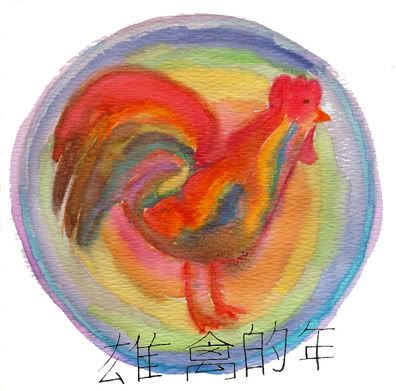 This was my first attempt at Chinese, and I sincerely hope I did it correctly. It is supposed to say "The Year of the Rooster," the topic for Illustration Friday. I haven't looked at any entries yet, but I am going to assume* that mine is quite similar.

*One should never make assumptions--you know what I mean! I was amazed at the variety when I looked! What was I thinking saying that. I know that every artist's view is unique, and I seriously can't even believe I thought that. Ah, please excuse the brain fart!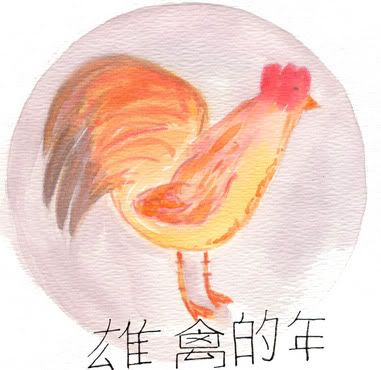 This was my first attempt--I wasn't satisfied. My original idea was to make it colorful and festive, but once I got started I stuck with the safe colors. I posted it, looked at it awhile, and decided to go with my original idea. I am much happier with the bolder livelier colors. It's much more fun, and suits my personality much better. I'm glad I decided to be daring and ditched the safe.
posted by Kelly @ 2/11/2005 06:59:00 PM
Thursday, February 10, 2005
Be aware of wonder. Live a balanced life--learn some and think some and draw and paint and sing and dance and play and work every day some.

Robert Fulghum

Notice that "work some" is only part of the big picture!

The finest gift you can give anyone is encouragement. Yet, almost no one gets the encouragement they need to grow to their full potential. If everyone received the encouragement they need to grow, the genius in most everyone would blossom and the world would produce abundance beyond our wildest dreams.

Sidney Madwed

This is how I want to live my life; encouraging everyone (including myself) that they can do the things they set their minds to do! I truly believe that EVERYONE has the potential for greatness. Coaxing it out, and keeping it out is the hard part. Our creative gifts are like the shy little kittens --you know the one in the litter who hangs back and watches the others play--who aren't sure if they will have fun or be hurt if they play like the other kittens. Notice how much fun they have when they finally let loose and grab that ball of yarn!
posted by Kelly @ 2/10/2005 06:01:00 AM
Wednesday, February 09, 2005
If I had to sum my life up in one word, it would have to be BUSY. It has been a crazy few weeks; not that it is not normally crazy, but more so than usual. I have not yet figured out the secret of balance.

I took on a freelance project (not art or writing related, but hey, it pays!) in addition to my part time assistant teaching job, plus it is birthday week here. We have had 6 family birthdays in the past ten days (4 in this house alone), and I am partied out.

This site is sorely neglected, for various reasons, and I pretty sure it will remain that way for awhile. I have good intentions, but I never seem to find time to post here except for Illustration Friday. Blogging has slowly fallen to the bottom of my priority list, and my life is currently trampling it to death.

Maybe once I use the wonderful birthday gift I received from my son's (wonderful) girl friend, I'll relax and be back. Swedish massage here I come!
posted by Kelly @ 2/09/2005 05:56:00 AM
Friday, February 04, 2005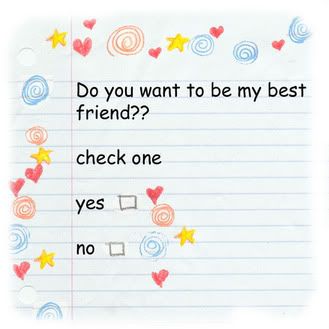 Friendship

This is all I could come up with this week for Illustration Friday. I blame it on lack of time and the subject. My simple illustration is a memory from childhood when getting a best friend really was this simple.

I have talked about this here before. I have not had a close friend for a few years. When I quit a job of fifteen years almost three years ago the work friendships I had fizzled away, and I haven't had any close friends since then. I have bounced around in a few jobs and have many acquaintances and internet friends, but it is not the same.

I miss not having a close friend, but I blame myself for not being able to "keep" friends. I am not a very good friend. I dislike talking on the phone, and I avoid phone calls like the plague. I also feel that I am bothering people, so I don't keep in touch. I think this is because I am terribly insecure, but don't let people know this. My strange personality doesn't help either. At times I am an extreme extrovert and love being around people. But I also crave solitude and at times I become a hermit and only leave my house when forced (literally). Some people just don't understand this.

I wish finding and keeping a friend was as simple as it used to be. Best Friends Forever, just check the YES box.

posted by Kelly @ 2/04/2005 06:17:00 PM
Tuesday, February 01, 2005
The girl that would be a writer (that would be me), hasn't been much of a writer lately. And she's tired of it. The girl that would be an artist (that would also be me) has only dabbled in art lately, and she's also tired of it.

That's right, I'm tired of saying "I'm an artist and a writer" and not doing anything about it. And actually, the only place I say "I'm an artist and a writer," is here (and occasionally to my family when I think they are in a good mood and can stand to hear me stay it one more time.) Why do I only say it here? Because no one here can stare back at me with that blank look, or condescending nod. Oh that's nice, you're a writer and an artist.

I can write. I can draw. And, yes, those two things alone make me an artist and a writer. I know this. I have read all the books. I do believe this. However, when I started out on this journey of mine, I never intended on that being enough. My goal was not to simply be a writer and an artist. My goal was to make a living doing those things. I am tired of settling. I feel like I just hit the playback button. I have definitely said these words before.

Here I am, a year and a half later, still as confused about some things as I was when I started. Still, earning the same amount (that would be nothing), and still talking about when I'll do this, that or the other thing about writing and art. So when exactly am I going TO DO this, that or the other thing?

Thus far, the answers have been elusive. Why? 'Cause I have no idea what I'm doing. I have no idea what the next step should be, and all of the steps I have taken so far have led no where. I know there are more steps to take, but I don't know what they are.

That's right, I'm standing up, coming out of the closet, waving the white flag, and doing every other cliche thing I can think of to get some attention.

Maybe admitting that the way things are going is not OK with me will be enough of a kick in the pants to get myself in gear. Probably not. So far, this type of revelation has done diddly squat! But, maybe it is a good thing that I keep having them. At least it means I haven't given up.

Of course you know much of this ranting is a side effect of the birthday cake. Birthdays always make me act this way. Too bad I couldn't have a birthday everyday to keep the motivation going.
posted by Kelly @ 2/01/2005 05:40:00 AM
About Me
Name: Kelly Gibbons
Home: Dallas, Pennsylvania, United States
About Me:
See my complete profile
Not Quite Grown-up: The Random Ramblings of Kelly Gibbons the Dreamer, Writer and Artist
My Artwork
Follow Me
Recent Posts
More Stuff I Make
Archives
Powered by