Wednesday, November 30, 2005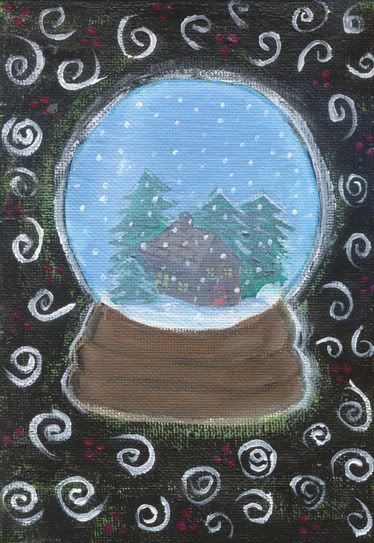 Small

, Illustration Friday. For sale at etsy.

I love when a painting just POPS in my head. I had thought about this topic for a few days, and nothing seemed quite right, then BAM, a snow globe popped in my head. I love the small scenes inside them--tiny, perfect, enchanting little worlds right at your finger tips.
posted by Kelly @ 11/30/2005 07:00:00 AM
I DID IT! I reached my goal of listing a painting a day on eBay for the month of November. I'm really glad I did it, too! So far I've sold 10 paintings, and I am really excited to sell the rest. Here's the grand finale:

It's a set of four 5 x 7 paintings...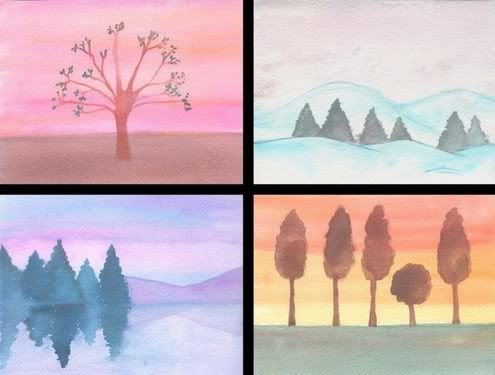 Four Seasons

, eBay.

I started out doing an individual painting (autumn--5 brown trees), and the rest just came out. I thought about selling them separately, but I love the way they look together. They look great lined up, but it was hard to get a good image that way (the image was too small). If they don't sell, I have the perfect place in my house to put them! I'm going to paint another one like the autumn one to sell alone, because the original concept of that one was "Dare to be Different."

...and on etsy: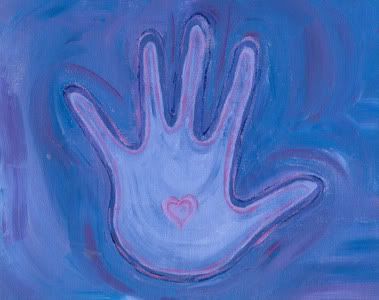 posted by Kelly @ 11/30/2005 07:00:00 AM
Tuesday, November 29, 2005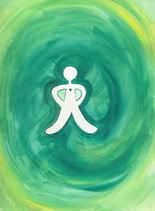 Envy

, etsy.

Tomorrow will be the last day of my challenge to myself to post a painting a day on eBay for the month of November. I have that posting ready, and a few others in the wings. I will meet my goal, and that feels really good.

"Envy" (I borrowed this from an earlier post on the same topic, but it's mine, so I can! LOL)

A (very) short story by Kelly Gibbons inspired by the painting

I try not to be jealous--because it really is a waste of time--but sometimes when it seems like everybody else is doing, getting and going to the places I want--well, I can't help myself! It never lasts long, though, because I realize that it is me who is stopping me from getting the things I want, not the people I am jealous of.

...and at etsy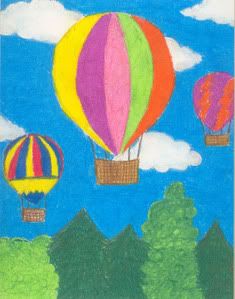 posted by Kelly @ 11/29/2005 08:25:00 AM
Monday, November 28, 2005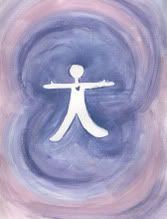 Joy

, SOLD.
"Joy"

A (very) short story by Kelly Gibbons inspired by the painting

Quick think of ten things that bring me Joy: my husband
my children
my mom and family
painting
writing
my dogs
Twizzlers (the red ones!)
the ocean
waves
sunny days
That was easy...
...your turn!
Go!

Almost didn't get this one in, but pushed myself because I have a goal...almost there. Two more days!

and on etsy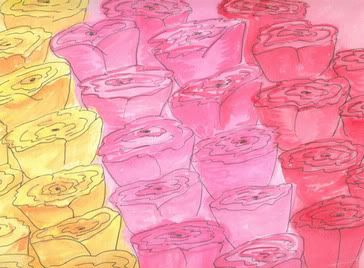 Fresh Roses
posted by Kelly @ 11/28/2005 09:36:00 PM
Sunday, November 27, 2005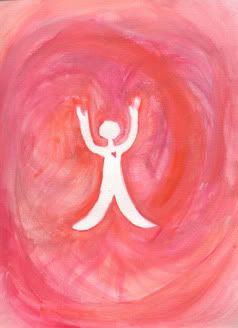 Passion

, etsy.

"Passion"

A (very) short story by Kelly Gibbons inspired by the painting

We all have a passion for something. Sometimes we forget what it is.
An easy way to uncover your passions is to answer a few simple questions. (Be honest with yourself!)
If money wasn't an issue, what would you do for a living? If you could do anything you wanted to do without worrying about money or anything else, what would you be doing. Imagine what your life would be like.
What did you like to do as a child? Remember when you were a child, and you would sit down and do things for hours without realizing you had sat down for hours, what were you doing?
What gets you excited? What things make you smile just to talk about them, or get you excited, or make your heart beat a little faster?
Have you noticed a pattern here? Do similar things keep popping up? These are clues to things you are passionate about. Why not look into them more. The more you allow these things into your life, the happier you'll be. Doing things you love and feel passionate about are definitely good things.

...and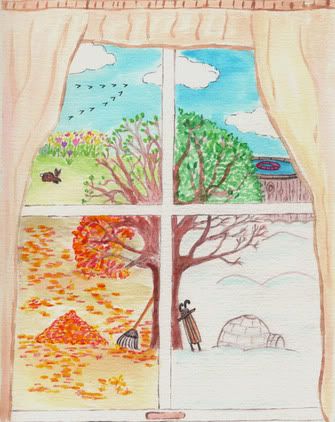 Seasons, etsy
posted by Kelly @ 11/27/2005 01:13:00 PM
Saturday, November 26, 2005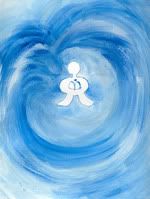 Fear

, etsy.

Usually I write a little story inspired by my painting, but I don't thing I can top the following quotes, so I'll share them instead:

"A fear of foolishness keeps us from painting the pictures we would like to paint, composing the poems, courting the lovers, making the friends, pursuing the jobs, starting the businesses. Those who know this, can confront and transcend their fear of ridicule, are usually in a strong position... Every path breaker has looked foolish, and been humiliated, yet society depends on them utterly... Only those who are willing to risk looking foolish can invent a breakthrough." Farson and Keyes "Whoever Makes the Most Mistakes Wins"

"To live a creative life we must lose our fear of being wrong." Joseph Chillons Pearce

"Fear of knowing is very deeply a fear of doing." Abraham Maslow

"Fearing failure is not necessarily a bad thing. Excitement is the flip side of fear. Any ten year old on a skateboard knows that exhilaration is primarily fear transformed... Fear begins as a negative sensation but can end on a positive note in the form of excitement, elation, exhilaration, euphoria, even ecstasy. Enthusiasm is close cousin. So are intensity and concentration." Farson and Keyes "Whoever Makes the Most Mistakes Wins."

"Courage isn't lack of fear, after all, it's the ability to carry on despite the fear. General Omar Bradley called courage the 'capacity to carry on properly even when scared half to death.' Genuine risk takers not only have the guts to act in face of harrowing apprehension, they know how to harness fear's energy" Farson and Keyes, "Whoever Makes the Most Mistakes Wins."

...and on etsy: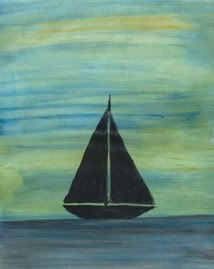 posted by Kelly @ 11/26/2005 07:22:00 AM
Thursday, November 24, 2005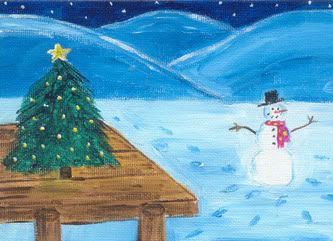 Christmas at the Lake

listed on etsy.

Happy Thanksgiving! Sorry if I'm rushing another holiday. I couldn't help myself, I woke up to snow, and decided this was the perfect picture for the day.

Last year, when I worked at Headstart, I was out the door by 6:30 am. To get to work I had to go around a lake. Seeing the lake was one of my favorite parts of the morning. I was often treated to gorgeous sunrises. Some mornings a lone kayaker would breeze across the lake. In the fall, the mountains that surrounded the lake lit up with color, the view was amazing. The lake alone was breathtaking, but there always seemed to be surprises that gave me an extra smile.

One morning in December, I came around the corner to enter the lake, and was treated to another light show. A small house that sits on the lake side was decorated for Christmas. A single candle lit up each window, and a beautiful lit Christmas tree sat on the dock. It was a scene right out of a holiday magazine.

I wanted to stop at the house to tell the occupants how beautiful it was, but thought better of a 6:30 wake-up call. I enjoyed the beauty by myself.

Every morning in December I had something else to look forward to on my way to work. Seeing this little house all lit up brightened my day.

The next treat came when the lake finally froze solid in January. After a snow fall, someone made a snowman in the middle of the lake. The kids on the bus were so excited to see him, and everyday they made a game of finding him. "Look, Miss Kelly, he's still there!" they'd shout while pointing to the snowman. There excitement was contagious. He remained our honorary greeter until Spring thaw.

...and at etsy today: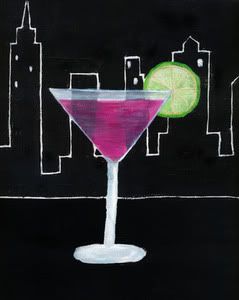 posted by Kelly @ 11/24/2005 07:34:00 AM
Wednesday, November 23, 2005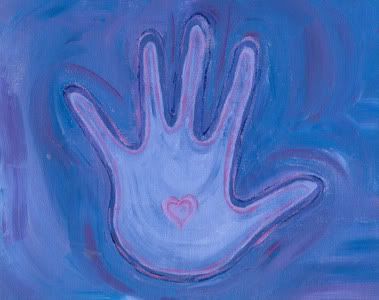 Leaving My Mark, etsy

"Leaving My Mark"

(A (very) short story by Kelly Gibbons inspired by the painting )

Sometimes paintings are inspired by the simplest things. This one for example was inspired form handprint turkey drawings! Looking at the drawings reminded me that all of us are born artist, but often forget this (or are told to forget this) as we get older. I forgot this for awhile, too. I'm glad I remembered! These simple drawings also reminded me that I've always wanted to leave my mark on this world (maybe to be remembered for something great). As a child, this meant leaving my signature everywhere (walls were my favorite spot). Not so great in the eyes of adults! Anyway, I got thinking, I will probably never be a world leader (no aspirations to be the President anyway), or famous, or the person who discovers a cure for something. But I do touch people, and one of those ways I leave my work is through painting. I paint because it brings me joy. I hope my paintings bring other people joy (I think they do). So, this is my mark. Quite simply me.

And, on etsy: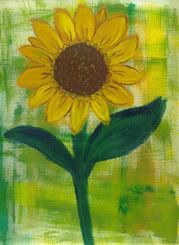 Sunflower
posted by Kelly @ 11/23/2005 08:21:00 AM
Tuesday, November 22, 2005
Continuing the eBay sales: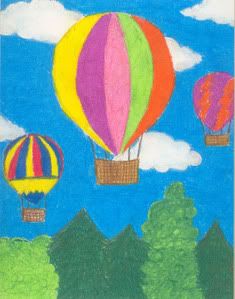 Up, Up, and Away

, now at etsy

and ETSY sales: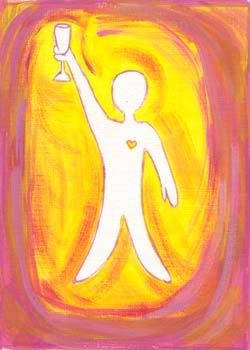 Celebrate



Pressed for time, will add more later...
posted by Kelly @ 11/22/2005 10:30:00 AM
Monday, November 21, 2005
I'm at that lull in my latest scheme (eBay selling). It's fun and exciting when the artwork is selling, not so much so when it's not. It's discouraging. I know I'm at that point where I need to push forward, push past that hump, but it is hard. I get to this place often in my creative endeavor. It's the place where the doubts and fears and inner critic hides.

I committed to a month of eBay sales. Now, I'm doubting myself.

Maybe later today, I'll feel differently. For now, I'll post another Etsy listing. It's something (a half step?), but at least I'm moving forward.



UPDATE

: I'm glad I took that half step...I sold a painting at ETSY!

I remember my initial motivation, and decided to push forward. Besides, I don't want to be a quitter!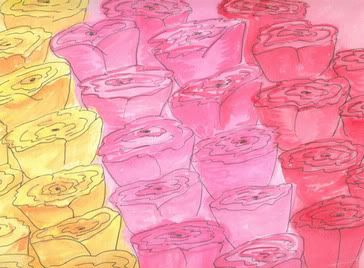 Fresh Roses
posted by Kelly @ 11/21/2005 09:50:00 AM
Sunday, November 20, 2005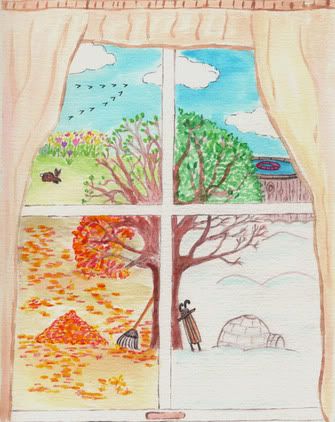 Seasons, etsy.

"Seasons"

(A (very) short story by Kelly Gibbons inspired by the painting )


Seasons come and go whether we're ready or not. This change of season is automatic and perpetual. It's the way it is. We don't have a say in it, nor can we control it. Yet, we accept it and survive, and most of us really enjoy it, and even look forward to this never ending natural change. Nature constantly reminds us that there is a need for change--that change is good.

Why then can we accept this change, and yet be so opposed to other types of change?

The thought of change can be downright terrifying. Change can be hard and stressful, even if it is necessary. Why are we so resistant to change even if it might be good? Because, it is easier to deal with what we know. It's what is comfortable. Stepping outside the comfort zone can be paralyzing. That fear of the unknown and change holds so many of us back.

What if everything could be wonderful if we changed? What if we realized that change is inevitable (just like the change in season)? What if we stopped resisting and went with the flow?

Maybe we would see that change in us is as natural as the change of seasons; That we could free ourselves by realizing that change is simply a part of growth.

Embrace change and grow, resist and stay stuck. It's your choice.
posted by Kelly @ 11/20/2005 09:28:00 AM

Shadow Tree,

SOLD

.

"Resting with the Shadow Tree"

(A (very) short story by Kelly Gibbons inspired by the painting )


It is time to rest. Rest does not mean you are done, it means you are taking a break. It is the time to replenish, restock, and be ready for growth. Nature is a wonderful guide. There is a time to grow, a time to bloom, a time to harvest (reap the rewards), and a time to rest. These seasons work together harmoniously, and each is a necessary step. A tree does not arrive fully-grown with all its leaves, and we do not arrive fully formed either. To flourish, we must also go through the steps. Life is a continuous growing and learning process with varying periods and speeds of growth and rest. Learn to move with the flow. During the fast paced frantic growing and blooming times, hold on to the knowledge that rewards and rest are on the way. And, during the slow times enjoy the quiet and peace. Do not worry that you are standing still. This means you are tired and need to rest. Relax. Regroup. The growing season will be here sooner than you know.
posted by Kelly @ 11/19/2005 10:32:00 AM
Friday, November 18, 2005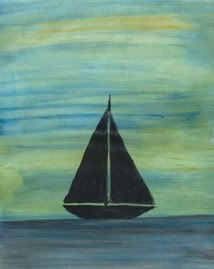 Free, Illustration Friday.
Sail Away, etsy.

"Sail Away"

(A (very) short story by Kelly Gibbons inspired by the painting )



One woman on the shore.



I watched from the shore as the sailboat sailed away into the sunset. Why couldn't I be on board? I thought. I wonder where it's going. I bet the Caribbean. I sulked as I imagined the life of the people on board: Exotic adventures at sea, sailing on the open ocean, the wind pushing the sails, freedom. I pounded my fist on the sand cursing my destiny as I watched the sailboat disappear into the tranquil sea.



Another woman on the boat.



She peered toward the shore, and looked at the people sitting on the beach relaxing. Why couldn't I be on the beach? She thought. I bet they're on vacation, having fun, enjoying life. She imagined their life on land: children, vacations, dinners at nice restraints, houses in the suburbs, a nice warm house with a cozy bed and a fireplace. No rough seas, dinners from a bag, sunburned skin, or sea sickness for them. She stomped her foot on the deck as she cursed her destiny and watched as the last trace of land disappear. Memories flooded her mind, she knew these calm seas would soon be history. She shuddered knowing ominous waves and rough seas were ahead.

I posted this today for my eBay sale, and then the topic came over for Illustration Friday. Because of the "very short stories" I am posting with each listing I felt like this painting also fit perfectly with the new topic. However, I debated posting it because I worried what others would think. Fear crept in again, and I found myself thinking, Will people think I'm only posting to advertise? I went with my initial feeling and decided to link them. I know why I'm listing on eBay, and for Illustration Friday, and they are both for legitimate reason that are good for me. I also figured it would be good to practice what I preach!
posted by Kelly @ 11/18/2005 08:00:00 AM
Thursday, November 17, 2005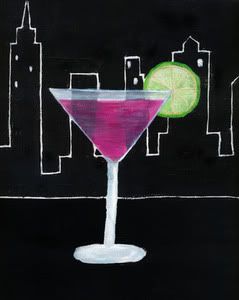 Metropolitan

Metropolitan
(A (very) short story inspired by the painting )

Anything metropolitan seems a world away to me. My life is not city skylines, cocktails at seven, or city penthouse apartments. It does not even remotely resemble an episode of Sex in the City-that would be too complicated for me anyway!-it's more like Satisfied in the Suburbs. Besides, a view of the sunrise, coffee at dawn, and a four bedroom house, aren't so bad.

My eBay "One a day for November" sales are going well. I've sold fournine paintings!!! I shall celebrate! I am very glad I finally had the courage

(SOLD)

to do this.
posted by Kelly @ 11/17/2005 08:22:00 AM
Wednesday, November 16, 2005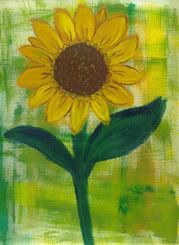 Sunflower, etsy.

"Why I Paint Sunflowers"

(A (very) short story by Kelly Gibbons inspired by the painting )

I paint sunflowers because they make me happy.

Do whatever makes you happy, and don't worry about what anyone else thinks. Wouldn't that be a wonderful motto for life?Many of us, myself included, stop short of doing this because we worry what the rest of the world might think. Truthfully, the rest of the world isn't looking. And, if they are, wouldn't it be better to have them see you being happy, doing what you love and enjoy--being an example of how things could (and should) be? You'll never make everyone happy anyway, so why not do what you can do to make yourself happy. This is the key.

I'll paint sunflowers, and what ever else I feel like, because it makes me happy! What will you do?
posted by Kelly @ 11/16/2005 08:20:00 AM
Tuesday, November 15, 2005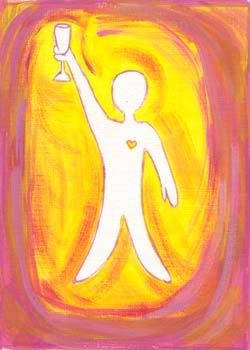 Celebrate, etsy.

"Celebrate"

(A (very) short story by Kelly Gibbons inspired by the painting )

Why do we always wait to bring out the champagne for the big things? Why wait do it now. If you think it's important, celebrate it. Wouldn't it be better to celebrate some of the little things along the way--celebrate the journey instead of just the final result? Isn't the journey what it's all about anyway? Celebrate small things, celebrate big things, celebrate everything and everyday. It doesn't have to be a huge celebration every time. It could be simple, just a little "good job, you did it" to yourself. It doesn't have to be champagne. Raise your coffee cup or your soda can. Make a cake. Do a little dance. But doing something. You did it, now celebrate!
posted by Kelly @ 11/15/2005 08:54:00 AM
Monday, November 14, 2005
Continuing with "One a day for November eBay Sale":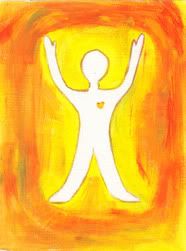 Courage,

SOLD

.

This is part of a series I call Emotions. "Strength" (

SOLD

) and "Dreaming" are listed, and "Celebrate" is coming tomorrow. These are all done in acrylic, and will come matted. There are four more in the series, but they are watercolors. They are "Envy", "Fear", "Passion" and "Joy". These will be listed later in the month as the eBay sale continues.

"Courage"

(A (very) short story by Kelly Gibbons inspired by the painting )

Some people thing if you are courageous you are a brave, big, strong hero. True that is courageous, but the simpler forms of courage are far more important. Average people are more courageous on a daily basis, but it goes unnoticed. Most don't even believe they have courage, instead they think they're weak and failing. Maybe we should applaud and award this courage. It might be just the recognition needed for that person to carry on with the struggle. Maybe it's the person in the grocery line who has the courage to give the cashier his last dollar to pay for food, or the drug addict who has the courage to take his last hit and know she needs help. Maybe it's the teenager who is pregnant and scared, but summons up the courage to tell her parents. Maybe it's the writer who sends his first (or 100th) query, or the artist who lists her work on eBay. Every person you look at has their own personal struggles, and must summon up courage everyday to survive. Maybe you can be their hero by telling them you notice. Maybe you can finally see that you are also a brave, courageous person who deserves to be honored and awarded. Maybe today is the day you see that courage, and use it to do that thing you never thought you could. Be proud of yourself, because everyday you do something that is courageous and brave.
posted by Kelly @ 11/14/2005 07:39:00 AM
Sunday, November 13, 2005
Continuing with "One a day for November eBay Sale":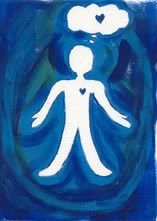 Dreaming, ETSY.

This is part of a series I call Emotions. "Strength" (

SOLD

), and "Celebrate" and "Courage" (

SOLD

) are also part of the series. These are all done in acrylic, and will come matted. There are four more in the series, but they are watercolors. They are "Envy", "Fear", "Passion" and "Joy". These will be listed later in the month as the eBay sale continues.
posted by Kelly @ 11/13/2005 08:00:00 AM
Saturday, November 12, 2005
Continuing with "One a day for November eBay Sale":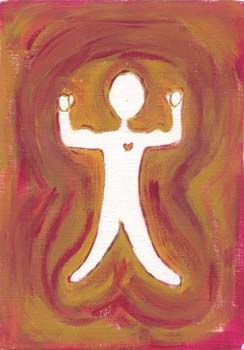 SOLD


Strength, Illustration Friday, and eBay.

I took it as an omen that the new topic was the same as one of the paintings I planned to offer on eBay. Yep, I do believe in signs!

Also continuing with my little short stories for the listing:

You are more powerful than you know. Often you say, "I am weak. I am scared. I am afraid," and you think you can not go on. It is then that a powerful unknown strength inside of you takes over and allows you to do that which you thought you could not do. Where this strength comes from depends on you beliefs. It's faith, courage, power; it's whatever that thing is that you need to persevere. Know it is there ready to come out whenever you call upon it. Don't give up, never give up. You are stronger than you even know. This strength is always there, waiting to be used, and it only grows stronger the more it is used. So, call upon it often, and be strong!

No longer up for auction, but you can

Contact me to Purchase

:
November 7




November 6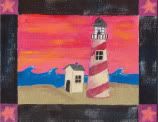 November 5


posted by Kelly @ 11/12/2005 12:09:00 AM
Friday, November 11, 2005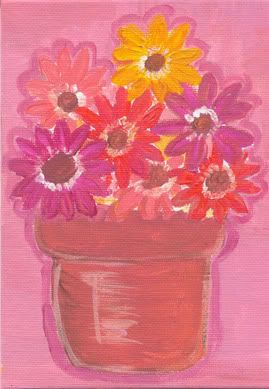 Gerberas, latest item in my "One a day for November eBay Sale".
SOLD

I'm continuing my little stories with each painting. Maybe it will be that "quirky little thing" that draws people in. I don't know, I was inspired to do it, so I went with it.

"What flower are You?"

If I had to choose the flower I would want to be, it would definitely be the Gerbera. In some circles their neon colors would seem tacky, they don't seem to care. They are bold, daring, colorful, and beautiful, and they aren't afraid to show themselves off to the world . They're not afraid to be admired, in fact they shout out, "Hey look at me!" knowing they deserve the attention. They embrace their boldness, shine with confidence, and make people smile because they are so alive. Yes, life as a gerbera would be just divine. Hey, look at me, I'm unique, and wonderful. I'm alive, and I am beautiful.

Today is the

Last Day

to bid on these two:

Too Late, they're both sold! But there are others for sale.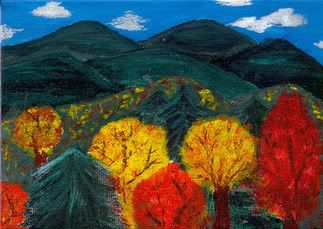 Endless Mountains in Fall Too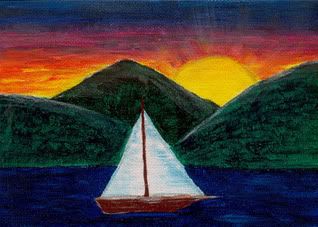 Morning Bliss

posted by Kelly @ 11/11/2005 06:59:00 AM
Thursday, November 10, 2005
Continuing with my "One a day for November eBay Sale":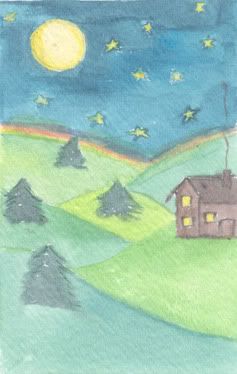 Night, Illustration Friday.


SOLD



I've decided to add short stories with my descriptions--not sure why, it just sounded right to me.

"Night"

As the last light of the day disappears and night blankets the sky, the full moon bathes the mountains and trees in a magical glow. The stars light up the sky and dance with the moon offering wishes to anyone who sets their gaze upon them. A fire is lit and the chilly autumn air is left outside as a cozy warmth fills the house and its occupants.

posted by Kelly @ 11/10/2005 08:46:00 AM
Tuesday, November 08, 2005
I was flipping through the channels and stopped at an interview with Spike Lee. He was talking about winning the Student Academy Award while he was in film school. He said that when he won the award, he expected his phone to ring off the hook with calls from big time directors and Hollywood big shots begging him to make movies for them. This just didn't happen. As a matter of fact, his phone got shut off because he didn't have the any money to pay his bills. Then he realized (with some helpful advice from his mother) that life doesn't happen this way. He had to make things happen if he wanted them to happen. To paraphrase, he said, "You just can't sit around waitin' for the Hand of God to come down and do things, ya have to get off your rusty butt and make things happen."

That's what this whole push to sell paintings on eBay is about. I had been thinking about this before I saw the interview, and it reaffirmed what I was thinking.

I know that all the wishing in the world isn't going to make things happen unless I make an effort to do something about it.

Once I got over that initial fear of putting my work out there to sell (and possibly be rejected), I decided this is something I could (and should) do. I am tired of wishing and hoping that I will sell artwork, or make a living doing something creative. It's not just going to come to me. I need to go after it. Selling on eBay is a start.

I've also decided to list a painting a day for the rest of the month and see what happens. It's my challenge to myself to keep me motivated. I already have most of the work finished, and this challenge will not only keep me selling it will keep me painting as well.

I'm once again reminded of two of my favorite quotes by Alex Beachamp (these have hung above my desk since September of 2003):


"Make the decision to follow your heart and take control of what you want, the universe will provide you will all you need."

"In your life don't waste one moment. Don't be unconscious. Don't put anything on hold for later- do it now. If you have a passion, live it. Don't wait. Live now."


If you have a dream or a desire to do something, you need to hold on to that dream with all your heart, and put forth a real effort to make it happen. Sitting around wishing and waiting for it to come true is not going to make it happen. A dream + effort = desired goal. A dream without effort remains a dream.

I hope I sell something. Gosh, I hope I sell everything I list. But, if I don't it was still a worthy cause, because I took another step toward making my dreams a reality.


Latest Additions:

November 5

For Sale at ETSY






November 6

For Sale at ETSY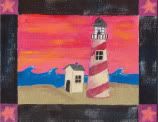 November 7

For Sale at ETSY






November 8

SOLD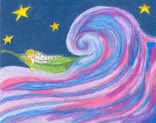 November 9

SOLD



If you ever wanted a

Kelly Gibbons original

, now's your chance. I started the bidding extremely low!
posted by Kelly @ 11/08/2005 07:39:00 AM
Thursday, November 03, 2005

Broken, Illustration Friday.

The first thing I thought of when the topic, broken, landed in my inbox was a story from my childhood. I had a feather headdress when I was about two that I'm told I wore everywhere. I remember my gram telling me I would ride my bouncy horse like a wild child wearing my feathers. My mom says that I wore them everywhere and wouldn't take them off. One day, mom says I was getting into the bath tub wearing my feathers and I slipped. I came up howling (I'm told I sounded like a fog horn when I cried as a child) with my feathers covering my eyes. She was so scared that I cracked my head open, and looked for goose-eggs and blood. "Where does it hurt?"

I wasn't worried about my head, and could only sob and say, "I broke me fetters!"
posted by Kelly @ 11/03/2005 07:37:00 AM
About Me
Name: Kelly Gibbons
Home: Dallas, Pennsylvania, United States
About Me:
See my complete profile
Not Quite Grown-up: The Random Ramblings of Kelly Gibbons the Dreamer, Writer and Artist
My Artwork
Follow Me
Recent Posts
More Stuff I Make
Archives
Powered by