Friday, July 30, 2004
Once in a Blue Moon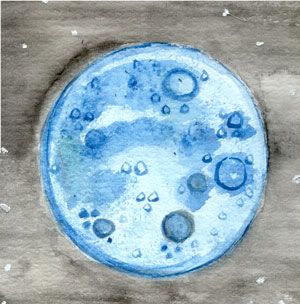 There's a blue moon tomorrow night (Saturday, July 31). Having two full moons in a month only comes around about every two and a half years. In honor of this, I think I'll try to do something I rarely do, or maybe I'll do something that I've never done before. Is there something you have been meaning to do, or wanting to try? Then do it tomorrow, and come back and tell me what you did Once in a Blue Moon.
Here's what I did:
Updated an online resume--I hadn't thought about this resume in almost a year, but every once in awhile I get a phone call from a prospective employer because they have seen it. I always get offered customer service or sales jobs because that's what I did. Out of the blue, I thought about it yesterday, and it hit me that I needed to update it saying I'm a writer and artist. I won't be offered that type of job if no one knows I do it. I have know idea if anything will ever come of it, but it felt good to put it out there.
Matched Socks--I went through that dreaded pile of mismatched socks and found some matches. I always put this off because it is such a tedious job. It is incredible that 5 people can lose so many socks. There has got to be a way to keep those pairs together. I probably won't do this again until the next blue moon in 2007. I hope you did something more exciting than that!
Went Hiking -- I live in the mountains, sort of. They are called mountains, but they are more like big hills. Don't picture the Rockies here. But they are beautiful, and I tend to forget that they are here. There is one state park, Rickett's Glen, about 10 miles from my house that is known for it's waterfalls. There are 22 in all, and there is an 8 mile trail along the water to walk them. It is an incredible place, but I hardly ever go there anymore, but think about going all the time. Yesterday, I made an effort to get there. Our trip was cut short by a thunderstorm, and we only got to see 2 of the waterfalls, but we still had a great time. The rain stopped me from taking pictures, but not from enjoying myself, and we're going back next weekend. I'm not waiting for a blue moon for this one. There is so much right in front of me that I overlook, or take for granted, and I've decided to make a huge effort to stop doing that.
posted by Kelly @ 7/30/2004 02:47:00 PM
There is beauty in everything. Before you judge something or find the faults, find the beauty and things will look differently.

I am not a super religious person, my Catholic education cured me of that. But I do believe in God in my own way. I have never thought that God was mean or vengeful, and I used to cringe when the priests and nuns would tell us we would be punished by God for doing bad things (like chewing gum in class.)

Yesterday, I was driving along and thinking -- a bad combination for me, it is how I got a speeding ticket in the past -- and looking at the beautiful scenery and it occurred to me that God must be funny and childlike to come up with some of the creations he did.

Look at the trees, there are about a billion different shades of green and they come in all different shapes and sizes. It as if God couldn't decide on which one so he just kept throwing colors out there and stopped when he thought it looked good. Once again I saw how imperfection could be perfect.

Yea, yea, I know evolution and nature have a lot to do with it, and I don't believe that "poof" one day it was all just there, but at some point, I really believe that someone or something had to create something, so call it what you will, God, the Universe, the One, the Source, whatever you choose or don't choose. I'm not here to judge your beliefs. I'm just here to share mine.

I try hard not to judge or question other people's work. I don't question nature(in my opinion the supreme creation). I don't pick it apart and find all the faults. I look at these things as a whole and find the beauty. Even with art I don't understand or things that aren't my taste, I try not to be judgmental about them, because it is beautiful to someone. There is beauty in everything, and that's what we should look for.

I don't always look for it in myself or my work. Instead of seeing the beauty, I see all the faults and mistakes. I have killed many beautiful thoughts and creations by being overly judgmental of myself and my work. Self sabotage is a terrible thing. It is time to start looking at myself and my work like I look at other people's work and seeing the beauty and the promise above everything else.
posted by Kelly @ 7/30/2004 06:35:00 AM
Tuesday, July 27, 2004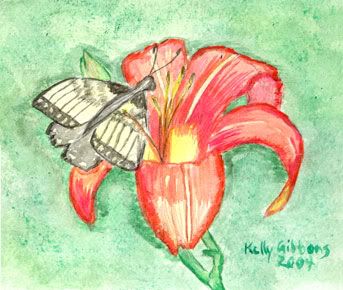 * The following post was never meant to be posted. I thought I had saved it as a draft. It is my mindless rambling. Writing is my way of working things out in my head. I was not feeling so great about stuff last night and I wrote it down to get rid of it, and I acidently shared. Since it is already out here, I'll just let it be, but I should add, this morning I was back in a better place, and the first thing I did was submit samples of my artwork to a new market. (Added at 12:06 pm--and then I went crazy and submitted artwork to 9 more markets, and I am now sending pleas out to the powers that be to PLEASE, PLEASE, PLEASE let someone respond favorably to my work!) I don't have all the answers, I don't think I ever will, but I have learned that action silences that monster named Fear. As soon as you do the thing you are most afraid to do it shuts up and leaves you alone.

I feel like such a fraud at times. Sometimes I feel like I am playing a game of make believe. That if I say I am a writer and an artist enough times that I will suddenly become an artist and writer. On the inside it isn't working. To me my work is amateur, and if I feel this way then how can anyone else possibly believe in me? How can I change this? How can I believe in myself? I'm sure it is this lack of belief in myself that is holding me back, and I so wish I could change it, but I don't know how.

There is so much that I don't know. So much that I need to learn and I am finding it more and more difficult to find the answers. Everything is such a mumble jumbled mess in my mind that I don't feel like I'll ever straighten it all out.

There are so many times that I just want to give this up and run back to the easy way. But then I remember how hard it was there. Sometimes I wish that I wasn't this way, didn't want more for myself. Some times I wish that I could just be satisfied with what the world calls normal. That would make things easy.

I go through so many phases and so many ups and downs. At times I am so happy and so absolutely sure of myself. I can see myself successful, and I feel so confident and self assured, almost cocky, and then it all comes crashing down and I am confused and full of doubt and wonder what the hell I ever got myself into.

Will this ever change? Will I ever be able to stay up and confident? Or will fear and self doubt always be there to slap me back in my place when I try to break free? What is it going to take for this to change? Nothing has worked so far.

Last week I was so bold and brave. "I'm going to write books," I said. I guess the helium drained from my balloon, 'cause I'm sitting here now feeling so foolish for making such a huge statement. I don't even have an idea what to write about. I don't feel brave any more. I am scared. I am full of doubt. I am trying to reach for all the things I have learned this year about going after your dreams, following your heart, getting past the fear, but at the moment they are just out of my reach and I know I have to jump to get them but the self doubt has made my feet feel like they are made of lead and I can't take the leap I know I need to jump in order to fly. I can't. I'm scared. I am so afraid that my wings aren't going to work and that I am going to fall flat on my face. I need faith. I need courage. I need help.


posted by Kelly @ 7/27/2004 09:16:00 PM
I have started several different posts here, and I have decided that I am not in the mood to post.

I am trying to be more productive on the writing front, but my biggest problem remains the same: Where to send my marvelous creations and ideas. I am sitting here looking at a three inch think book that claims to have 1,651 listings of potential markets, but I still have know idea where to send stuff. All the ones I've picked so far have politely declined. I know one of them needs my work, but which one? The whole darn process is just overwhelming me at the moment, so I am walking away.

posted by Kelly @ 7/27/2004 09:58:00 AM
Saturday, July 24, 2004
She did it.
1 day.
52 posts (if I counted right)
$537 $567 $602 for Modest Needs. SPONSORSHIP IS STILL OPEN!
Now she is sleeping awake again (only slept 4 hours).
She deserves the rest applause.

A pessimist, they say, sees a glass of water as being half empty; an optimist sees the same glass as half full. But a giving person sees a glass of water and starts looking for someone who might be thirsty.

G. Donald Gale

A few months ago I wrote a post about how you need to give in order to get. Now's your chance. Angela is blogging for the charity Modest Needs today and she would love your donation. She's also crocheting a blanket in between posts that she'll raffle off at the end (one chance for every $5.00 sponsored). She's also going to dye her hair Orange for exceeding her goal. Look, she's doing the hard part. She's writing, crocheting, and going to live with bright orange hair. All you have to do is lighten your wallet a tiny bit!

Thanks!

P.S. She'll be there for twenty four hours and she is taking truth or dare questions. I dare you to ask her something! Go now, giving always makes you feel good, you know it does.

Oh, and if you are worried about money, or lack of, and need help with the whole abundance thing (I have issues with this, so I share your pain) my mother shared this cool link with me www.millionairemoneygame.com. The concept is that you let go of your old beliefs about money and learn the secrets of attracting money into your life. It is free, and you get money to spend everyday. OK, so it is fake money from the Bank of the Universe, but hey, it still sounds fun!
posted by Kelly @ 7/24/2004 07:40:00 AM
Friday, July 23, 2004
Has anyone seen my hairbrush?

I'm asking here because I have asked everyone in my house several dozen times, and they have no idea where it is. Not one brush can be accounted for in this house. Not one.

I'm not blaming the boys, because one doesn't have much hair by choice and the other doesn't have much hair by nature. They don't use the brush.

I'm not blaming the dogs, because they don't like the brush, and I already checked in all their hiding places. Only bones there.

I'm not accusing anyone, but there are two girls who live here who have great hair everyday. And I'm surprised at how straight their naturally wavy hair has been during this humid weather without the aid of a brush. Every time I ask, they swear they haven't seen it. Maybe the glare from the mirror has blinded them.

I haven't combed my hair in days with the assistance of an appliance. I'll take any thing, a comb a pick--I've even been tempted to use my dinner fork. Fortunately, I have naturally curly hair and my fingers work fine. It's a good thing that I like wearing my hair natural these days, or I would have a really big problem. But, I miss my brush, I like to comb my hair every once in awhile, it goes along so well with washing my face and brushing my teeth.

I refuse to go buy another brush. I have purchased so many in the last few years that Visa contacted me about a potential fraud. They were shocked that anyone could go through that many brushes. They thought someone stole my card and were using it to open a hair salon. Between the brushes and make-up purchases, they had a valid case.

I won't buy another one. I know they're here somewhere. I know who has them, and I have a plan. I am going to hold the hair dryer, hair straigtener, and make-up hostage until the brushes are safely returned. I should be combing my hair in a few minutes.
posted by Kelly @ 7/23/2004 08:44:00 AM
Monday, July 19, 2004
Analyzing dreams for a week can be very enlightening. In some ways I was surprised by what I learned, or at least I was at first, and I was quite pleased with what I learned.

I never had the same dream, but surprisingly the dreams I had had remarkably similar meanings. The recurring theme throughout my dreams was that I should be open to new opportunities and experiences, that I was experiencing a spiritual awakening, more opportunities would be presented to me, but I must be willing to accept them, and that I was changing the way I think about things, and that I was struggling with this. One message that I got from my dreams was that I needed to start catering to my inner child more. And another was that I needed to take more control of my life and expand my horizons and look into new interests.

One part of a dream that I vividly remember right down to the color, shape and size of the object was a doorbell. I even drew it when I woke up. The meaning of this was calling attention to something that I have overlooked, "perhaps you don't realize an opportunity is open to you." (From http://www.dreammoods.com/)

I was shocked at how much I learned from my dreams. I also really saw things changing in me from day to day, and my dreams reflected this change. In the beginning of the week I had doubts and was full of fear and I was seriously doubting what I was doing. My dreams kept urging me to explore new things and start looking for new opportunities and showed me that I needed to take control of my life and what I wanted. As my confidence came back and I started to believe in myself again, the meanings of my dreams started to change. Some of the messages were similar, but I was definitely getting more definitive messages. It was weird, but I really felt I was being told I was on the right track, and if I kept at it and kept my confidence and belief in myself that I would be rewarded.

In the last dream I had, I remember being in a crowd. I wasn't sure where I was but I felt I was at a bazaar, there was a very festive atmosphere. Everyone around me was happy. Here's the meaning, "To see a happy, orderly crowd in your dreams denotes assured happiness, pleasant friends, and opportunities for advancement." This message backed up several other really positive messages I received from the dream meanings and helped jump start a better attitude about things.

I can't explain it, but I have a renewed sense of confidence, and I am also eager to try new things. It has helped me make a decision about my writing too. I want to write books. I'm not sure what kind, or what they will be about, but I know this is what I want to do. This is always what I have wanted to do with writing. For as long as I can remember when I have talked about writing, I have said I want to write books--not magazine articles, not newspaper pieces, not web copy, but books. I'm not sure how I will do this or where I will start, but I know I must start. I feel this is the right direction.

I don't care that I don't know how. That has never stopped me before. I am not going to listen to any of the reasons why this will be hard or why I can't do this. I know in my heart that I can. I have let what others think stop me before. I refuse to do that anymore.




posted by Kelly @ 7/19/2004 11:00:00 AM
Saturday, July 17, 2004
Please let me clarify what I meant about friends:

I am so grateful to all the wonderful people I have met online through this site. I do consider all of you my friends and your comments, encouragement, and emails mean so much to me. I hope there comes a day when I can meet each and everyone of you in person. I wish that you all lived close by so you could stop by the house and visit. I mean that! What I was talking about is having friends that are close by that I could call on the phone if I wasn't so darn afraid of being a pest, or to hang out with, or do things with. My budget and lifestyle don't allow me to travel all over the United States (gee, for that matter, the World--I do have some international visitors too) to visit friends for a cup of coffee or cocktails. You have know idea how much I wish I could do this--I might just make a pest of myself at some of your houses.

I love that I can say I have a TWO WONDERFUL friends in NH who love to tease me, one who creates pottery and the other who puts up with him (or does he put up with her?). And that I have more new friends all over the country, one near Chicago who makes me laugh my ass of, and one in TN that always encourages me and inspires me, and one in GA who will give me a kick in the butt with a dose of encouragement when I need it, and one from CA who always surprises me with her lovely comments just when I think no one is reading. It is wonderful to know that there are other people out there that are learning who Kelly Gibbons is.

Thank you to all my friends!

posted by Kelly @ 7/17/2004 11:57:00 AM
I'm still having a very hard time trying to figure out what it is I want to do with writing and art. I get pulled in so many directions and then I get confused. Then I find another book or website and get pulled in yet another direction and become even more confused and undecided with what I want to do. Then I become very unproductive with writing and art. I stop because I don't know what to do.

The learning becomes so overwhelming that I don't make the time for the doing. I get so wrapped up in trying to find out how to do it right that all my energy is wasted before I have time to actually do the things I want to do. There comes a time when too much information is just as bad as not enough.

It is time to stop the insanity. It is time take a rest and it is time to get back to basics. Time to start writing and painting and drawing again.

I'm also trying to figure out what I want to do with this blog. When I started my adventures in writing, I felt that having a website and blog were so important. I guess I felt this way because all the people I considered so successful (or in a place I wanted to be) had them. Don't get me wrong, I think they are good and useful and serve a purpose and I have met so many nice people and have found some great resources, but I don't think they hold as much importance as I once thought they held.

Since I started this I have struggled with what it should be about. Should it be dedicated to writing and art? Should it be inspirational, things I learn along the way? Should it be about personal things --what's going on with me now? Should I include artwork on this site or have another one for that (the reason I started A SunnyK Kind of Day)?

I started other blogs so I could include all the things I enjoy, but it became too difficult to maintain them all. I found myself getting frustrated having to post to all of them. I also want to be creative and unique, and I don't want to look as if I have copied off of someone else, so I have stopped myself from formatting this site like some of my favorites. I don't want to be boring either. It's not that I write for an audience, but hey I am a writer and an artist and the business part of it is about getting noticed, so I want people to read.

I think I am going to slowly merge it all into one site, and stop worrying about what others might think. One site about me, me the writer, the artist, the mother, the wife, the runner, the person. It makes sense to me.


posted by Kelly @ 7/17/2004 06:56:00 AM
Friday, July 16, 2004
Oh, boy, it looks like blogger just got more fun, I can change the

text

color

with

ease

. Yep, I am easily amused!

The one thing that I think stops me most in almost everything I do is not knowing what to do next. This is what is stopping me in both writing and art. I don't have the answers, don't know where to find the answers, and I get so overwhelmed looking for the answers that I stop myself dead in my tracks. When I don't know the answer or I don't know where to get the answer is when I become the most frustrated and self defeating. It's a pattern that I know I need to break, but I don't know how.

I have a terrible time asking for help. I hate to bother people, and no matter when I have to ask for something (even if it is a small thing) it is really difficult for me. Because of this, I think I push people away. I limit the amount of contact I have with people because I don't want to be a pest, or impose on someone, or just plain annoy them. This is probably why I am intensely afraid of calling people on the phone. It is also why I don't send tons of email, or why I try to do everything myself. This kind of behavior makes it look like I am a control freak, but that's not the case. It is really because I am so afraid.

The odd think is that the way I come of to people is really not how I'm feeling inside. On the outside I come of as confident and sure of myself, when on the inside I am like a jellyfish ready to fall apart. I remember when I was a Customer Service Rep. The girl next to me said to me one day, "It's so funny how you are, you come of as so in control and sure of yourself and a little tough, but the more I get to know you I'm finding out that you aren't tough at all. I thought nothing bothered you, but now I see that things get to you more than they get to anyone else."

There are very few people in this world that know the real me. But, I think many people judge me and misunderstand me before they give me a chance. It has always been that way for me.

You don't know how badly I want a friend, a real friend who gets me. Who understands that sometimes I want to do crazy things, and be around lots of people, but that there are times that I am just as content to be completely alone. And to know that just because I don't call them everyday doesn't mean I don't want to be around them. It just means I need some time to be alone. I have never been able to keep close friends. Oh, I have had best friends and good friends, but they come and then they go. My husband on the other had has had the same best friend since he was 16 years old. His friend lives out of state now, but they still talk , and visit when they can. I don't have a clue where most of my best friends are now. There was never a bad parting, we just grew apart and went our separate ways. I envy people who can make and keep connections. I wish I knew how.

posted by Kelly @ 7/16/2004 11:16:00 AM
Wednesday, July 14, 2004
Do you remember your dreams?
This week I am trying to remember mine and I'm trying to figure out what they mean. Of course it is on the advice of one of those self help books, I'm addicted, remember?

The trouble is that I am having a hard time remembering my dreams. So far I have only remembered one night out of three, so I thought I would work with that one. It's been than nothing right.

I found a pretty cool website, www.dreammoods.com to interpret mine.

A brief synopsis of my dream:
It had three parts:

In the first part I was the passenger in a car. My son's volleyball coach was the driver (my son mentioned him right before I went to bed). While we were driving a crane or some sort of other heavy equipment appeared. It was moving a house (the whole house!) from one end of the street to another. They placed it behind another house and as they were playing it, I thought, "There's no foundation, that house will not stay there." The house just sort of leaned over to one side. There was no way it could stand without a foundation.

Next I was at two different wedding receptions. I remember the brides, but no grooms. They weren't people that I knew, but in the dream I acted like I knew them. Both receptions were in the same place, and they were small and disorganized, but everyone seemed happy.

Then I remember being in a house, reorganizing things or moving things around. I think I was hanging pictures on the wall. I am pretty sure I was at my Grandpa's house, because I looked out my window and I saw my uncle standing in his driveway with two dogs and I ran out to give him another one. I kept thinking how strange it was that my Uncle owned three dogs (he's not the type!)

The things that stuck out to me the most in this dream were:
Being a passenger in the car
The house without a foundation
The weddings and only brides
The disorganized receptions
Hanging a picture on the wall
My uncle with the 3 dogs
Things that also popped out:
the number 3 (3 parts to the dream, 3 dogs)
the number 2 (2 people in the car, 2 houses, 2 brides, my uncle walking 2 dogs at first)

To dream that you are driving a car, denotes your ambition, your drive and your ability to navigate from one stage of your life to another. Consider how smooth or rough the car ride is. Whether you are driving the car or a passenger, is indicative of your active role or passive role in your life. If you are in the backseat of the car, then it indicates that you are putting yourself down and are allowing others to take over. This may be a result of low self-esteem or low self-confidence. Overall, this dream symbol is an indication of your dependence and degree of control you have on your life.

To dream that someone else is driving you, represents your dependence on the driver. You are not in control of your life and following the goals of others instead of your own. If you are driving from the passenger side of a car, then it suggests that you are trying to gain control of the path that your life is taking. You are beginning to make your own decisions.

I take this as need to take control over the direction of my life, as I was just sitting back enjoying the ride, with no desire to drive at all.

To see a house in your dream, represents your own soul and self. Specific rooms in the house indicate a specific aspect of your psyche. In general, the attic represents your intellect, the basement represents the unconscious, etc.

To dream that you are cleaning your house, signifies your need to clear out your thoughts and getting rid of old ways. You are seeking self-improvement. BINGO!!!

To see an old, run-down house in your dream, represents your old beliefs, attitudes and how you used to think or feel. A situation in your current life may be bringing about those same old attitudes and feelings. Alternatively, the old house may symbolize your need to update you mode of thinking.

Living Room

To dream that you are in the living room, represents the image that you portray to others and the way which you go about your life. It is representative of your basic beliefs about yourself and who you are. OK, I don't really understand this one!

Driveway

To see or drive up to a driveway in your dream, symbolizes an end to your journey. It also represents security and rest. Alternatively, it denotes your path toward achieving inner peace and toward finding your spirituality.
Yep, I think I'm trying to get here!

Foundation

To see the foundation of a building, represents your belief system. You are well-prepared for any situation before you.

To dream that the foundation is shifting, suggests that you are changing your beliefs about something.

Since the foundation was non-existent on the house in my dream, I'm going to guess I am very unprepared for any situation. Looks like I'm in a little trouble here!

Bride

To see a bride in your dream, signifies the most feminine qualities about you. A bride may also symbolize a union or partnership or some sort. I'm going with the latter, if you know me, you would too! I'm hoping this means there is something good coming my way, I haven't been real lucky in the work partnership area lately. With two brides I guess I'm getting a double dose of whatever it is!

Reception

To dream that you are attending a reception, signifies many pleasant engagements and social gatherings. Sounds good to me.

Hanging a Picture
To dream that you are hanging a picture, represents acceptance or acknowledgement of the image that is depicted in the picture. You have come to an understanding or compromise regarding a situation. Too bad I have no idea what the image was, then maybe I would understand.

Uncle
To see an uncle in your dream, represents some aspect of your family heritage and traits. It may also symbolize new ideas and emerging awareness. Yes, Yes, Yes!


Dog
To see a dog in your dream, indicate a skill that you have ignored or forgotten, but needs to be activated. I am going to look into this one! Alternatively, dogs may symbolize intuition, loyalty, generosity, protection, and fidelity. Your own values and intentions will enable you to go forward in the world and succeed.
To see a happily barking dog in your dream, symbolizes pleasures and much social activity. I'm game!

Also consider the notions associated with the word dog, such as loyalty ("man's best friend") and to be "treated like a dog".


Bulldozer
I think mine was a crane, but I'm not sure, it was some sort of heavy equipment, this made sense, and it just popped out when I was looking, so I took it as a sign and went with it.
To see a bulldozer in your dream, suggests that you are feeling pushed away from what you want. Or you are being diverted away from the path to your goals. You may be feeling helpless and bullied. Alternatively, it may indicate that you need to organize and clear away the clutter in your life.

Three
Three signifies life, vitality, inner strength, completion, imagination, creativity, energy, and self-exploration. Three stands for trilogy as in the past, present, and future or father, mother, and child, etc.

Two
Two stands for diversity, partnership, soul, or receptivity. It can also symbolize double weakness or double strength. I hope it is strength!
There is a duality as in male and female, mother and father, yin and yang, etc.

So, what are you dreaming about, and what does it mean?
posted by Kelly @ 7/14/2004 08:13:00 PM
Tuesday, July 13, 2004
Where do your feet take you when you enter a book store? What's that twinge you get when you hear about a movie you're suddenly dying to see?

These are two of the great indicators of your passion and interest, and where you should be heading in the pursuit of your art.~Chris Keane

After I swore upside down that I was going to stop wasting time, stay off the computer and well, get my butt in gear writing I started surfing and one site, led to another, and another, and well, you guessed it I was doing exactly what I said I wasn't going to do. But I found this great quote at www.writewhatyouknow.com. It also got me thinking.

So what books do I go for first in the bookstore? Hm, that's tough, is this now or before I was a writer? All of the last books I bought were either for writing or some sort of self help book.

Let's see:
A Wish Can Change Your Life
The Power of Intention
The Artist Way
Write it Down Make it Happen
The Best of the Magazine Markets
Children's Magazine Market
Inspiration to Publication
The Seed Handbook
How to Write
Doing Work You Love
Searching A Research Guide for Writers
Essentials of English
The Renegade Writer
On Writing (Stephen King's book)

After reading all of these I can't say I feel anymore like a writer or any more Helped! Did I learn anything from them? Of course, but...

Sadly, I can barely remember what books I used to head for before I decided to become a writer. Actually, I am not super picky when it comes to books. I read everything. While camping, I didn't bring any books, it was part of the plan, but I found a stash in the laundry room and I am going admit something here. I picked up a Danielle Steele book, and I couldn't put it down and not only did I like it, I cried. But, I've been known to cry during commercials, so that might not be saying much.

OK, getting back on track, so, what books am I really drawn to. When I was a kid my favorite books were by Judy Blume and V.C. Andrews, and I loved mysteries and ghost stories, and true stories about unexplained events like Big Foot, the Lock Ness Monster, and UFO's. I love ghost stories, my first published article was about famous graves in my area, and when I want to live in a haunted house. Seriously. Weird, yes, but this is me.

This is part of an email reply that I sent to a friend who sent me a much needed email after yesterday's post. He to was going through some crappy creative stuff and we both "fixed" ourselves by walking away and doing other things. Anyway here's what I wrote:

I have never been like anyone else and like you and your work, I see that conforming is not the answer. I am different. I won't be happy unless I am doing what I want and that is definitely not sitting behind a desk in an office somewhere. Thanks for reminding me.

It also made me realize that I am not going to be happy writing the stuff other people want. I am happy when I am writing about things I like. They might be weird things, they might not appeal to everyone, but I like them none the less.

I'm not ordinary, I do not fit the mold, never have never will. Is there anything wrong with that? Hell, no! Why should I try to write about things that don't get me excited? If they don't excite me, they sure as hell aren't going to excite anyone else.

But this means I have my work cut out for me. I have no idea where I'll send or sell this kind of work. Is this a genre? Gosh, I feel so dumb sometimes. But, I can say that as I write this, I feel excited about researching and writing again, and that's a good thing. Ugh, how dare I quote Martha Stewart!

P.S. For the record, I didn't go into a whole lot about movies, because, I don't watch a whole lot of movies. I mostly catch them when they finally get to TV. I think the last movie I saw at the theatre was The Moth Man Prophecies. I did watch Dream Catcher the other day, but that might be old too, I'm not sure. The movies that excite me are romantic comedies and suspense (but not gore), and although I didn't like the Moth Man Prophecies that much, the premises got me excited enough to go to the movies.
posted by Kelly @ 7/13/2004 06:24:00 PM
I'm feeling very un-writerly lately. Rejections will do that to you.

I'm actually feeling like I don't want to keep doing this. I know it is an excuse and a cop out and that everyone gets rejection letters (even bestselling authors), but to be honest, I'm not so sure how much more I can take of this.

I am a positive person. I try to always see the bright side of things, but there is still a part of me that is a realist. That part of me wants to give this all up and go back where its safe.

Will I be happy back in that safe place? Hell, no! But to be quite honest, I'm not so happy now. It sucks never knowing when and if you'll have work. It sucks pouring your heart out on a piece of paper only to be told in the nicest possible way that once again what you have written isn't what is wanted. It sucks seeing other people moving forward while your so stuck you don't have a clue what to do.

Is it wrong to compare? Hell, yes! I know this, but I'm human and can't help myself. Sometimes I just want to scream, "When is it my turn?"

Have I done everything right? No, but I have tried, and failed, and tried again. And to be perfectly honest, I know that I might have to try two hundred more times before I succeed. I know that is what is required. But, I don't know if I want to do it anymore. I don't feel like I have it in me anymore.

Sometimes I wish I was normal -- whatever that is -- and did have this urge in me to be different and creative. Today I feel like it is a curse. Why couldn't I be satisfied going to work everyday and collect my pathetic paycheck at the end of the week? Why do I need more? Why do I want to be a writer if it is bringing me such pain?

Will I quit? Probably not, but some days it's nice to get things of your chest. Some days it is OK to kick and scream and cry and say out loud that it is not fair.
posted by Kelly @ 7/13/2004 01:06:00 PM
Monday, July 12, 2004
If you observe a really happy man, you will find him building a boat, writing a symphony, educating his child, growing double dahlias or looking for dinosaur eggs in the Gobi Desert. He will not be searching for happiness as if it were a collar button that had rolled under the radiator, striving for it as a goal in itself. He will have become aware that he is happy in the course of living life twenty-four crowded hours of each day.

W. Beran Wolfe

I'm Back, did you miss me?

Some things I learned while I was away:
1. Camping is not for me. At least not with the group of people (my family) that I went with. I will not camp with them again. I personally liked camping and I could have done it with no problem (even in a tent and not in a "luxury" trailer), ALONE.
2. A luxury trailer is defined as a nice, clean camper, with an attached deck. It is not large. It is very small. It has a separate "bedroom." Or should I say a section divided from the rest of the space with folding doors. OK, it was a glorified closet with a Queen size bed. OK, a platform with a foam mattress on it. It has a bathroom with a shower, and life size Barbie (the 3 foot tall one) would have loved it. The real life Barbies I took with me had a little bit harder time with it.
2. High heels and dangling earrings are camping essentials (at least according to my daughters).
3. I still love the ocean and I want to live near it more than ever (at least for part of the year).
4. It cost more to camp then you think. If you are looking for a cheap camping vacation pitch a tent in the back yard. If you don't have a tent, lay on the ground with a blanket over you. Do not fool yourself into thinking that you will save money by camping. The pizza parlors closet to the campgrounds raise there rates dramatically. A desperate hungry camper will pay anything for real food.
5. I can still read a novel in a day. I can forget to eat, sleep, drink and just read and enjoy it.
6. I like writing more than I like writing about writing. I am going to start writing more and I think writing less here. Or, maybe I will write differently here. I haven't decided yet. I HAVE decided to really make writing a priority again.
7. I liked being away from the computer. I didn't miss the computer nearly as much as I thought I would. I actually really enjoyed not having one around. Although I have been on it all morning tying up lose ends, I intend to get away from it OFTEN.
8. There is no place like home. In the words of my daughter, "My life has changed so much since I went camping. I used to think our house was small. I feel like it is a mansion now. I love my house now."



posted by Kelly @ 7/12/2004 10:51:00 AM
Thursday, July 01, 2004
I have good news and I have bad news.

The good news is my artwork is online at Weeones Magazine.

The bad news is I won't be posting here for a few days. I know, you're devastated. But if that is the worst news you get all day, then I would consider that a darn good day.

I'm going on vacation. Taking 5 teenagers into the woods is vacation, right?

I'm going camping. Well, sort of. We don't have camping equipment. We used to, but that's a long story that I'm not going into right now. Let me just ask if anyone has ever seen one of those tents that you just throw open and Wa-La: Instant tent. Instant up, sure, but did you ever try to take it down? I did and it is impossible, so I left the stupid thing up in the yard until I had no choice but to cut it up and throw it away. It was a great fort that summer. (Oops, I went into it, but I spared you the long version).

Back to this camping trip. My daughters used to be little tomboys. They aren't anymore. Can you say Paris Hilton with me? But, they wanted to bring their friends along on vacation, and the only way we can afford a place for seven people is to camp. I use the word camp loosely here, because I rented a "luxury" camper that sleeps 8-10 and is supposedly stocked with "all the comforts of home." I guess that means its a four bedroom house, with a King size bed, cable TV and a computer with high speed internet access, right? Yes, girls that's what it means. Wink, wink.

I haven't seen pictures yet. They have a web site, but there are no pictures of our trailer, but I'm sure it will be fine. The place is too new for pictures. Yes, girls that's what it means. Wink, wink.

But it is by the ocean. OK, it's in the state of New Jersey. I tried to book a place closer to the beach, but that's kind of hard to do when you need accommodations for 7 a week before you're leaving during a "holiday week." A really nice man reminded me of that, "Gee, ma'am I'm sorry, we're kind of booked up that week. Do you know it is a holiday?" Wait I said the 5th of July right? Is the 5th of July really a holiday? Yea, I know.

It is only 17 miles away from the beach. That also means it is 17 miles away from the over priced amusement rides at the boardwalk. By the time the girls walk there they'll be to tired to do anything but lay on the beach.

Actually I can't wait to go, I love the ocean, and I really used to enjoy camping. The boys are pleased as punch with the location. They can fish and be all manly and build campfires. I think we can even take a canoe trip or going tubing in the nearby river. And the girls can pretend this is The Simple Life and when reality hits them, they can come back to their simple life. Yes girls, we really are millionaires, but we live this way because we want to see how the rest of the world lives. When you get your trust fund, you can live anyway you want. Wink, wink.

Have a fabulous 4th of July.
posted by Kelly @ 7/01/2004 06:52:00 AM
About Me
Name: Kelly Gibbons
Home: Dallas, Pennsylvania, United States
About Me:
See my complete profile
Not Quite Grown-up: The Random Ramblings of Kelly Gibbons the Dreamer, Writer and Artist
My Artwork
Follow Me
Recent Posts
More Stuff I Make
Archives
Powered by