Saturday, October 28, 2006
Ghost Hunt '06

See still photos below.



I won a contest on a local radio station, 98.5KRZ FM, to participate in a "real ghost hunt". For the past several years, the stations morning DJ's, Rocky and Sue, have gone on ghosts hunts with a group of paranormal experts. I've heard reports of some pretty creepy stuff happening on these trips.

In years past, listeners provided the station with a suggested haunted place, and that's where the investigation took place. This year, not a lot of suggestions were offered, so the hunt took place in the Caldwell Consistory in Bloomsburg, PA. The ghost hunters were having a fund raiser at the building since several reports of paranormal activity had been reported. The building is a Masonic Temple built in early 1900's, and along with the Mason's activities, it also houses a learning center and banquet hall. It is also used for theater productions, and in the past it was also used as a YMCA.

Jim, the director, insists that the old building is haunted, and has seen many instances of paranormal events in the past 25 years. He told us of hearing a ghost cat on the stage, of seeing a ghost he called, Hiram (I think this is the correct name), of having spirits play tricks on him,like putting the theater seats up and down. Jim declared he would take a lie detector test to prove his beliefs. I however, saw nothing during our private tour of the 4th floor and equipment room above the stage, but my only real spook of the evening did. Jim was telling me about a ghostly encounter he had experienced. The incident had occur on the same spot he was telling the story. He said something tried to push him and the group he was with. He described it as "something trying to push against us, trying to push us down," and said right after it happened something that made a loud WHOOSH sound swept past them. As he concluded his story, something pricked my finger--it felt like a faint electrical shock. I got a bit excited, and said, "I felt something." It turned out to be a metal clip on the end of a string attached to an overheard light. The tour was still creepy and Jim was extremely enthusiastic as he opened doors and lead us on the maze of rickety steps leading to the entrance of the attic. He even opened up a room that Hiram the Ghost frequents, and tried unsuccessfully to coax him out. I did my best too to call forth the spirits, but Hiram apparently wasn't in a visiting mood.

Personally, I think the hunt would have been better if we had gone in a smaller group. Rocky and Sue felt other hunts had been more successful because of there small scale. They were held in private residences and more equipment was used, so it was more of a first hand ghost hunting experience. The team leader, Kevin, mentioned at one point during our hunt that other hunts are much more controlled, and compared them to a military mission. Our hunt nothing like that, so not controlled at all. People were walking all around, so footsteps heard above could easily be explained. Cold spots were not monitored, and since the building was very cold, I thought this was totally normal, not paranormal. Most of the time, it was a lot of people sitting around in the dark lighting the room up with the flash on their camera. If you went as a non-believer, you left as a non-believer. I am still a believer, but nothing on the hunt proved or disproved anything for me.

Still, I made the best of it, and had a great time exploring the old building. The limo bus ride to and from was a blast! We meet some nice people and had an interesting free night out. I also might have captured some orbs, or I might have captured some reflections off dust. I really don't know. I do know that every time I felt there was something unusual nearby, I snapped a picture. Those pictures all appear to have orbs in them. Coincidence? Who knows! Who cares. It was fun, and I have shared the pictures below:




Cadwell Consistory
Rocky and Sue's Ghost Hunt '06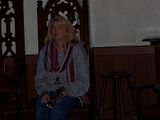 Me, all ready to hunt ghost--notice the absence of orbs around me. Seems everyone else is a ghost magnet, but me!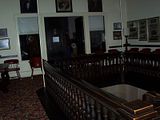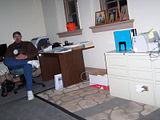 The orbs definitely liked Ray (if the small round globes are in fact orbs).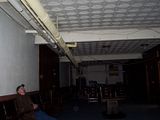 And, Ray seemed to like them! (He had know idea these were there until we blew up the photo).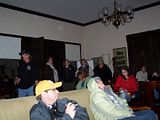 Rocky and Sue from KRZ (sitting on couch). Notice the Orb floating above fellow KRZ staff members (in back by door, wearing Halloween beads).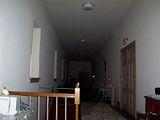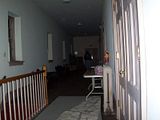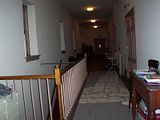 This third floor hallway was loaded with orbs (or dust). You be the judge.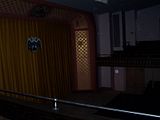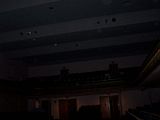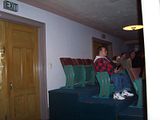 So, was the auditorium.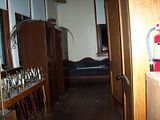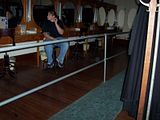 The costume room was a creepy place, and another great spot to see orbs.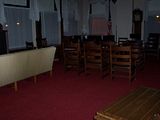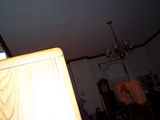 The parlor: the ghost hunting team thought this was a hot bed for activity, me, not so much. I kind of thought they were "acting" a bit. There might be a white streak in the left photo, and a shadowdy figure over the woman in the right photo. This photo looks kind of creepy, but I'm pretty sure there was a light shining in the window that caused the effect.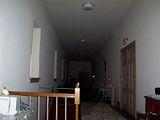 The man in the hallway is Jim, the director. He really got into the tour, and added to the creepiness with the slow silent way he walked. Everyone else made the floor boards creak, so you knew someone was there, not Jim. He just seemed to appear. Ray was snapping pictures and was startled to see Jim in this one. The hallway was dark, and he hadn't known Jim was standing there.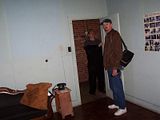 Ray with Jim (outside door) in Hiram the Ghost's room.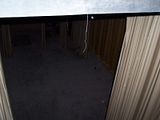 Taken from the equipment room overlooking the stage.

posted by Kelly @ 10/28/2006 05:18:00 PM
Wednesday, October 25, 2006
Black and Orange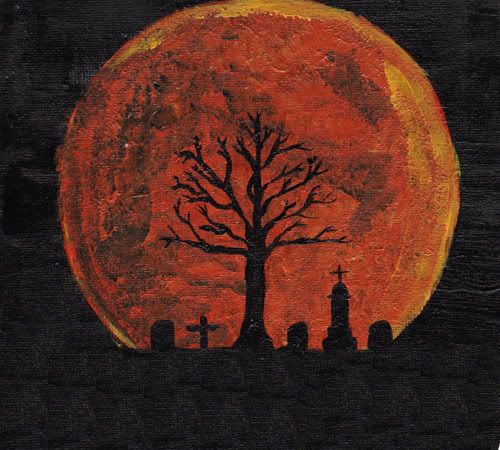 Penelope Illustration Black and

Orange

Contest Entry
posted by Kelly @ 10/25/2006 07:47:00 PM
Sunday, October 22, 2006
Ghost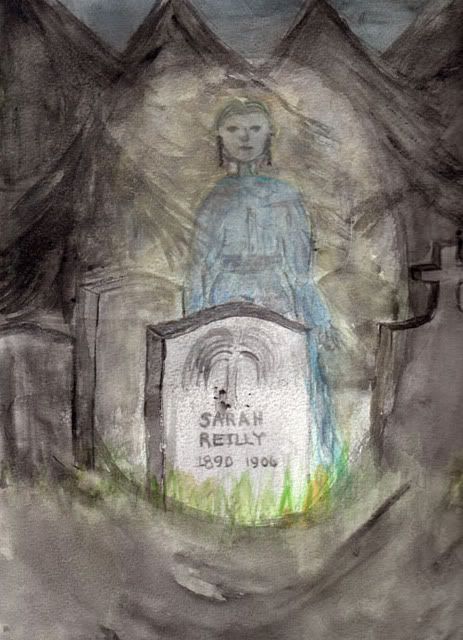 Ghost

, Illustration Friday


A perfect topic for me! Well, the ghost part anyway. I'm not great a realism, but what the heck, it's fun to try. This is a character from the young adult novel I'm writing. I wish I could have painted her more like I "see" her, but this will have to do until you can read about her when the book is published.
posted by Kelly @ 10/22/2006 09:12:00 PM
Tuesday, October 17, 2006
Smitten, Illustration Friday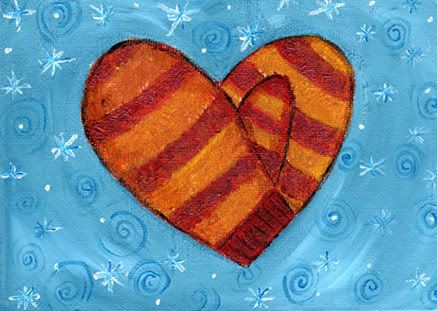 Smitten

, Illustration Friday.

It's the first thing that came to mind, so I painted it.
posted by Kelly @ 10/17/2006 07:16:00 PM
Monday, October 16, 2006
Simplify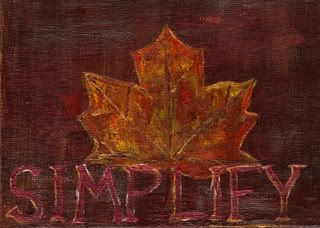 Simplify

, Kelly Gibbons, 2006.

I re-stocked my paint supply yesterday, and bought some metallic paints. I love the effect, so they will be my new "toy". And, simplify shall be my new motto. I tend to complicate things unnecessarily, and I am going to stop that right now.

I had such a fun weekend. I went to several places that I have been saying I'm going to go to for a long time--just never made the time. Now, I'm sorry I didn't get to them sooner.

One was the Arts YOUniverse. It's a mansion converted into shareable artist space, and all four floors are bursting with creativity. I so wish I could have a space there. The wonderful clay artist Maria Livrone showed us around. I didn't take my camera, so I don't have pictures of her awesome work, but it was so inspiring. Her studio is in the basement of the building and she has painted it with such bright, fun, whimsical colors (just like her clay sculptures) that you forget your in the basement. She tried to talk me setting up a table at the upcoming art fair, but I'll have to think about that. I don't really have a lot of stuff to sell, and it's in less than a month. We will have to see.
posted by Kelly @ 10/16/2006 07:37:00 AM
Saturday, October 14, 2006
A Winter Evening
"A Winter Evening", an exercise from Out of the Box Writers.

The snow continued to pile up, about 10 inches so far, with no end in site. A white blanket of snow covered everything forming a pristine crystal man-made mountain range with peaks and valleys made from cars, houses and anything else left outside to be buried. Carrie moved closer to the blazing fire, and blew on the steaming cup of hot cocoa cuddled in her hands. She took a sip, and the warm chocolate liquid filled her mouth and brought instant pleasure.

Let it snow! Let it snow! Let it snow!

She thought as she hummed the tune.
posted by Kelly @ 10/14/2006 07:16:00 AM
Monday, October 09, 2006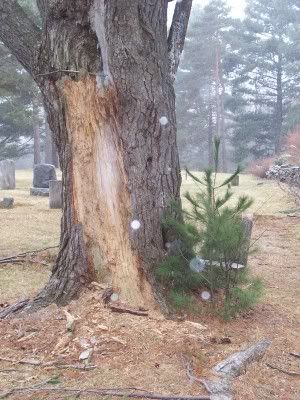 I dug up an oldie for Jay's Blogging for Books. Read the story here.

While doing some research, I came across a picture of my great-great grandmother, Nellie Hislop. I don't have permission to post the picture, so here's the link. The names are messed up on the description, but she's the only girl in the picture, and her name is written on the photo. I had never seen a picture of her before, and I just thought this was very cool. The second man on the left in the first row, "Coon" Honeywell might be a relative too. I don't know a lot about my dad's side of the family, but I know I have Honeywell relatives. I also learned that the Honeywell's were the among the first people to live in my town. If these are my relatives, then my house is located on the site of the original Honeywell farm.
posted by Kelly @ 10/09/2006 04:15:00 PM
About Me
Name: Kelly Gibbons
Home: Dallas, Pennsylvania, United States
About Me:
See my complete profile
Not Quite Grown-up: The Random Ramblings of Kelly Gibbons the Dreamer, Writer and Artist
My Artwork
Follow Me
Recent Posts
More Stuff I Make
Archives
Powered by