Friday, January 30, 2004
I have been noticing something, and it really hit me yesterday.

There is a definite division between "life before writing" and "life after writing". And since life before writing was not very long ago, I don't understand it that well. No one from my before writing life wants anything to do with me. Family is not included--they don't have a choice. I don't understand why and it hurts. The people I am referring to are my so called friends. The friends that had tears in their eyes when I decided to leave my job. The friends who said "We'll miss you so much, we don't want you to leave, what will we do without you?"
And before that the friends who promised to keep in touch no matter what. Since I began writing, all of these friends have disappeared. All of them. Gone.

No one calls me, emails me, or stops by. In the beginning they did, but slowing it has faded away. I am not asking for much. A simple hello, how are you would make me happy. I have tried to keep contact, but it is so one sided, I have given up. Why bother? They are obviously not interested.

I try to act like it is no big deal and that I understand. I make excuses for them:

They are busy, they have there own lives.
They don't understand what I'm doing, so it's hard from them.
They think I'm too busy (they know I'm working at home), so they don't call.
Their phone is broke, their email is disconnected, they moved and forgot to tell me.

I always blame myself for this kind of thing. But this time, it isn't me. I made a conscious effort to keep in touch. I tried, but their was no interest.

I am done making excuses. Even though I don't like it I have to accept that they choose not to be part of my life right now. It is very sad though. I miss my friends very much.

If I didn't have such a wonderful family this would be much harder. I am so grateful for them. They have been behind me always. They believe in me when I don't believe in myself. They encourage me, support me and put up with me. They have sacrificed for me. When I say I am giving up they are the ones who talk me into sticking with this. They make sure I have what I need to keep at this. I adore my family! When my husband sensed how upset I was that none of my pre-writing friends bothered to remember my b-day, I knew I could believe him when he said, "You got me honey, I'm your friend, and I'll always be there for you." That's the kind of friend I need.

Anyone want to guess what I got for my birthday? I'll give you a hint, I haven't figure out how to use it yet.

posted by Kelly @ 1/30/2004 06:55:00 AM
Thursday, January 29, 2004
This day just got better--and I didn't think that was possible. I had an interesting offer yesterday. I am not going to babble on about it like I usually do. I will share this:
Artwork that I drew is posted on someone else's blog, and it might just lead to bigger and better things.
Two days in a row Shelley has made my day.
posted by Kelly @ 1/29/2004 09:45:00 AM

by Kelci Gibbons

Today is my birthday. Yep, me an Oprah. She's older. She's 50 and I'm 37 today. I don't plan on working too much today either. I am only going to do things that I absolutely want to do. I busted my butt yesterday, so I think I deserve it anyway.

I'm even going to go to the past for this post. We're going back 3 years to my 34th B-day: (The last thing I wrote then seemed more appropriate to go first so I've done that.)

Writing a lot isn't my problem, writing well is.

Happy birthday TO ME! I am 34 years old today, and I still don't know what I want to be when I grow up. Well maybe that's not entirely true, but I don't know how to get what I want. (I underlined that twice and highlighted it) I want to be a famous author. I want to write a book. I want that book published, and I want to earn a living writing. Trouble is I can't come up with a story for this book. Nothing seems right.

It's here again. Another year has gone by without any great accomplishments on my part. Yes, I've gone about the business of living day to day, and I have been happy, yet something is missing. I have the same job, same house, almost the same everything, except it's all another year OLDER. I really wish things could be different. I KNOW there is something better out there for me, I just don't know how to get it.

I think I have always had this problem. I can dream big, and I can see the possibility of those dreams coming true, but I don't know how to make them reality. I think I limit myself. I set myself up for failure, and I hold on to the old like a ratty old security blanket. If I could just let go of it, and tuck it away in my fond memories box, I know I could finally escape. The problem is I CAN'T. I hate that word. I hate the limit it automatically implies. I CAN NOT is better because at least you CAN not do something.

OK we're back to 2004: A funny thing happened that year, I started saying I CAN. After that things started happening.

I wrote down four things that I wanted that year:

1. Write a book
2. Quit your job
3. Pay off all debt (credit card debt--I still have the mortgage)
4. Get a new car

I've done 3 out of the four. The only thing left is to write that book. And that is what I plan to do. Now I know I can.
posted by Kelly @ 1/29/2004 07:42:00 AM
Wednesday, January 28, 2004
"No act of kindness, however small, is ever wasted."~Aesop





This quote and picture go out to the wonderful lady in Canada who sent me an email today. Thanks to her I have been happily creating all day! Her contact and reference to me as an artist made my day. Thanks!
posted by Kelly @ 1/28/2004 05:32:00 PM
Tuesday, January 27, 2004
Oh it has been a fun day. I have learned so many new things--I guess you can tell. Aren't the colors divine? I am a visual person and having the ability to share pictures makes me so happy. I can't wait to add more and more. I will try to go slow, but when I learn a new trick I have to do it all the time, so sorry if I get a little crazy.

Update on the new business idea: I spoke with the man again and explained that this is just in the idea phase and he totally understood. He told me to call him when I am ready because he has several business to rent and he is very interested. A new contact--and it was totally painless--Yeah! I am going to start doing my homework to find out what this will take.
posted by Kelly @ 1/27/2004 08:24:00 PM
OK- I figured out how to put pictures here, but I don't know how to make them smaller. I tried several different sizes, but every time I put it in the post it is the same size. Any one know how to fix this?

I just want to say thank you to those of you who leave such inspiring comments. I felt really bad yesterday and the notes and emails were a real pick me up.

I'll tell you what--getting your act together in this biz is hard. I don't care how many books and websites you read, or how prepared you think you are, you're not. After spending countless hours researching, writing, drawing or photographing something you become emotionally attached to it. How can you not? I don't hit the send button until I'm sure something is good and when someone has a different opinion or just doesn't get back to you (leaving your imagination go wild) it is difficult. And when you think you have it under control and can accept these things, someone sends you a couple of curve balls you just weren't ready for and it is strike three, you are out.

I am lucky, because I bounce back fast. I am one of those that has my moment (sometimes it can last a few days), then I brush myself off and get back in the game. All of this makes me look a little unbalanced. But, that is the way it is.

OK, some interesting news (or it might turn out that way):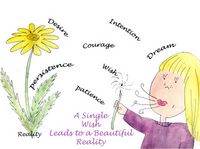 I have always dreamed of opening a coffee shop/book store. I even drawn my place in journals when I am day dreaming, and I write about it often. I picture a small French cafe type place with an entrance door in the center and large windows on either side. There are cafe style curtains in the window, and a large oval sign hanging next to the door (Dreamer's Cafe or Inspiration or something like that-and it is always in French.) There are small tables outside for good weather, and inside there are comfortable couches or chairs to sit and read. I sell new and used books, and magazines and coffee. I also sell French vanilla cappuccino (the sweet cheap fake kind!) and hot chocolate. It is a place for kids and adults, and if you want to sit on the floor and read, no body will care. I'll have story hour for kids, and book clubs and writing groups for adults and kids.

I have been thinking about my place a lot. I have also been thinking that dreams don't happen unless you do something about it. So I decided to make an effort. There was a small pizza place about 2 miles from my house that every time I drove by, I would say, that is perfect for my bookstore. About a month ago it closed down. Of course, I am no where ready to open this store of mine, so I did nothing.

On Saturday, I was in the store next to the pizza place, and on a whim I asked about it. I got the owner's name and email and I sent him a note of interest. He sent me a nice note with all the info (size, rent, etc.) and said he has a few people interested in it and was planning on renting it very soon, so I would need to let him know if I had a serious interest. Of course, I didn't because I am still in the dreaming stage--no funds to start. I wrote back to him telling him that I was still in the planning stage and thanked him for his time. I didn't want him to think that I was serious. I wrote, "I wish my timing
was better, because every time I look at that building (even when it was
occupied) I think it would the perfect spot."

He responded by saying, "Lets talk. You tell me just where in your planning
you are and if we can work something out. Your type business is of more
interest than other businesses I have been asked to consider."

So you know what, I am going to do it. It won't hurt to meet with the man and who knows what will happen. I just might find a way to make another dream come true.

posted by Kelly @ 1/27/2004 08:02:00 AM
Monday, January 26, 2004
I figured out how to post pictures. Many more to come.
This is sunset on Lake Ontario in New York.


posted by Kelly @ 1/26/2004 04:10:00 PM
When things go wrong as they sometimes will;
When the road you're trudging seems all uphill;
When the funds are low, and the debts are high
And you want to smile, but have to sigh;
When care is pressing you down a bit-
Rest if you must, but do not quit.

Success is failure turned inside out;
The silver tint of the clouds of doubt;
And you can never tell how close you are
It may be near when it seems so far;
So stick to the fight when you're hardest hit-
It's when things go wrong that you must not quit.

"Don't Quit," Author Unknown

Ok, so it is not profound. It's cute and upbeat and just what I need: another reminder that this is how it is trying to get to where you want to go. When there is trouble that means work harder. That is exactly what I plan on doing.

The end of my week was a constant reminder that things go wrong. I almost more embarrassed than mad about them. One of the worst things that happen was the realization that the children's book manuscript I sent in to a publisher will not be published--unless of course I shell out the dough.

Before I sent it, I checked it out. It seemed legit. Obviously I looked in the wrong places. Well I sent the manuscript with some sample pictures (yes I illustrated it too) about 3 weeks ago. I was so proud of myself. Then I heard back from them. "Please send all the pictures." I happily obliged. They must have had some interest to ask for more. Then I heard from them again. "Please send more info on your self--a writer's bio." Again, I happily obliged. Now I started to believe this was something that was going to happen. Boy, was I wrong.

I was just surfing the net on Friday, looking for writing leads, and I came across a web site that had a "Writer's Beware" page. I checked it out, and there were pages and pages of complaints about the publisher. I was crushed. It really sucks to think you have some chance and then realize what a fool you have been.

This and a few other things that I am choosing not to share right now made me start thinking how foolish I have been. It also made me realize that I've been patting myself on the back and acting like I have done so much with my writing when the fact is I have done diddly-squat!

Once again I'm sitting in the same spot I have found myself in a thousand times (when will I ever learn) and thinking I have two choices: give up and go home or suck it up and move on. I will move on, a bit more cautiously though.

I have also decided to put my efforts where they are really needed. I will be working, reading, writing, researching and studying more instead of blogging and cheerleading. Oh I'll still be hitting my daily reads--I've really come to enjoy these, but you might not see me leaving messages or advice. I think I'll save the advice for the one who needs it most: me.
posted by Kelly @ 1/26/2004 08:37:00 AM
Sunday, January 25, 2004
Since Thursday, everything has been going wrong.

I have been trying to listen to my own advice, but how much is one person supposed to take before they explode. I recently told someone that the breakdown (when everything seems to be going wrong) means that good thinks are coming. I am trying very hard to believe this.

I have spent this weekend repeating my words of advice over and over to myself. I keep telling myself that all my posts were preparing me for the bad news I was going to get.

Individually the bad news I have gotten is not that bad. But all together, one bad thing after another, is making me feel really shitty.

I don't even feel like sugar coating anything. I don't feel like finding the perfect quote to make me feel better or thing about things differently. I want to stomp my feet and cry like a baby, curse and throw things.

I feel like saying this sucks and this is shitty and unfair. So, that is what I am going to say today. And that is the most honest thing I have said all weekend. And I don't feel better now, but I am glad I said what I said. It does feel good to be honest.
posted by Kelly @ 1/25/2004 12:41:00 PM
Friday, January 23, 2004
"There is no failure only a delay in the results." ~from the book Write it Down, Make it Happen

I suppose I will write that many more times as I pursue a writing career. I might even write it a hundred times today to make it sink in. Being a writer is hard work.

My days are full of so many ups and downs I've lost count. I have been trying very hard to balance it all. I work my butt off to stay focused on the positive. Negativity is not going to get me anywhere. Sometimes I feel being positive won't either.

There is no failure only a delay in the results. There is no failure only a delay in the results.

Yesterday I got some disappointing news. It must be mine turn-seems a lot of people have been going through this lately. This I am learning is part of writing. I am dealing with it, but I am not going to lie it is hard. So much effort goes into writing that even small disappointments seem huge. They are not. This is just another lesson I'll learn and go on.

Being a writer goes against many of my personality traits.
Being a writer means being patient. I am not, but I am learning.
Being a writer means being quiet and listening to everything around you and inside you. I am not quiet, but I am learning.
Being a writer means being persistent. I admit it, sometimes I give up or avoid doing it when something is hard. I have not always been persistent, but I am learning.
Being a writer takes courage. I am not brave, but I am learning.
Being a writer means not taking things personal. Business is business, even good writing gets rejected. It also means that not everyone will agree with me or like what I write. I take things personally, I am learning not to.
Being a writer means accepting there is no failure only a delay in the results. I am trying to learn this.

Being a writer is hard, but because it is something I am determined to do, I accept that. However, if someone might know where I could find the Wizard of Writing or the yellow brick road I would really appreciate directions. Today I am tired of learning, and I think I might rather kill witches to get my prize. So Mr. Wizard, I am up for a challenge what do I need to do to get patience, courage, persistence, volume control and thick skin?

What's that? You want me to number my paper from 1 to 100. You want me to write.

1. There is no failure only a delay in the results.
2. There is no failure only a delay in the results.
posted by Kelly @ 1/23/2004 08:59:00 AM
Thursday, January 22, 2004
"To be always intending to make a new and better life but never to find time to set about it is as...to put off eating and drinking and sleeping from one day to the next until you're dead." ~Og Mandino

Yesterday I got the nicest email from someone who just stopped by my blog. It was short and sweet but it meant the world to me. It said not to give up my dream and that I had talent. Small gestures of kindness can mean so much.

This person also spoke of having a dream, but right now just can't pursue it for financial reasons. I understand that I really do, but I also believe that if you have a burning desire to do something, you must. By not pursuing that dream, you are not only short changing yourself, but the world. When you are happy and doing what you love and need to do everyone around you benefits.

I can say this from first hand experience. Last July when I decided to become a writer I really had no idea what I was going to do. My plan was to continue working at my full time job and write and take classes when I could.

It still amazes me what happens when you begin to take those small steps. One thing leads to another and then that makes something else happen. Two months after I decided to become a writer I quit my job. I had no idea how I was going to survive this way, but everything inside me said to do it.

I haven't received a windfall of money and things are sometimes tight, but what amazes me is that with a few adjustments and some lucky breaks, everything is working out just fine. It seems when I need the money something happens and I get: I get an extra job, a story I'd given up on gets published, or my husband gets an unexpected bonus. Each time I was ready to give up, something comes up and lets me keep pursuing my dream.

I am also putting in an effort. I work hard and don't get paid a lot, but to me it is worth it because I am doing exactly what I want and I am happy. My family is also happier because of that. They are starting to think I have an addiction to the computer, but other than that, everything is great.

I am not alone either. So many people have realized the same thing. There is Alex Beauchamp (Girl at Play), whose chronicles made me realize that I could do this too, and Katrina the feisty scribe who was a teacher and Toni who was a lawyer but had a dream to do something different and are now doing it. There is a world full of others. We all have fears, doubts and struggles but something inside tells us this is what we have to do, and for whatever reason we listened. I can not speak for anyone else but reading there web journals makes me feel that they would agree with me. Not going after your dream would be the worst thing you could do.

The sad part in this whole thing is that I could have been doing this years ago and didn't. I kept saying I wanted to be a writer, but I didn't do anything about it. I refuse to look at that time as wasted though. I choose to see everything up until now as a learning experience. I am so grateful though for all the things that finally pushed me to do this. Taking that leap into the unknown was one of the most frightening things I have ever done but I am so happy and relieved that I did it. I won't ever have to say, "What if?"

I have heard too many people say that or complain about what they are doing but don't do anything about it. I was one of those people for too long and I refuse to go back there.

I'm still learning (and making mistakes) everyday and there are many more things that I wish I could have. Instead of just wishing for them, I take small steps to get them. For instance, I created a homepage with free space from my ISP. I really want my own web site, with fancy graphics and a catchy logo, but that is not an option right now. So, for now this blog and that site will do, and I will put money aside when I can for a new site. Eventually I will get it. I work on all my wishes a little at a time. Some will happen sooner than others, but I have a funny feeling that if I keep working at it, all my dreams will come true.

So to all you dreamers out there, I say do something about it. You won't regret it. And to quote a very wise soul (my thirteen year old daughter, Kelci who said this at 10): "Don't be a big talker and little doer, be a big doer and a little talker." Ok, sue me Kelc, I am trying to be both!
posted by Kelly @ 1/22/2004 08:29:00 AM
Wednesday, January 21, 2004
I believe there is more to life than struggling to pay bills and working your ass off for 40 years only to enjoy a few good years. Yeah, I know, welcome to the bandwagon.

I also know that I am here for a reason. I have been searching for it forever (so it seems). In July I finally let myself believe that my purpose was to write. It now occurs to be that writing is the tool. The purpose is to help. I have been looking back at journals and see a common theme. In every description of every perfect job I have ever described one of the must is "my work will involve helping others."

Again one of my many, duh! moments. Very often the obvious is right in front of me and I completely miss it. So, I am beginning to see that what I want to do with my writing is to help people. The big question is in what way?

I am going to write something now that is very scary to me. Something inside just keeps telling me to write it and even though I have been screaming at it all morning to shut up it won't go away. I have been thinking about it for awhile and for the last two days it keeps popping in my head and this morning it just will not go away. My logical self keeps saying don't send it, people will think you are a freak. But the little voice (OK maybe I am sounding a little crazy right now) keeps getting stronger and stronger, and if I am going to be at all productive today I must silence it.

Deep Breath. Here Goes:

A few months ago I saw a man on TV who was Holocaust survivor. I can't remember his name but that news cast vividly sticks out in my head. He was saying that there are not many survivors left and if their stories aren't told he's afraid they will be forgotten. When I was listening to this man an idea came to me that other people should learn their stories and be able to re-tell them. I thought of the Vietnam MIA-POW bracelets that people wore and thought this could work for this as well.

My idea is that each bracelet would have the name of a survivor or victim and each bracelet sold would come with that person's story (and possibly a picture). When the person wearing the bracelet is asked about it, they could tell the story. Even if the bracelet stopped being worn, the person wearing it would always have the story and would I am guessing pass it along someday.

Now that I have written this, posted it, and totally feel like an idiot, I will try to get some work done.
posted by Kelly @ 1/21/2004 12:20:00 PM
Monday, January 19, 2004
"If you hear a voice within you say 'you cannot paint,' then by all means paint, and that voice will be silenced." ~Vincent Van Gogh

A very simple lesson to learn:

Approach life as a child would.

My daughters came home from school today and noticed my paints out on the table.
Daughter #1: "Can I use your paints?"
Me: "Sure-don't make a mess."
And then she was painting.
Daughter #2: "Hey that looks fun, can I paint too?"
Me: "Yep."
And then she was painting.

There was no wondering what to paint. There was no worrying if it would be good. There were just two people painting, and having fun.
posted by Kelly @ 1/19/2004 10:44:00 AM
Sunday, January 18, 2004
"People travel to wonder at the height of the mountains, at the huge waves of the seas, at the long course of the rivers, at the vast compass of the ocean, at the circular motion of the stars, and yet they pass by themselves without wondering."
St. Augustine, 354 430
Early Christian Priest, Author

This quote made me think that maybe I don't have as boring a life as I think. I just think it is boring because it is what I live everyday and I stopped seeing what was so special about it.

I still need to go out and do more, and I intend to do this. Even if it is very small at first I plan on doing things instead of wishing I did.

Now getting back to the quote: what makes me wondrous? Every person has a story to tell. If we stop and listen, I think every person could tell us something very interesting about himself.

Take my grandfather for instance. He is 89 years old, and if you saw him in passing you wouldn't think any thing remarkable, although he does resemble the late George Burns. Here are just a sampling of the stories he could tell:

*He was one of 13 children
*His father is also his "uncle"--OK that sounds bad, but here's the story, his father was abandoned at a young age with several brother's and sister's, my grandfather's mother's family took him in and "adopted" him--the other siblings were taken in by other families
*He remembers what it was like to live in the Great Depression
*He remembers secret union meetings (for the coal miners) taking place in the woods behind his house and his father and grandfather being part of them
*He was a witness in a murder trial (he found the victims clothing) that was so similar to the murder in American Tragedy that author Theodore Dreiser was also a witness in the case
*He is Notre Dame's #1 Fan--I know a lot of people claim this but they are probably not on a first name basis with the coaches and staff of many of the varsity teams (football, baseball, cheerleading, and basketball), and also with several former coaches, and has his name included in former coach Gerry Faust's book

So what makes me wondrous?
Now that's a little harder. It is so much harder to find the amazing things within. But, everyone has a story to tell. The local paper used to run a feature where they would randomly select a name from the phone book and call the person and ask them for their story. I loved that concept, average people have interesting stories to tell. They were simple, sweet, and human, but I always found them interesting. It always made me wonder what I would talk about if I was called.

Would I talk about the time I was 14 and flew to California by myself to meet my pen-pal?

Or would I talk about my children? I always feel bad when I do this, because my son gets pushed to the side--everyone wants to talk about "the twins." People are fascinated by twins (when I was in Jamaica one man wanted to touch my hand, he wanted me to bring him luck to have twins). So, would I talk about the twins?

Or would I talk about my trip to Jamaica, and meeting John and Richie the wood carvers, and the gift they gave me?

I could always talk about my unrealistic fear of caterpillars. Yes I know they are just tiny furry...Oh, I have to stop. YUCK!

There is always the fact that I was voted "Most Punk" in my senior class. I wonder what I'd look like with purple hair now? Where is that purple leopard print dress and those black fish net stockings? That would shake things up!

Oh, you want something more current, we could talk about the coaching license I earned, or the classes I'm taking.

Backing up a bit, we can talk about why I infamous at the local college and what part I played in having the athletic building evacuated twice?

15 years as a waitress would give me plenty to talk about--I can cover the funny to the down right disgusting here!

Oh, yes, and how could I forget my most recent adventure in New York. I almost lost my daughters on the subway. And there is always the Louis Vouitton purse caper.

Maybe I would talk about writing, about finding and reading a web site that inspired me so much I quit my job to become a writer.

Maybe I'd have so much to talk about the reporter would hang up the phone, "Ah, thanks ma'am but I only have 500 words!"

Now that I have stopped to think about it. My life really is not too bad, it is fuller than I think. Every person has a story, and I have quite a few. It is nice to stop and remember how wondrous every person is, including me.

posted by Kelly @ 1/18/2004 11:10:00 AM
Saturday, January 17, 2004
What I am about to write is going to make me sound depressed.

I am not. I have had time to think today.

I don't have a very full life. My life is my family and work. That's it.

I have casual acquaintances, that's it. My adult conversation (other than with people related to me) consists of "Hi, how are you? That's nice. Well happy New Year."
Or work related, "Hi, OK, what's the deadline. I'll have them back by then."

Other than the hour I sit with adults at various sporting events during the week, I do not talk to adults (unless they are related to me.)

I can't even remember the last time I went to see a movie, or when someone (not related, sensing a theme) called or stopped by just to say hello. For that matter, I don't even get emails like that. OK, one this month.

I try to keep contact open, but it doesn't work. I have sent the emails to let people know I'm still around. "Hey, just wanted to check in. We've got to get together. Call me, we'll go for coffee."
I get the usual response, "Yes, we have to." And that's it. That's as far as it goes.
I made the phone calls (and this is hard for me because I am not a phone person). Same thing.
I stop by my old job to say hi. "Great to see you, we have to get together. We miss you so much." And that's it. No phone calls. No emails. No getting together.

I don't even have an explanation for why this happened. These people who don't call really were friends. There was definitely not a falling out, and on the rare occasions that we do see each other briefly they are genuinely happy to see me. So why is it so hard to keep these friendships?

It's sad that this is the way it is, but there is nothing more I can do, but let it go. I have also decided to get out and do more. I am tired of living life on the sidelines. I want more out of life. Much more.
________________________________

This came in my email I think it is appropriate with what I was saying.

IF I HAD MY LIFE TO LIVE OVER - by Erma Bombeck

(written after she found out she was dying from cancer).

I would have gone to bed when I was sick instead of pretending the earth would go into a holding pattern if I weren't there for the day.

I would have burned the pink candle sculpted like a rose before it melted in storage.

I would have talked less and listened more.

I would have invited friends over to dinner even if the carpet was stained, or the sofa faded.

I would have eaten the popcorn in the 'good' living room and worried much less about the dirt when someone wanted to light a fire in the fireplace.

I would have taken the time to listen to my grandfather ramble about his youth.

I would have shared more of the responsibility carried by my husband.

I would never have insisted the car windows be rolled up on a summer day because my hair had just been teased and sprayed.

I would have sat on the lawn with my grass stains.

I would have cried and laughed less while watching television and more while watching life.

I would never have bought anything just because it was practical, wouldn't show soil, or was guaranteed to last a lifetime.

Instead of wishing away nine months of pregnancy, I'd have cherished every moment and realized that the wonderment growing inside me was the only chance in life to assist God in a miracle.

When my kids kissed me impetuously, I would never have said, "Later. Now go get washed up for dinner." There would have been more "I love you's." More "I'm sorry's."

But mostly, given another shot at life, I would seize every minute...look at it and really see it .. live it .and never give it back. Stop sweating the small stuff.

Don't worry about who doesn't like you, who has more, or who's doing what.

Instead, let's cherish the relationships we have with those who do love us.

Let's think about what God HAS blessed us with. And what we are doing each day to promote ourselves mentally, physically, emotionally. I hope you all have a blessed day.

posted by Kelly @ 1/17/2004 05:05:00 PM
Friday, January 16, 2004
Last week I was just writing, and that was great. If I had my choice, that is solely what I'd do. However, since I am just starting out, financially that just isn't possible. When I get paying jobs, no matter what they are, I take them. I don't always expect it to be this way, and I don't think it will. For now, it is just the way it is, and I accept this.

This week I have different work and it is consuming most of my time. At first I was bothered by this, because I want to be writing. Then I realized, it is just what I have to do for now. This job is allowing me to continue working at home--something I have decided is a absolute must in my life. So, instead of being upset that it is taking me away from writing, I have decided to look at it as a way of continuing to pursue a home writing business. This just happens to be my income source to support the business this week. Looking at it this way makes me realize that I am still focusing on writing, just in a different way.

This is an attitude I am trying to apply to every part of my life. Looking at everything in a positive way really makes me feel better. Attitude is a choice, and you can control it. With so many other things beyond my control it is nice to know that I have something that I can change if I choose to.
posted by Kelly @ 1/16/2004 10:40:00 AM
Thursday, January 15, 2004
Exciting news today!

A short story I wrote is posted today in the debut issue of Mosaic Minds, a new online magazine described as "a fun, inspiring zine that appeals to anyone with a dream."
posted by Kelly @ 1/15/2004 07:24:00 AM
Wednesday, January 14, 2004
No bites on the lemon. Bummer. I guess I'll have to try a different tactic.

I am so busy today. I thought it was time to breathe, or write, or aren't they the same thing? I have found that writing here calms me. Seriously. It is the place I can write whatever I want. I would like it to be a more focused place with a theme, but that doesn't seem to fit into my life right now, and that's OK with me.

I like to jump from one thing to another. It keeps me interested. I hear that focusing on one genre or niche or another is the way to go in writing, but that is not for me. If I find something interesting, I write an article. If I think of a great story, I write fiction. And if today is the day I am a poet, then I write a poem. My husband says I don't know what I want (then laughs). He's wrong.

I want to do everything. I want to do what I want. I don't want to be put in a mold. Never have, never will. That's just me.

I waitressed for 15 years. At the end I was so ready to quit. But looking back, there were many pluses, and I understand why I stayed so long. There was always variety. Every table was different. There were so many new people, and you never really knew what to expect. And I wasn't stuck in a typical 9-5 job. I always said that wasn't for me. But I tried it anyway.

The 9-5 or 8-4 or whatever it was worked for awhile. It too had its pluses, no weekends, no nights, paid holidays, and a steady pay check. However, the biggest plus was that it showed me what was not for me. Sitting in a office for 7 hours a day in a cubicle with no windows and working to make other people rich made me miserable. Being on somebody else's schedule, doing what they said I had to do day in day out was enough to drive me batty (my family too!) I will never regret that decision my decision to quit. Ever.

Today I am busy. I have articles to write. Research to do (I get paid for that! Yeah!) Queries to send. Roses to smell (thanks honey!). There are kids yelling, phones ringing, and my dog is barking. I don't get paid much and my to-do list is now my first novel. But I am happy. This is the best job I ever had and I just have a feeling it is going to get better and better! Enough fun, it's back to work, wait, aren't they the same thing.
posted by Kelly @ 1/14/2004 03:38:00 PM
Monday, January 12, 2004
This is one of those times that I hope people are reading and in the mood to help.

I am writing an article and I need to find people who have taken negative situations and turned them into something positive. They can be big or small. If you would like to share your story with me or if you can think of someone who would like to share please contact me by email or comment. (Email at left)

Thank you!
posted by Kelly @ 1/12/2004 06:41:00 PM
Happy Monday! (I am so glad I can say that and really mean it!)

My last post started out as a bit of a downer. This writing life is like that at times. Some days are amazing and I am full of energy and ideas and writing seems so easy. But then there are the days where nothing seems right and ideas just aren't there. No matter how hard I try to come up with them they won't come.
I think the down days seem worse than they really are because the up days are so great. I really have been working to find a balance and I think I'm succeeding. I look back to the beginning (a mere 4 months ago) and find that I am dealing with this better even though it always doesn't seem that way. First of all, I stress, but I don't stay there for nearly as long, and I have also learned to cope with the stress much better.

These are things I learned this week:

1. It gets easier the longer you do something. I'm still an basket of nerves when it comes to writing, but I can calm myself down much faster now.
2. Doubting myself is normal. Saying "I can do this" is a great way to get over it. Really it works!
3. Small steps get you there. A whole bunch of small steps no matter how slow will get you to your destination. The sprint will get you there so much faster, but the speed could cause you to miss so much along the way.
4. To boost creativity, change your scenery. I was stuck for ideas and decided to try going somewhere else to write. Since the library is about a 1/2 mile away I thought I'd kill two birds with one stone (got a little exercise in!). Anyway, the change of pace worked wonders, but not at first. It did take me a bit to warm up to my surroundings--OK maybe it was just me that need to warm up, next time I walk somewhere the temp has to be way above the zero mark! I went with a goal. I was not leaving until I had a solid start to the article I was struggling with. I got it by sitting there and forcing myself to write. At home it is easy to walk away or give up. There my time was limited, so I knew I had to get to business. It really helped, I left with a great beginning, and when I got home I finished the article fast.
6. Bouncing ideas off others works. If you are a writer and don't have a writing buddy, get yourself one--it works wonders. I am not one to ask for help, and I have always had a hard time reaching out to others, but I have read how helpful this can be so I gave it a try. I was struggling all weekend over ideas for queries I want to submit. I teamed up with someone trying to do the same thing. She challenged me to come up with five ideas by the end of the weekend. Knowing that you have to answer to someone else really motivates you, and having someone validate the ideas was exactly what I needed.
posted by Kelly @ 1/12/2004 09:37:00 AM
Friday, January 09, 2004
Yesterday I really thought about giving this up. Writing that is. From no where I had the thought, "I don't want to be a writer." I brushed it off, because this is after all what I have talked about doing for more than four years. Actually even longer. When I pulled that poem out the other day, my first thought was, "Wow, I have really wanted to write for a long time.

Then I really started thinking about it. Did I really want this?

I started thinking that it was too hard. OK, I have had some small success, but ideas are few and far between, and the pay is not good. OK, so I am having fun writing these articles but what am I making on them, about $2.00 an hour.

Again, I brushed it off. What was thinking.

The doubt is back.

I read a bunch of blogs. Everyone else is gaining momentum. I am standing still. I don't want to be a writer. That's it, I'm quitting. But wait, I love to work at home. I'll find something else to do.

I wrote my entry and walked away. Why am I back here? Why am I doubting myself again? My head is spinning. I have come so far and now I want to turn back. I want this to be easy. I am tired and this isn't fun any more.

I worked on an article.
Nothing is going right.
Everything I touch today turns out wrong.
I screamed, "Ok, if your listening, if I am really supposed to do this, then send me a sign. This is too hard. I have no idea where to begin." I was talking to the universe.

Then emails started to arrive (Not all addressed to me specific but they spoke to me none the less): -- (: I had to add this the other was an unintentional frown--

"have you thought of contacting some of the freelance writing newsletters online?"
"I think writing plans have to be created on an individual basis"
"Looking back over the last year, what writing accomplishments are you especially proud of?"
"What are your goals for 2004?"
"Call for Submissions"
"We all spin our wheels from time to time - the idling helps us to decide the next direction we'll take."
And there were so many more (50 or 60 in all I think--all so inspiring and just what I needed to hear)

There were other signs. Everywhere I turn these days there is a reference to a book I read 2 years ago called Write it Down, Make it Happen: Knowing What You Want and Getting It by Henriette Anne Klauser. It served me well the first time, and I think it is time for a re-read.

So, thank you to all who contacted me directly and thank you for those who touched me indirectly. Basically thank you to the universe for once again giving me what I needed.
posted by Kelly @ 1/09/2004 09:40:00 AM
Thursday, January 08, 2004
Sometimes the hardest person to be honest with is yourself. I think I'm in over my head. There I said it.

There is so much I don't know. I am trying to learn, but it is overwhelming. I have surrounded myself with books, I am taking classes, I research constantly, and I try to do all the things others suggest (the ones I find useful anyway). I believe in myself, I write daily, I seek out others for support and advice.

I am not sure what to do next. I need to find more places to submit writing but I am clueless. I used the writer's market and other books, but they are a source of my anxiety, not a relief. They are too full of information--for me anyway. When I start out looking for places to submit I am quickly overwhelmed by the volume. I want to find the right places and then when I think I have some, I start to wonder if my piece will really fit it in.

I have read so much that everything is mush in my mind. So much of what is out there is contradictory. One book says to send a query letter not the full article, the next book says to send the article. Some people say simultaneous submissions are A OK others say they are a big taboo. Send clips, don't send clips. The list goes on and on and on. I am having major problems sorting it all out.

At one point I decided to go with what feels right for me. That seemed to work for awhile, but it is not anymore. If it was I don't think I'd be here right now spinning my wheels.

As I write this I think of things I need to work on:
confidence
organization
relaxation
patience
persistence

Sometimes I think trying too hard is just as bad as not trying hard enough. But then I re-read that sentence and think I'm an idiot. I guess what I have to do is find the right balance of everything. But that statement in the nutshell sums up the problem. How exactly do I do that?
posted by Kelly @ 1/08/2004 09:26:00 AM
Wednesday, January 07, 2004
Today's post will definitely be different than any I've done. I have been visiting a lot of blogs lately that are written by mom's with young children so I've been thinking about how it was when my children were little. I remembered a poem I wrote when my twins were about 3 or 4 (they are 13 now! Wow time flies). I have always wanted to submit that poem somewhere or make it into a children's book, but some of the references are for grown-ups though, so I didn't think it was appropriate. Anyway, that is another nice thing about having this blog, I can post anything I want here, so today I've decided to post my poem.

(Note: Kelci is my spelling of Kelsey, people sometimes have a problem with that one)
(Note #2 one of my expectations this year (see previous post 1/2,2003) is to learn more html, I'm still working on it therefore I can't center)

The Perfect Life
by Kelly Gibbons

The House is a mess,
the bills overdue,
clothes piled high,
Now who's missing a shoe?

The dust balls took over,
the dog's running loose,
forget the leash,
just get me a noose!

Where are those stamps?
They were here before!
The mailman is coming,
Now if I could just get to the door!

Just sit down a moment,
Get hold of yourself,
Remember,
You are living the perfect life!
Yea, Right!

Just when I'm ready to pull out my hair,
A sweet little sound drifts through the air.
"Good Morning Mommy," says the beautiful sound,
"Can you believe what we have found?"

And there before me
stand two golden haired angels,
holding little tea cups, and saucers, and dishes.

Four big blue innocent eyes
staring at me
And two perfect angels, Asking so sweetly:
"Do you think you can make us some tea?"

"Good Morning, Sweethearts,
What have we here?"
I hear myself saying
through frustrated tears.

"Can we have a tea party?
Here's all the stuff!
We just need some tea,
and some sugar,
and milk!"

"You can come too,"
says the other sweet voice,
"Tea will be served in our room at two"
The angels have spoken
and it's time for a choice:

The dishes,
the laundry,
the dog and the dust,
The bills, and the chaos,
or is tea a must?

As I sit on a chair,
in front of a table
set with tea cups, and saucers,
and tiny porcelain dishes
With teddies and bunnies,
and other stuffed creatures
as guest at this party of near regal status
I realize that I've made the right decision.

Miss Kelci passes,
and Miss Michelle pours,
and Miss Kelly has forgotten all about chores!

Bunny says, "More please."
Teddy says, "Thanks!"
Horsey says, "Yummy!"
And Miss Kelly thinks,
"Just what is a bank?"

I have to leave the party now,
and standing up,
I say with a bow:
"Thank you Miss Kelci,
and thanks Miss Michelle,
I had the most wonderful time!"

As I walk out of this world
and back into mine,
I think to myself that all is just fine!
"Yes," I say to myself
"You truly have the perfect life!"

posted by Kelly @ 1/07/2004 01:39:00 PM
Tuesday, January 06, 2004
It's one of those days. The kind of day that someone on the outside looking in would say I'm being lazy. Four months ago I would have agreed. I'm glad I know better now.

Today I am resting, but I am also thinking, reading and preparing for tomorrow. Tomorrow might be the day that it comes all together and I write everything that needs to be written. Today is not that day, or it is not yet, maybe it will be later. I have been more accepting of that. A few weeks ago if I spent 6 hours not being able to write I would have panicked, if I decided to take a nap I would have felt guilty, and if the only thing I read was someone else's blog I would have felt very unproductive. Today doing all of those things makes me feel like I have changed for the better.

Not being able to write for six hours is not a big deal. It only means I need to think a little more. Taking a nap is nothing to feel guilty about, it means I need a rest. And, some of the journals I read are far better than some books I've read, and I have never considered reading a book unproductive. I really like reading about others. I like getting a glimpse of how other people live. It is interesting and entertaining. The characters seem so real because they are real. I have learned so much from these people. I have learned a lot about myself.

Having a website and an online journal were very important to me, but I couldn't figure out why, but I think I am beginning to understand. I want to feel connected to others. Yesterday I said that I write for myself. I do, but I feel real joy when someone else gets what I've said, when they understand it, are inspired by it or helped by it or just feel happy because I wrote it. I like to help people and make people happy. I feel selfish though because I'm the one who wins in the end. I am the one who is happy.

Yesterday, Brigett (a stranger to me) wrote something that made me feel terrific, "You are so full of good cheer! I will enjoy reading your blog. Keep writing!!!" This really made me think. My first thought was, oh no, I don't want to give people the wrong impression. I don't want people to think everything is just roses and good. Because believe me, I am human and I have some really bad days. I like me much better when I am nice, and most of the time that really is the way I am, but I have it in me to be a B**** when I want to be (my husband and children and that poor deli lady at the grocery store are screaming in agreement right now). Then I thought about it and realized that when I write I am being the person that I want to be. I want to be nice. I want to be inspiring. I want to be helpful. And these are not bad things to want to be. So forgive me if I seem like Pollyanna sometimes, and forgive me on the days I don't!
posted by Kelly @ 1/06/2004 12:43:00 PM
Monday, January 05, 2004
Today I am back to work and I am trying to organize things but I am a bit scattered. I have come back to this post about a dozen times, and have finally decided to just go with the random thoughts today. That's me--some days I am focused and know exactly what I want to say, one clear idea--other days I'm scattered and all over the place, but some of my best ideas come when I'm like this. So I thought I would stop fighting and go with it.

I'm glad I was finally able to add comments. It's fun to see that others have been here. My next goal for this blog is to add a counter. However, I am still debating if I actually want one. I don't want to get wrapped up in the numbers, but I am curious. I'm afraid I'll become obsessed with it, and even if I promise myself that I will only look at the numbers occasionally, just for fun, I don't know if I could stick to that. I don't want to spend my days checking, hmmm..that might add up the numbers...Great...1000 hits and 998 would be mine. I don't want to spoil my fun by worrying about hits.

Boy have the tables turned. A few months ago sharing was my biggest fear, and I am happy to say that my fear of has greatly diminished. For a while there I was worrying so much about what others would think and it was hard to write. When I started writing for myself again it became fun and much easier. I write about what I like and what interests me, if someone finds what I write useful, entertaining, enlightening or whatever I am tickled pink (sometimes giddy*) but that is not why I write, it is just an effect of the writing.

(*Seriously-little things make me so happy. I get so excited over the smallest things, well to me they're not small, but other people think I'm odd because I get so excited. I can't help it--in my book small steps are worthy of celebration)

Today made me realize once again how much I want to be a writer. This is the job for me! Even though I have a lot of work to do I was excited this morning. I couldn't wait to start. Everyone else is moaning and groaning about school or work, but I am happy to be back to work. I am so happy and grateful that I have this opportunity, and I plan on working my butt off to keep it this way. Happiness is a strong motivator.

Wanting things is not bad, but I always seem to want everything at once. I also want everything to happen fast. Today I decided I want something else, so I'll just add it to the ever growing list. I want to go to the National association for Women Writer's conference in Texas next month. I have been reading about it on other sites for awhile and never thought much about it, but today when I came across it again I had a strong desire to go. Problem: $. It is next month and with airfare, hotel stay, meals, and conference fees there is no rational way I could swing it. I know this, yet I still want to go. I don't have to go. I just want to go because I think it will be fun.
posted by Kelly @ 1/05/2004 08:31:00 AM
Saturday, January 03, 2004
Yesterday I decided to learn more about how to build this blog. I want to put comments on it, and I will eventually, but the first time I tried I deleted my entire blog. . I will not try again until I am completely sure I have it right. (I am happy to say that persistence pays off and I learned how to put comments on my blog--I added that to this post)

I did learn how to add new headings to my sidebar, so below my archives I now have links to more blogs. These are places I try to visit everyday. They are a talented group of women who always have something inspiring to say. I enjoy my daily visits to their sites and hope others will too. As I find other great blogs, I will add them to the list.

Everything I have done on this site and my homepage is through trial and error and experimentation. I am learning something new all the time. I have not spent one dime doing it either. A big plus in my book!

Here's how: (Just in case someone is reading and interested)

1. Printmaster Platinum 8.0--a desktop publishing software program that has a web publishing tool on it. I have used this program for years for other things, and realized I could use it to create a web page.
2. Free Web Space at adelphia.com (comes free with the internet service so I might as well use it)
3. FTP WS_FTP LE to upload my info to my site. It is a free download (for personal use) from Ipswitch.com. I haven't figured it out totally, but have learned enough to get my site up. There is a way to upload directly to your site, but I haven't figured that out yet, so for now I just link to my blog from my homepage.
4. Blogger.com--also free and much easier than trying to manage a journal on my own. When I just had it on my site through the printmaster program I started having publishing problems. I think it was too much to constantly load. Since going with blogger I haven't had problems.
5. There are many places on the web to go for help. These are sites I've found useful:
http://www.htmlprimer.com, www.howstuffworks.com/web-page.htm I plan on learning the basics. I don't thing I'll learn how to program or write html, but I do want to know enough to have a decent site, and not crash it when I try to add something.
Another thing I found very useful was to right click on "View Source" when visiting other sites. Seeing how a site is written can be very helpful--I learned how to make my links a new page instead of a link away from my page by doing this.
6. For adding comments I used HaloScan.com (I tried with several others and had no luck-this one was very easy to use!)
posted by Kelly @ 1/03/2004 10:53:00 AM
Friday, January 02, 2004
I sat down several times yesterday and tried to write something profound for the new year. Nothing seemed right.

I am not into resolutions. Saying "this year I will..." is not for me. If I don't accomplish what I say I will then I feel like a failure. That's too much pressure for me. I already have enough of that, thanks.

I did find a great post at penelopeillustration.com. Penelope suggests writing what you expect to happen during the year. This I can handle. It is not as risky as saying "I will" because expectations can change. She also said that writing down what you want gets the ball rolling. I totally agree with this, and have experienced it first hand after reading the book Write it Down, Make it Happen Knowing What You Want-- and Getting It! by Henriette Anne Klauser. So this year I am expecting some great things to happen. I'll write it down, and we'll see what happens.

This year I expect to...
...continue working at home.
...make many new contacts and find at least 5 more places to consistently send articles to.
...have at least 2 articles a month published.
...have one of my children's book published.
...write four more stories for the characters my artist friend created.
...get back into my exercise routine.
...start and continually work on a novel.
...learn more about html.

I also expect to add to and change this list as I see fit. This was much better than making resolutions.
posted by Kelly @ 1/02/2004 04:13:00 PM
About Me
Name: Kelly Gibbons
Home: Dallas, Pennsylvania, United States
About Me:
See my complete profile
Not Quite Grown-up: The Random Ramblings of Kelly Gibbons the Dreamer, Writer and Artist
My Artwork
Follow Me
Recent Posts
More Stuff I Make
Archives
Powered by